2015 CDI Valencia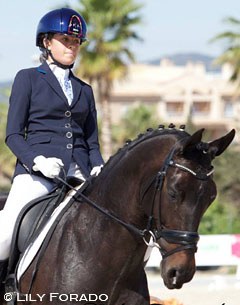 Spanish Carl de la Fuente became the princess of the pony division at the 2015 CDI Valencia on 24 - 26 April 2015, as she and her 17-year old German riding pony stallion Kronprinz (by Kaiserjaeger x Golfy) won the Team, Individual and kur test with 70.598%, 68.130%, and 71.042%. After almost a year out of competition due to injury of her pony, Carla is particularly excited about Kronprinz' good health.
"I am very happy to be able to compete with my pony in Valencia and get some good marks, but above all I'm happy because Kronprinz has shown me that he in very good condition physically after being almost a year off from competition," said the 15-year old Carla.
According to Carla, Kronprinz is very beautiful, expressive pony with a lot of spark and a very temperamental personality.
"The thing that I liked during the competition was that he was very concentrated and working fine," she explained.
Purchased by Carla's father in Germany eight years ago, Kronprinz was allocated to Carla four years ago. She has big hopes for the rest of the year.
"My plan for 2015 is compete with my mare Fay in the Spanish Championship and with Kronprinz  in several international competitions and the European Pony Championship," said the determined rider.
Carla trains in Segovia, Spain at the riding centre of her father who is also her coach.
"Kronprinz is a special pony to train because he is full of joy; a pony who loves to have fun," Carla stated.
by Sarah Warne - Photo © Lily Forado
Related Links
Scores: 2015 CDI Valencia
Anna Guseynova Scores Children's Hattrick at 2015 CDI Valencia
Sarah Warne In Search of the Bubble at the 2015 CDI Valencia