KWPN Breeding News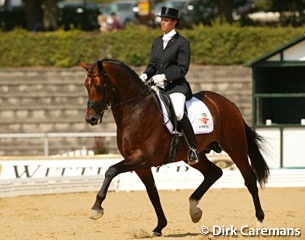 The 17-year old Dutch warmblood licensed stallion Rousseau has been retired from active breeding. The American based KWPN stallion by Ferro x Roemer is no longer fit enough for comfortable breeding.
"Recently the physical stresses of years of breeding and a meniscal tear incurred in turnout began to affect Rousseau's ability to breed comfortably," said Susanne Hassler. "Keeping the stallion's best interest in mind, the Hasslers have decided in conjunction with owners, John and Leslie Malone of Harmony Sporthorses, it is time for him to enjoy a well-deserved retirement."
Rousseau was a very successful breeding stallion in The Netherlands when he was young. No stallion before him has produced three consecutive KWPN Stallion Licensing champions: Wamberto in 2006, Zack in 2007 and
Ampere in 2008.
Purchased by Hilltop Farm for 150,000 euro at the 2000 KWPN Select Sale, Rousseau was also a successful young sport horse in The Netherlands. He won the 2001 KWPN Stallion performance testing and under Dutch Nicolette van Lierop (née van Leeuwen) he won the 2002 Pavo Cup Finals and 2002-2003 KWPN Stallion Competition. His career highlight was winning silver at the 2003 World Young Horse Championships in Verden, Germany.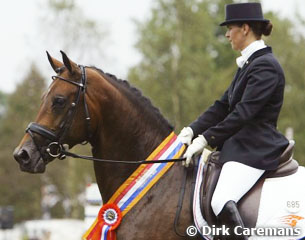 Harmony Sporthorses acquired a share in the ownership of the stallion in 2003 and obtained full ownership in 2006. Rousseau disappeared from the show scene in 2004 when he moved to Ingo Pape's station in Germany, where has was trained by Susan Draper-Pape. He stood there up for stud until the end of 2006 and then moved to Hilltop Farm in the U.S.A.
Rousseau continued to stand at stud in America. When Scott and Susanne Hassler left Hilltop Farm, Rousseau joined them to Riveredge in Chesapeake City, MD. A very limited amount of Rousseau's frozen semen remains.
Rousseau was ranked 41st on the 2014 WBFSH Dressage Sire Ranking. His highest ranked offspring competing at Grand Prix level is Patrick van der Meer's Zippo (67th place on the 2015 FEI Dressage Ranking). Other Rousseau offspring competing at Grand Prix level are Mario van Orshaegen's Wilco V (99) and Susan Pape's Fiorano (330).
Photos © Dirk Caremans
Related Links
Eurodressage Photo Database: Rousseau in 2003 - Rousseau in 2002
Ajong (Ampere), Champion of the 2008 KWPN Stallion Licensing
Zagreb (Zack), Champion of the 2007 KWPN Stallion Licensing
Wamberto, Champion of the 2006 KWPN Stallion Licensing
Hilltop Rousseau In Training with Susan Draper-Pape
Hilltop Rousseau Absent At 2004 Divoza Cup Finals
Poetin and Fürst Heinrich, 2003 World Young Dressage Horse Champions
Rousseau, Paddox and Rubels Win 2002-2003 KNHS/KWPN Stallion Competition 
Hilltop Farm and Harmony Sporthorses Share Hilltop Rousseau