2015 CDI Hamburg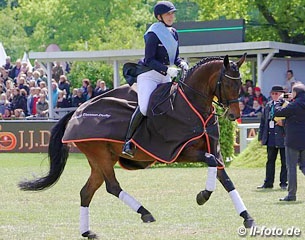 Anabel Balkenkol became the winner of the 2015 Hamburg Dressage Derby on Sunday 17 May 2015 after she scored the highest average on three horses in the Finals with Horse Change. Spanish Morgan Barbançon Mestre became the runner up and Russian Inessa Merkulova finished third. The three top ranked riders from the Grand Prix at the 2015 CDI Hamburg were eligible to contest the Dressage Derby.
Anabel Balkenhol opted for the home bred 12-year old mare Rockefellers Cinderella (by Rubin Royal) for the Finals instead of her Grand Prix winner Dablino (by De Niro), whereas Barçon and Merkulova put confidence in their number one horses of the show.
The 43-year old Balkenhol, who had already contested the Hamburg Derby in 2011 and 2013, claimed victory in the 2015 edition with an average score of 72.549% after three rides. The finalists were challenged by the weather: pouring rain and umbrellas everywhere made the atmosphere difficult to cope with for the inexperienced Grand Prix horse Cinderella but Balkenhol scored 74.941% on her own mare. With Merkulova's Mister X she produced good piaffe and passage and clean changes to post a score of 74.941%. Anabel rode the highest score of three on Morgan's Vitana V: 71.559%.
In her first Derby, 22-year old Morgan Barbançon finished second with an average of 71.569%. She boosted her score especially after her ride on Merkulova's talented Misted X (76.765%), which she had nicely in front of her. With Cinderella, who became a bit tight in the neck, she scored 67.706%. On her own Vitana she produced a solid round which earned her 70.235%.
The Moscow based 50-year old Inessa Merkulova finished third overall with and average of 69.275%. Her horse, the Trakehner Mister X (by Egeus), became the best scoring horse of the Derby. Merkulova scored a whopping 78.706% herself, but struggled to stay fault free on Vitana (67.971%) and especially on Cinderella (61.147%).
Photos © LL-foto
Related Links
Scores 2015 CDI Hamburg
Balkenhol and Dablino Win 2015 CDI Hamburg Grand Prix
Previous Hamburg Derby Winners
2014 Hamburg Dressage Derby: a Scandinavian Show Down
Fabienne Lutkemeier Wins the 2013 Hamburg Dressage Derby
Scores: 2011 CDI Hamburg
Scores: 2008 CDN Hamburg
Scores: 2007 CDN Hamburg
Scores: 2006 CDN Hamburg
Scores: 2005 CDN Hamburg
Scores: 2004 CDN Hamburg
Scores: 2003 CDN Hamburg
Scores: 2000 CDI Hamburg