2015 Swedish Dressage Championships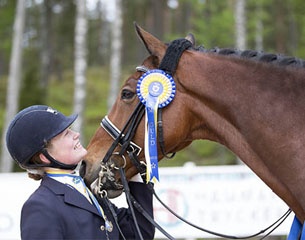 Famous for its Ikea flat pack furniture, meat balls, and the infamous group ABBA, Sweden is also rising up in the dressage rankings. At the 2015 Swedish Dressage Championships held at the Wermland Equestrian Centre on 29 - 31 May 2015 three new national champions were crowned: Beatrice Ivarsson in the junior division, Marina Mattsson in the young riders' category and senior rider Patrik Kittel took his third Swedish Grand Prix title.
Junior champion Beatrice Ivarsson and her 15-year old Bomerang (by Bolero x Anart) took out the junior division with a hattrick of victories. She says the highlight for her was of course winning every test with scores of 70.991%, 71.842%, and 75.050%. She is looking forward to the 2015 European Championships in Vidauban.
"I have had one gold in my mind since 2013 and yesterday I got the good news," said 17-year old Beatrice. "I will compete at the European Championships in France, and this will be my third time."
Beatrice won the team test and placed second in the individual on her other horse, 9-year old Charles (by Bocelli x Chapman). The two horses are very different, but each have their own special quality, according to their rider.
"Charles is more independent, whereas Bomerang is the "safe horse". Bomerang knows what he is supposed to do. Charles is the horse I will be taking to Vidauban," she added.
Beatrice is also beginning a civics program at a high school in Lund, and is kept busy with studying, riding, and competing.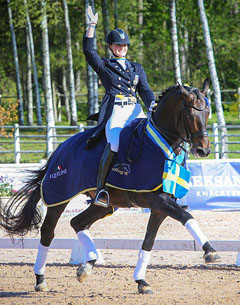 Breaking the Swedish record in the Young Rider Kur to music with a score of 78.3 %, the already professional dressage rider Marina Mattsson  claimed her 12th Swedish title. This time she saddled her sponsor Patrik Hannell's 12-year old Double Diamond II (by Don Primero x Romadour II) and took out all three Young Rider tests. She is very excited about their future together.
"I've been riding Double Diamond for two years and we are now back to back Swedish Young Rider Champions," Marina told Eurodressage. "My next competition will be the Europeans in Vidauban and then Falsterbo."
With a big goal to compete at the Olympics, Marina knows that there are a lot of good riders in Sweden. She believes that her country is well known for its smooth way of riding. 
Routinier Patrik Kittel won his third, consecutive Swedish Grand Prix Champion's title last weekend in Wermland. The Olympian says the show was great. While it was quite a way to travel for him from Germany, Kittel appreciated that the organisation did all they could to make the show fantastic.
"Sadly the weather was cold, rainy, and windy, and people were running around in their winter jackets," said Patrik. "The wind made it a bit difficult for the horses, but it was good practice!"
Aboard the 16-year Dutch warmblood Scandic (by Solos Carex x Amiral) he won the Grand Prix with 76.020% and the Grand Prix Kur with 77.625. Patrik was particularly happy with his Grand Prix ride, and feels Scandic is in top form!
"He is the horse that always goes that extra mile for you and even now at 16 he feels like he is still the same as when I got him 9 years ago!," Patrik told Eurodressage. "He is still just as spooky and funny like back then. I love that!"
Owned by Patrik and his breeder Jan Greve, Scandic always had such talent for piaffe and passage so the Grand Prix came very easily.
"We are going now to Compiegne; then I am doing Rotterdam, Falsterbo, and if all goes well the Europeans in Aachen. My overall goal is to stay happy, keep working with my horses, and to have fun with my family; life is great," he stated.
As for the future of dressage in Sweden, Patrik says that the country has a long history of dressage and a lot of talented riders, but that sadly sometimes Sweden is struggling with the finances to get that little extra on the road.
"However, we have a great team and I think we are all very proud of representing outr country," Patrik added.
by Sarah Warne - Photos © private - Hannell
Related Links
Scores 2015 Swedish Dressage Championships
Patrik Kittel: The Difference That Makes All the Difference
Patrik Kittel Wins the 2014 Swedish Dressage Championships
Patrik Kittel Wins the 2013 Swedish Dressage Championships
Eva Ulf Wins 2012 Swedish Grand Prix Championships
Tinne Vilhelmson Wins 2011 Swedish Grand Prix Championships
Tinne Vilhelmson Wins 2009 Swedish Grand Prix Title with Favourit
Tinne Vilhelmson Captures Second Grand Prix Title at 2004 Swedish Championships
Marina Mattsson Wins 2014 Swedish Young Riders Championships
Marina Mattsson Wins 2010 Swedish Pony Championships