Eurodressage F.O.C.U.S.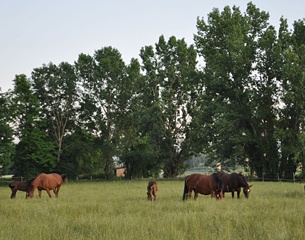 It takes vision and perseverance to embrace the ideals of good dressage horse breeding and classical dressage training in order to make an impact on the international high performance dressage world. Italian Riccardo Volpi has committed himself to setting high standards with his breeding farm Fonte Abeti in the Tuscan town of Sansepolcro, Italy, where he is breeding with the best dressage lines and co-operating with skilled professionals to make his dressage dreams come true.
Riccardo Volpi is a major shareholder of Umbria Equitazione, the largest distributor of tack and horse products in Italy. He runs Fonte Abeti with equal passion. The basis of the breeding program is a large, high quality band of twenty-five mares with the best German and Dutch bloodlines, including sires such as De Niro, Rohdiamant, Rubinstein, Donnerhall, and Wynton. Fonte Abeti is also proud to own the full sister of international Grand Prix horse Eremo del Castegno (by Rohdiamant x Weltmeyer x Consul) as well as the half-sister to Eremo (by Don Frederico x Weltmeyer x Consul).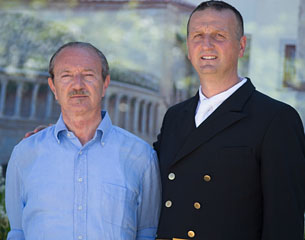 "My goal is to produce modern dressage horses and that is why I use top stallions such as Negro, Apache, Franklin, Vivaldi, Everdale, Wynton, and Hotline," Volpi told Eurodressage. "We have approximately 80 horses at the yard, including mares, foals and young horses in training. It is always a pleasure when clients come to us and choose our horses for their future endeavours. The horses we have in training are professionally schooled, supervised and competed."
Fonte Abeti Supported by Prominent Team of Dressage Professionals
Volpi realized that to be a game changer on the Italian dressage scene, he had to attract the expertise of professionals that have been around the block. A successful partnership has been established with Italy's number one Grand Prix rider Valentina Truppa and her father and coach Enzo Truppa, while Spanish FEI rider Carlos Munoz Cantos is the in-house trainer at the yard in Sansepolcro.
"The co-operation with Enzo and Valentina Truppa started at the very beginning when I set up the breeding farm," said Volpi. "I was very  impressed that a relatively small girl could train horses of 600, 700 kilograms up to Grand Prix," he joked. "I realized that their training methods were very much in line with my principles; based on classical dressage with respect and love for the horses."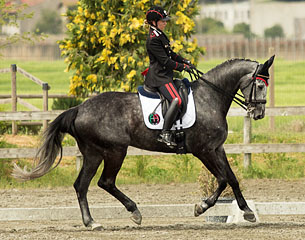 Sponsored by Umbria Equitazione, Valentina Truppa became a billboard for the company's brand and she is now actively campaigning two of Fonte Abeti's highly talented rising FEI horses: the 7-year old Django di Fonte Abeti (by Wynton) and the 7-year old Hotpoint di Fonte Abeti (by Hotline). Enzo and Valentina have also hand-picked three foals there: the now 2-year old Cardoso (by Hotline) and Cobalto (by Wynton) and a yearling by Danciano.
Aboard Django di Fonte Abeti, Valentina won the 2014 Italian Young Horse Championships for 6-year olds and they are now successful in the developing Prix St Georges horses classes. On Hotpoint di Fonte Abeti she has won several M-level classes and won their first Prix St. Georges at the national show in Caselle di Sommacampagna in April. This Hotline offspring is already schooling the Grand Prix movements.
Truppa and Munoz Pave the Way for Fonte Abeti in the Competition Ring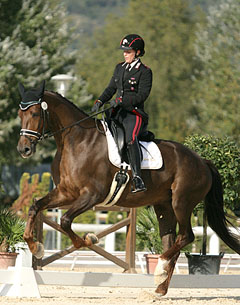 Italian 5* judge and trainer Enzo Truppa serves as eyes on the ground for the training of the Fonte Abeti horses and riders Valentina Truppa and Carlos Munoz Cantos.
"From the first moment we met Riccardo we found out that we are in perfect unison when it comes to our goals in sport," Enzo explained. "Valentina has contributed to a good development of the business of Umbria Equitazione and she and I are fully involved in the training and competing of the Fonte Abeti horses. I also support and coach Carlos at the yard on a regular basis."
The 31-year old Carlos Munoz Cantos is from Tarragona, Spain, and made his break-through at international FEI Level in the U.S.A. where he worked and trained with Dr. Cesar Parra for four years. Just before his wedding to Laura Pradells in October 2014, Carlos was contacted by Volpi with the request to become the head trainer at Fonte Abeti in Italy. 
"After a short visit to Italy I realized how amazing his project is," Munoz explained. "No doubt, all the foals and young horses have top quality bloodlines. They have a great future ahead of them."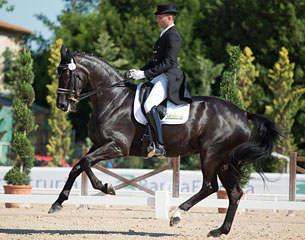 Munoz began working at the yard six months ago and has already booked impressive results in the national show ring. With the 7-year old mare Salomè di Fonte Abeti he won the small tour classes at the CDN Arezzo at the end of May.  Aboard the 6-year old First (by Furst Romancier x Sunny Boy) he has been collecting ribbons and trophies in the young horse classes and with the 6-year old Blu Cobalto di Fonte Abeti (by Brentano II x De Niro) Carlos scored 80% in the young horse test, receiving 9.1 for walk and 8.8 for canter.
"In June we will show our first international," Carlos said proudly. "I'm very excited about the future of Fonte Abeti. We all have a lot to work on, but hopefully we can achieve very big goals. I'm sure the best is yet to come. I'm very grateful for the help I get from the ground. Riccardo is always eager to work with the biggest names in the sport and bring them to the yard. I've received instruction from Enzo Truppa and Juan Manuel Muñoz, amongst others. I'm thrilled to be part of this wonderful team."
For more information visit www.dressagefonteabeti.it or www.umbriaequitazione.com
Related Links
Valentina Truppa Wins World Dressage Masters' Kur at 2015 CDI Vidauban
Valentina Truppa Cultivating Horses Like Good Wine, with Time and Dedication
Carlos Munoz and Klouseau Triumph in Intermediare Freestyle
Building for the Future at Performance Farm