British Breeding News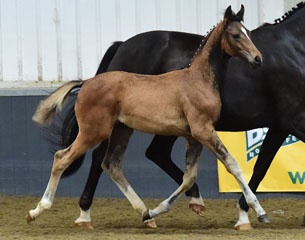 The 2015 British Breeding/British Equestrian Federation (BEF) Futurity series has seen some outstanding British bred young horses. Over 550 youngsters from foals to three year olds have been evaluated for their potential in dressage, eventing, showjumping and endurance.
This year the Futurity has celebrated its 10th Anniversary and the advent of a new linear scoring system to give greater accuracy and analysis to the scores awarded to each horse. Discipline specific evaluators have also been introduced across the board. An elite premium is the highest grade awarded by the BEF Futurity. An elite premium indicates that the young horse has the potential to compete at international level. A premium score of 9.00 and above out of a maximum of 10 is an elite score. A higher first premium is the second highest grade awarded at the Futurity. This is for horses scoring 8.5 to 8.99 and is awarded to horses with the potential to perform at national level.
A trio of dressage colt foals took the three highest Futurity premiums awarded this year. Woodlander Woodstock (by Woodlander Wild Child x Florencio) owned and bred by Lynne Crowden topped the scores for the 2015 Futurity with an elite score of 9.70. His sire, Wild Child an embryo transfer son of former dual young horse world champion Woodlander Farouche and top dressage horse Woodlander Wavavoom scored the highest ever awarded elite Futurity premium of 9.79 as a foal. Woodstock's dam is the Florencio mare, Elite Foxy Lady. Lynne said, "We are delighted with Woodstock, he has stallion potential and will probably go to Germany for licensing".
Alison Walton's colt foal, Zinkwazi (by Zack x Woodlander Wesuvio) took an elite premium of 9.45. Alison and Lynne Crowden bred Zinkwazi's dam, Woodlander Walk On The Wild Side by embryo transfer out of Woodlander Farouche. Alison now jointly owns Woodlander Farouche. Lynne said, "Zinkwazi is yet another example of the importance of breeding from good mare families. The strength of a good mare side can never be underestimated. The families have the depth to perform consistently at all ages and a good damline is also a significant factor in deciding on a stallion".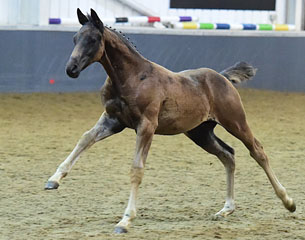 University lecturer, Eva-Maria Broomer bred the third highest scoring horse of the 2015 Futurity, Wunderkind ZB (by Woodlander Wild Child x Distelzar) who scored an elite premium of 9.40. Eva-Maria said, "His name in German means Wonder Child, I hope he lives up to it! He has already been sold, to Claire Wyatt as a stallion prospect where he will also be produced and ridden by Henry Boswell". She continued, "My Distelzar mare, Distelprix is a pure broodmare and breeds lovely foals. I am finding the Futurity very useful, it is possible to be disappointed with the scores given out but I see it as a way to learn and improve the horses bred from one year to the next. The new linear scoring is proving very helpful and providing more information and feedback than under the previous scoring system".
Top three year old in the dressage section of the 2015 BEF Futurity was, Sarah Lucas' three year old dressage colt, Heaven (by Hotline x Londonderry). He scored an elite premium of 9.10 and was bred by Lynne Crowden. Heaven was the highest overall Futurity scorer as a foal in 2012 with an elite premium that year of 9.66. Heaven is out of a Londonderry mare, St Pr Limoncello. Lynne Crowden said, "We are delighted with Heaven who is now an approved stallion, he has been covering this year but still has plenty of energy and was clearly feeling on top form at Southview. We often see that the Futurity scores can get lower as the horses get older. But it is so encouraging to see the consistency Heaven has".
Elisabeth Sweet's filly, Javanica (by Sandro Hit x Furst Heinrich) headed the dressage yearlings with an elite premium score of 9.05. Javanica is an embryo transfer from Elisabeth's Furst Heinrich dressage mare, Fari. Elisabeth said, "I am very pleased with Javanica's mark, I only started breeding three years ago as a hobby. My mare, Fari is great, she competed to advanced medium level although she is now retired and is in foal to Blue Hors Zack for 2016". Elisabeth runs Ladyswood Dressage and plans to keep Javanica, she continued, "I back all my horses myself and I hope Javanica will be a premium mare".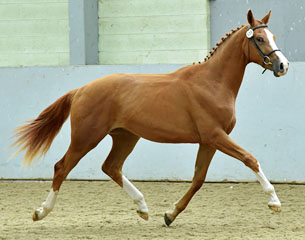 Two year old gelding, Fortunatus (by Floriscount x Der Lord) bred and owned by Sandra Tinker from Cheshire was best potential dressage horse of his age group in the 2015 Futurity. Fortunatus scored an elite premium of 9.00 at the Myerscough College Futurity. As a yearling in 2014 he scored 9.02 in the dressage section at the Southview Futurity. Sandra said, "Fortunatus is such an exciting prospect, I don't normally keep the boys but I am really looking forward to producing him and seeing how far we can get. I am so pleased he has got the second elite premium, you never know until the day, he really is consistent and so uphill. We will aim for equine bridge selection next year".
Best dressage sports pony of the 2015 BEF Futurity was Samantha Brown and Anne-Marie Perry Cowan's filly foal, Corsage (by Caesar 171 x Abanos) She scored a higher first premium of 8.95. Samantha's mother Beverley Brown said, "Samantha and Anne-Marie have started a breeding programme with their State premium Westfalian mare, Attention Please. They are both quite excited about Corsage's future. Corsage will be produced for dressage, I think Samantha and Anne-Marie will draw straws for who will ride her!"
The Futurity is a continually evolving process, since its introduction two years ago the Futurity equine bridge is now being run as an extension of the Futurity evaluations. The Futurity equine bridge provides top Futurity graduates with the direction and support they will need as 4 year olds so that they begin their early years under saddle in a way that allows for sustained physical and mental development. In order to be eligible for the Futurity Equine Bridge all horses must obtain a Futurity score of 8.5 or above and a high enough vet score in the in their three year old year.
The BEF's Head of Equine Development Jan Rogers said, "The Futurity celebrates its tenth anniversary this year. We are increasingly seeing that breeders, buyers and riders of British bred horses are finding that a Futurity premium is a very useful aid in helping assess these horses. We are also seeing a marked improvement in the standard of youngsters entered in the futurity, which is very good news for the future of British breeding".
The Futurity is fast becoming recognised as an important first step in the careers of many potential top level horses and provides a valuable marketing took for breeders.
Photos © Kevin Sparrow
Related Links
BEF Futurity Dates and Venues for 2015 Announced
British Bred Youngsters Stand Out in 2014 BEF Futurity Series
British Bred Dressage Horses Top 2013 BEF Futurity
Six Elite Premiums Awarded at 2013 BEF Futurity in Hartpury