KWPN Breeding News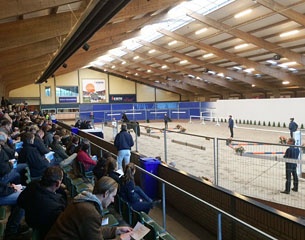 The pre-selection days for the 2016 KWPN Stallion Licensing in February have kicked off at the KWPN headquarters in Ermelo, The Netherlands, on 7 December 2015. Twenty-nine colts were picked on the first dressage pre-selection day on Wednesday 9 December.
For the first time Dutch horse breeder and Grand Prix dressage rider and trainer Bert Rutten served as chair of the KWPN Stallion Licensing Committee, replacing Wim Ernes who has resigned from the job. The current committee includes Rutten, Marian Dorresteijn  and Reijer van Woudenbergh.
"We made a good start. It already began in the morning on the hard surface, on which the horses made a good impression. Also their conformation stood out positively," said Rutten.
Fifty-eight horses were presented on the first dressage pre-selection day and a remarkably large group of colts with German sires was picked for the second phase of the 2016 KWPN licensing.  Still, the best producing sire on day one was Johnson (by Jazz x Flemmingh) with seven selected sons. Negro and Furstenball followed with three selected sons.
"Johnson's sons made a good impression in general because of their uphill movement and cadence. They also had good enough size," Rutten explained. Committee member Marian Dorresteijn stated that, "it was the day of the foreign sires and especially the proven sires, Negro, Jazz, Florencio and Johnson. We have a large group of sons of proven producers. That's a positive and you can be generous in your verdict then."
The committee marked that so far there were no real highlights, but the quality was good in general.
Moving on to the second phase are:
Invito (by Sorento x Gribaldi)
Ichiro van Bergsham (by Don Juan de Hus x Salieri)
Ironman (by Ferro x Tuschinski)
Inflorenz (by Florencio x Ferro)
Illusion A (by Florencio x Tolando)
Ivanov (by Franziskus x Don Schufro)
Impresario (by Furst Romancier x Uphill)
Fairtrade KL (by Furst Wilhelm x Don Frederico)
Fiamingho MS (by Furstenball x Lord Sinclair)
Igor H (by Furstenball x San Remo)
Invito (by Furstenball x Sandro Hit)
Iceman (by Hofrat x Special D)
I (by Hofrat x Zhivago)
Idool D (by Jazz x Ferro)
Ivanhoe van Bergsham (by Jazz x De Niro)
Idovo (by Johnson x Florestan)
Ivar (by Johnson x Farrington)
Ivens (by Johnson x Voltaire)
Ixilon V (by Johnson x Ferro)
Iwan (by Johnson x Florencio)
In the Game (by Johnson x Tuschinski)
Infinity (by Johnson x Rhodium)
Indigro (by Negro x Jazz)
Indorado (by Negro x Lord Leatherdale)
Inferio (by Negro x Vivaldi)
Ixion (by Rousseau x Jazz)
Iroko H (by Rousseau x Vivaldi)
Icarus de Jeu (by Sezuan x Jetset D)
Idono Paulowna (by Sir Donnerhall x Krack C)
Related Links
Bert Rutten to Replace Wim Ernes on KWPN Stallion Licensing Committee
Charmeur Best Represented Sire at 2016 KWPN Stallion Licensing Pre-Selection Days