American Dressage News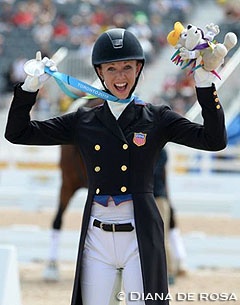 American Grand Prix champion and 2015 Pan Am team gold medalist Laura Graves has been nominated for the 2015 U.S. Equestrian of the Year title. Graves is one of nine 2015 Equestrians of Honour.
The William C. Steinkraus Trophy is presented to an equestrian competing in the Olympic disciplines of dressage, eventing, or show jumping.

Laura Graves has spent 2015 solidifying her name amongst top dressage athletes here in the U.S., as well as abroad. At only 28-years-old, Graves and her mount, Verdades, are continuing to put forth solid and often winning performances. The pair started the season in Florida, winning six consecutive CDI classes at the Adequan Global Dressage Festival including Team and Individual Gold medals at the Stillpoint Farm CDIO3* Nations Cup. Graves put in an elegant performance in her first World Cup Final appearance in Las Vegas at the 2015 World Cup Dressage Final, placing fifth in the Grand Prix and fourth in the Grand Prix Special.
Over the summer, Graves and Verdades traveled to Toronto, as members of the U.S. Dressage Team at the Pan American Games. She won Team Gold and Individual Silver medals, placing first in the Grand Prix Special and second in both the Grand Prix and Grand Prix Freestyle. Winning two of the three classes in The Dutta Corp./USEF Grand Prix Dressage National Championship, Graves and Verdades added their first ever National Championship title to a year of remarkable success. Graves is currently ranked 15th on the FEI World Individual Dressage Ranking List, moving up six places from this time last year.

This is the first time Graves has been awarded the William C. Steinkraus Trophy.
The other nominees are McLain Ward (show jumping), Cheryl van Deusen (endurance), Misdee Wrigley Miller (driving), Liza Boyd (hunter), Elisabeth Goth (American saddlebred), Michael Damianos (Arabian), and Martha Rattner (Arabian), Bill Deeney (Andalusian).
Photo © Diana De Rosa
Related Links
Laura Graves Wins the 2015 U.S. Grand Prix Championship
Steffen Peters Named 2011 USEF Equestrian of the Year
Steffen Peters Awarded 2009 Withney Stone Cup