2016 CDI-W 's Hertogenbosch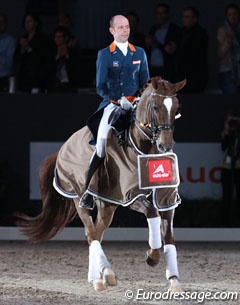 Hans Peter Minderhoud steeredFlirt to a stylish victory at the ninth qualifying leg of the World Cup™ Dressage 2015/2016 Western European League on home ground at 's-Hertogenbosch, The Netherlands on Saturday 12 March 2016. And there was even more for the Dutch to celebrate when Diederik van Silfhout finished a close second with a lovely performance from Arlando.
Spanish veteran and reigning European individual bronze medallist, Beatriz Ferrer-Salat, lined up third with Delgado while Belgium's Fanny Verliefden made a big impression with the mare, Annarico, to fill fourth spot. A total of 14 horse-and-rider combinations from eight nations lined out in this last qualifier ahead of the World Cup™ Dressage 2016 Final which begins in Gothenburg, Sweden in just 12 days time and, for some, there was a lot hanging in the balance. But Minderhoud has enjoyed a great season and today's result sent him rocketing back up to second place on the Western European League table which has concluded with Germany's Isabell Werth taking pole position after another winter of great sport.
Led the way
It was Spain's Morgan Barbançon Mestre who led the way going into the judging break today after posting 73.550 with Girasol, but as soon as the action resumed the pair were overtaken by Australia's Kristy Oatley and Du Soleil who scored 75.900. Then The Netherlands' Marlies van Baalen really got the home crowd going with an exciting routine set to a Big Band musical score, and when she drew to a halt with the big-moving 12-year-old gelding Ratzinger, who seemed to smile his way through his test, a mark of 76.375 went up on the board to put them out in front.
With five left to go however, it was van Silfhout and Arlando who were next into the arena, and the quality, fluidity, rhythm and energy of their work saw them earn 80.150 which really raised the bar. The pair who finished ninth individually at the European Championships in Aachen (GER) last summer and who were members of the bronze-medal-winning Dutch side at the World Equestrian Games™ in Normandy (FRA) in 2014 looked super-confident and secure, the 11-year-old stallion showing tremendous athleticism in his piaffe/passage work in particular.
Ferrer-Salat, who produced back-to-back wins with Delgado at Lyon (FRA) in October and Stuttgart (GER) in November, couldn't overtake them when posting 79.325 for a test that was calm and beautifully executed but which lacked a little sparkle. Then, third-last into the ring, Denmark's Agnete Kirk Thinggaard showed a real return to form with the charming Jojo Az whose recent performances didn't seem to reflect his normal enthusiasm, but who today worked in complete harmony with his rider, and with a zip in his step, for a strong score of 76.300. The Danish rider's decision to halve the time spent warming up her 13-year-old Hungarian-bred gelding appeared to pay off handsomely.
Uplifting
Verliefden's test was also uplifting, her 11-year-old bay mare's big, open action producing extravagant half-pass and great passage and piaffe. This is a pair just brimming with promise for the future, but as the Belgian put a handsome 77.950 on the board it was van Silfhout who still held the lead with the only mark of 80 percent. Last man in however, Minderhoud would put paid to that.
Only 0.4 points separated him from Spain's Ferrer-Salat in the Grand Prix, but today he enjoyed a bigger winning margin over his fellow-countryman with a Freestyle that oozed class and confidence. The chestnut stallion cruised through his trotwork, showed enormous power in piaffe and breezed through his tempi-changes for a winning score of 81.775 and maximum qualifying points. He's really looking forward to the Reem Acra 2016 Final now.
"It's happening a month earlier than normal so that's great because it's close to the end of the season and my horse is feeling really good!" Minderhoud said today. "He's never difficult, he's a really hard-working boy, he's a sweet boy, and I felt we did two really super tests here" he added.
At Amsterdam in January, where Germany's Isabell Werth reigned supreme, he had to settle for fifth place while van Silfhout lined up third with Arlando, and coming into the arena today he knew that his compatriot had produced another great test to take the lead. "I realised we would have to be really good to beat him, but my horse was really with me, he's been working great at home, so we just had to go in there and do our job!" Minderhoud pointed out.
Delighted
Van Silfhout was delighted with his second-place finish, and with his horse, Arlando. "He gave me a great feeling all through the test and we had no mistakes. The passage and piaffe were really amazing and the canterwork was much better than yesterday (in the Grand Prix). Arlando is a real worker, he's always happy to do his work! In the yard I always look after him the first, he likes that and he's very happy right now!
"It was really nice to be here. I wanted to see how his form was, how his body is, how he would be in the ring, and how he reacts to the atmosphere. I wanted to know how prepared we are because my target of course is the Olympic Games" van Silfhout said. This Dutch rider will not compete at the 2016 World Cup Final however.
"We competed in Amsterdam and Den Bosch, but I made the decision not to go to the Final because I want to keep my horse for the Olympic selection at Rotterdam and the Dutch Championships at Ermelo" he explained.
In contrast, Minderhoud is completely focused on travelling to the Final with Flirt who also competed at the 2015 World Cup Final in Las Vegas (USA) where the pair finished fifth. And he will be joined at the Swedish venue by his partner and 2010 World Cup champion Edward Gal who missed 's-Hertogenbosch this weekend after taking a fall from a young horse at home during the week. "It's three days later now and Edward is still sore and stiff but there are no broken bones, so he's definitely going to be in Gothenburg!" Minderhoud said. 
by Louise Parkes for the FEI, edited by Eurodressage - Photo © Astrid Appels
Related Links
Scores 2016 CDI-W 's Hertogenbosch
Eurodressage report: Ramel and Minderhoud Dominate Grand Prix Day at 2016 CDI-W 's Hertogenbosch
Eurodressage Coverage of the 2015-2016 World Cup circuit