2016 Van Olst Sales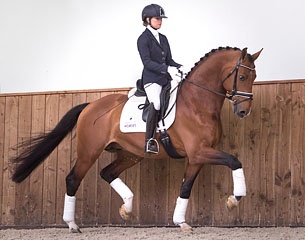 Jefferson became the price highlight of the 2016 Van Olst Sales held in Den Hout, The Netherlands, on Friday 25 March 2016. The 2016 Van Olst Sales was the second edition and 28 young sport horses reared by Gert-Jan Van Olst were sold at auction.
The 5-year old NRPS licensed stallion Jefferson (by Johnson x De Niro) achieved the highest knockdown price of the evening. He sold for 172,000 euro to an Australian company for an American Grand Prix rider.
A sponsor of British Young Rider Charlotte Fry, who trains and works with Anne van Olst, acquired two horses: the 3-year old Invito (by Everdale x Zucchero) for 72,000 euro and 3-year old Ilias van het Trichelhof (by Everdale x Negro) for 58,000 euro.
Russian buyers acquired Indigo (by Diego x Silvano) for 62,000 euro. Japanese investors paid 30,000 euro for Imperial de Baian (by Everdale x Jazz).
Grand Prix trainers Sjef Janssen and Norbert van Laak pooled together on Iban (by Chippendale x Don Schufro) and paid 34,000 euro. The NRPS licensed Chiva (by Chapter Leaderdale x Upperclass) sold to Germany for 26,000 euro.
Dutch Grand Prix rider Liesbeth Geven acquired Izardale (by Everdale x Kennedy) for 21,000 euro. The NRPS licensed Netzo (by Negro x Jazz) sold for 34,000 euro.
Related Links
Van Olst Sales on Repeat with Top Collection for 2016
Buy Your Future Dressage Star at the 2016 Van Olst Sales
Top Dressage Talent Up for Auction at 2016 Van Olst Sales
Halegro van het Trichelhof, Price Highlight of 2015 Van Olst Sales