2016 CDI-PJYR Girona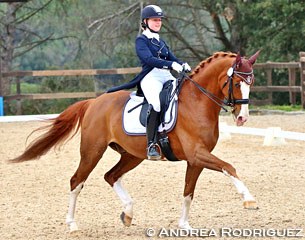 Talented Russian youngsters Anna and Ekaterina Aristova proved to be a very successful sister team at the 2016 CDI Valencia on 10 - 13 March 2016 and continued their success two weeks later at the 2016 CDI-PJYR Girona on 25 - 27 March 2016. Anna made her CDI show debut on Blickpinkt, while she has given the ride on her European Junior Riders Championships' mount Shania to her younger sister Ekaterina.
At the 2016 CDI Valencia the soon to be 13-year old Ekaterina made her international show debut on Shania and Lafite in the Children's division and won all three children tests on Shania. Elder sister Anna (17) found a winning partner in Blickpunkt and captured the Individual and Kur junior test victories. With her Russian team horse Kleppenhus Seabiscuit, she was third in the individual test. Valencia turned out to be a great weekend for the Aristov family.
"I knew from the first competitions that Blickpunkt would fight for me and when we enter the arena he always knows what is coming and he wants to do his very best," Anna told Eurodressage.
The Aristov family acquired Blickpunkt at Hof Kasselmann from its Italian owner, Grand Prix rider Silvia Rizzo, who had purchased the horse at the PSI Auction and kept it in training with Hof Kasselmann's Eva Möller. Blickpunkt and Moller were the 2010 Bundeschampions and won the silver and bronze medal at the 2009 and 2010 World Young Horse Championships.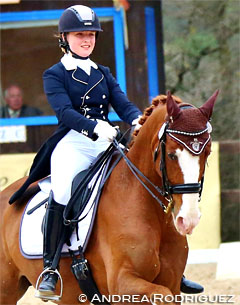 The now 12-year old Blickpunkt (by Belissimo M x Weltmeyer) recently made his come back to the show ring after injury and in Valencia Aristova and the strikingly coloured chestnut found their groove, scoring winning marks of 69.605% and 73.750% and coming second in the team test behind French rider Lea Bonifay. Two weeks later in Girona, Anna placed second in the team test (69.405%) and won the individual (72.816%) and Kur to Music (74.850%).
Anna's second ride, the 12-year old Kleppenhus Seabiscuit, was also acquired at Hof Kasselmann, where Insa Hansen had trained the dark bay gelding. In Valencia Anna and Seabiscuit were 15th in the team, but rose up to third in the Individual to score 69.474%.
"Heike Osterkamp is my trainer, who wealso met at Kasselmann's stable," Aristova explained. "Before Heike came every other week for lessons but this year we decided that for the training we would need more time and focus in the lead up to the Europeans, so now she lives in Spain and we train at the CAVA Equestrian Centre (in Girona), where the last international competition took place."
Anna added that she absolutely expected to do this well as they had worked a lot over the last few months and although she and Blicky have not been together for very long, Anna knew they would make a great pair.
"Now we will working on making everything perfect, without any small mistakes, and work on the details to keep the horses in a good shape," she explained.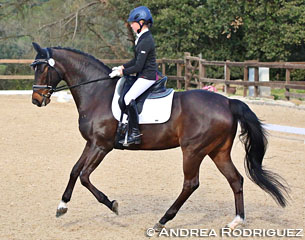 Ekaterina was thrilled with her victories on her CDI show debut. She scoring 67.00%, 71.000%, and 67.084% with the 14-year old Westfalian mare Shania (by Show Star)  and was first, second and third on the 15-year old German bred mare Lafite (by Lone Star). Two weeks later in Girona, Ekaterina booked a hattrick on Shania in the Children's tests with 71.267%, 71.933% and 69.844%
Ekaterina believes in her mares and their abilities. "Both these horses are very experienced so I feel I can learn a lot from them," said Ekaterina. She did not expect to do so well, but had hoped and wished for a good result.
"In training we work on the details; on the serpentines for the individual test and on the walk which is very important," said Ekaterina. "My plan for the next month is to go to Oliva Nova and win there."
For the future, Ekaterina also hopes to make the Europeans and then one day the Olympic Games.  "I'm 12 years old and I study in secondary school in Girona. Aside from my horse riding passion I like to draw and to study languages," she said.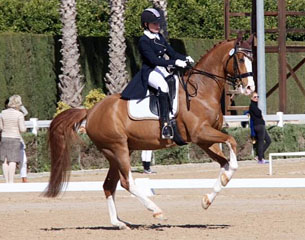 The more experienced Anna had already competed at three European Junior Riders Championships and is aiming to add a fourth one to her tally. She is very excited for next month's CDI Oliva Nova and wiill then head to Segovia, before taking some down-time before the Europeans.
"We didn't plan any more CDI's because our horses should rest a little bit before the Europeans, and maybe we will do one or two smaller shows before, just for training," said Anna.
Aristova hopes to participate in the last European Junior Riders Championships, held in Oliva Nova, Spain, in July and plans to continue working hard for the Young Riders next year.
"I am finishing school this year and I have to prepare a lot for the exams in Spain.  I have only lived here for less then 2 years and is a bit difficult to prepare for all the exams in Spanish," said Anna who is facing an extra challenge at school.
by Sarah Warne - Photos ©  Andrea Rodriguez
Related Links
Scores 2016 CDI Valencia
Scores 2016 CDI-PJYR Girona