2016 Preis der Besten Qualifier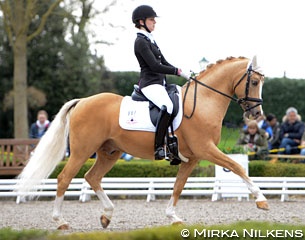 Pony rider Tabea Schroer, junior rider Semmieke Rothenberger and young rider Anna Christina Abbelen reigned supreme at the first Preis der Besten qualifier of the season out of two, held for the southern based German youth riders at Ann Kathrin Linsenhoff's gorgeous yard Schafhof in Kronberg, Germany, on 2 - 3 April 2016.
Aboard the long-time German team pony Danilo (by Dornik B x Power Boy) Tabea Schroer was undefeated in the pony division. She and the Krause family's 13-year old palomino stallion won the first round with 76.325% and the second round with 77.561%. Inga Katharina Schuster and the Krause family's 10-year old palomino stallion Cyrill (by Champion de Luxe x Power Man) were solid second twice with 73.419% and 75.406% while 2015 European Championship German team rider Linda Erbe scored two third places on her 10-year old palomino gelding Dujardin B (by Deinhard x Danny Black). She posted scores of 72.863% and 73.049%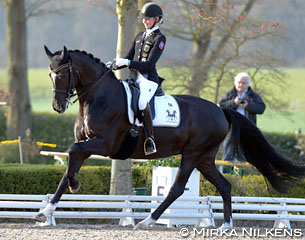 In the junior riders' division Semmieke Rothenberger continues to be Germany's unbeatable rider, now with two horses in tow. Aboard her newest acquisition Dissertation, a 9-year old Hanoverian mare by Don Crusador x Gluckspilz, she won both rounds with 74.685% and 77.062%. Her second horse, German medal winning Junior team horse Geisha (by Gribaldi x Weltmeister), she was close on Dissertation's heels, tying in first place in round one and finishing second in round 2 with 76.842%. The 2015 European Junior Riders' Champion Hannah Erbe could not match Rothenberger's score in Kronberg but was third twice with 73.693% and 73.290%.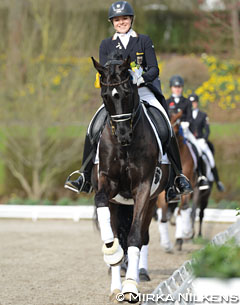 In the Young Riders division Anna Christina Abbelen wielded the axe of power with her duo of horses. Her leading mount Furst on Tour, the 11-year old Rhinelander gelding by Furst Heinrich x Rubioso N with which she became 2014 European Junior Riders Champion, she won both classes with 73.991% and 75.219% On her 10-year old Baden Wurttemberger bred First Lady (by Florencio x Donnerhall) she was second twice with 70.658% and 70.746%. A tough battle took place for third spot with Jessica Krieg taking it on Saturday with Special Edition (by Sir Donnerhall) on a score of 69.079%. However, on Sunday Viola Wilhelm fought her way up the ranks to the third spot scoring 69.868% on her 10-year old Oldenburg gelding Dandelion (by Daddy Cool x Feiner Stern).
The next Preis der Besten qualifier is for the northern based German youth riders and will take place in Vechta, Germany, on 16 - 17 April 2016.
Photos © Mirka Nilkens
Results - 2016 Preis der Besten Qualifier - Kronberg
Pony Riders - Round 1
1. Danilo - Schroer,Tabea - 76.325%
2. Cyrill - Schuster,Inga Katharina  - 73.419%
3. Dujardin B - Erbe,Linda  -  72.863%
4. Cinderella M WE - Henglein,Eileen  -  72.393%
5. Golden Girl - Linsenhoff,Liselott Marie  -  71.539%
6. Daddy's Daydream - Flunkert,Marei  -  71.453%
7. Timberlake SH - Flunkert,Marei  - 71.111%
8 . Lawn Hill - Rieg,Ann-Cathrin  - 70.342%    
9 . De Long - Merkt,Philipp   -  69.829%    
10. Schapur - Söder,Selina  -  69.060%    
11. Hancock - Schrödter,Jana  - 69.017%    
12. Lettenhofs Lovely Evergreen -Brühl,Lara  -  68.932%    
13. White Love B - Erbe,Helen  -  68.718%    
14. Havana Jack V - Schrödter,Jana  -  68.462%    
15 . Frühlingstraum - Lehr,Cosima  - 67.308%    
16. Destino - Gilbers,Zoe  -  65.342%    
17. Equestricons Lord Champion - Ostermann,Luise  - 65.128%    
18. Dinero - Kretzschmar,Helen  -  64.744%    
19. Fin C WE - Schroer,Tabea  -  64.017%    
19. Destany - Lang,Jana  - 64.017%    
21. Top Queen H - Treffinger,Moritz  -  63.590%    
22. Nur für Dich - Lang,Jana - 54.658%   
Junior Riders - Round 1
1. Dissertation - Rothenberger,Semmieke  - 74.685%
1. Geisha - Rothenberger,Semmieke  - 74.685% 
3. Carlos - Erbe,Hannah  - 73.693% 
4. Danönchen OLD - Linsenhoff,Liselott Marie  -  71.712%   
5. Fascinate - Nuscheler,Bettina  -  68.243%
6. Rentagroup's Rudolph - Müller,Enya  -  68.063%    
7. His Heini OLD - Alsdorf,Christian  -  67.658%    
8. Dancer - Krause,Nadine  -  67.567%    
9. Feodor Nymphenburg - Raumanns,Lana  - 67.387%    
10. Dolunay  - Welz,Karen  - 67.297%   
10. Zeyden Gin - Kaltenbacher,Sophie  -  67.297%    
12. Diabolo Nymphenburg - Fircks,Cosima von  -  66.442%    
13. Dawn - Thiel,Stella  - 66.171%    
14. Diva Royal - Pasic,Angelina  -  65.721%    
15. San Cherie V - Manganaro,Annabelle  - 65.090%    
16. Rio Grande - Wiemers,Anouk  - 65.000%    
17. Freundschaft - Casper,Anna  -  60.676%
Young Riders - Round 1
1. Fürst on Tour - Abbelen,Anna-Christina  -  73.991%
2 . First Lady - Abbelen,Anna-Christina  -  70.658%   
3. Special Edition - Krieg,Jessica  - 69.079%
4. Sambatänzer - Weiß,Linda  - 68.640%
5. Scharon - Stilgenbauer,Sophie  -  68.509%    
6. Sympathikus - Fuchs,Anna-Louisa  -  67.149%    
7. Dandelion - Wilhelm,Viola  - 66.535%    
8. Wilhelm - Colling,Marie-Louise  - 65.351%    
9. What's up - Ihring,Laura  - 64.912%    
10. Rock for Westfalia - Danwitz,Johanne Pauline von  -  63.772%   
11. Logenbruder - Stanslowski,Philipp  -  63.377%    
12. Fairplay - Degele,Sandra  -  63.202%    
13. Harkon - Kogel,Marie-Christin  -  61.667%   
Pony Riders - Round 2
1. Danilo - Schroer,Tabea -  77.561%
2. Cyrill - Schuster,Inga Katharina  -  75.406%
3. Dujardin B - Erbe,Linda  -73.049%
4. Golden Girl - Linsenhoff,Liselott Marie  -  72.155%
5. Timberlake SH - Flunkert,Marei  -  71.382%
6.  Havana Jack V - Schrödter,Jana  -  71.342% 
7. Lawn Hill - Rieg,Ann-Cathrin  -  70.935%    
8. De Long - Merkt,Philipp  -  70.325%    
9. Equestricons Lord Champion - Ostermann,Luise  -  70.122%    
10. Cinderella M - Henglein,Eileen  - 70.000%    
11. Schapur - Söder,Selina  -  69.634%    
12. White Love B - Erbe,Helen  -  69.065%    
13. Frühlingstraum - Lehr,Cosima  -  68.984%    
14. Lettenhofs Lovely Evergreen - Brühl,Lara  - 67.602%    
15. Destino - Gilbers,Zoe  -  67.155%    
16. Daddy's Daydream - Flunkert,Marei  - 66.341%    
17. Destany - Lang,Jana  -  66.179%    
18. Dinero - Kretzschmar,Helen  -  64.878%    
19. Hancock - Schrödter,Jana  -  64.594%    
20. Top Queen H - Treffinger,Moritz  - 63.496%    
21. Nur für Dich - Lang,Jana  - 62.805%
Junior Riders - Round 2
1. Dissertation - Rothenberger,Semmieke  -  77.062%  
2. Geisha - Rothenberger,Semmieke  - 76.842%
3. Carlos - Erbe,Hannah  -  73.290% 
4. Danönchen OLD - Linsenhoff,Liselott Marie  -  72.500%
5. Rentagroup's Rudolph - Müller,Enya  -  70.088%  
6. His Heini OLD - Alsdorf,Christian  -  69.386%   
7. Fascinate - Nuscheler,Bettina  -  69.035%    
8. Rio Grande - Wiemers,Anouk  -  67.456%    
9. Dancer - Krause,Nadine  -  67.368%    
10. Zeyden Gin - Kaltenbacher,Sophie  - 66.974%    
11. San Cherie V - Manganaro,Annabelle  - 65.307%    
12. Dolunay - Welz,Karen  -  65.263%    
13. Feodor Nymphenburg - Raumanns,Lana  -  64.518%    
14. Diva Royal - Pasic,Angelina  -  64.211%    
15. Diabolo Nymphenburg - Fircks,Cosima von  -  60.965%    
16. Dawn - Thiel,Stella  -  60.483%    
17.  Freundschaft - Casper,Anna  -  57.983%   
Young Riders - Round 2
1. Fürst on Tour - Abbelen,Anna-Christina  -  75.219%
2. First Lady - Abbelen,Anna-Christina  - 70.746%
3. Dandelion- Wilhelm,Viola  -  69.868%
4. Scharon - Stilgenbauer,Sophie  -  68.904%
5. Sambatänzer - Weiß,Linda  - 68.509%   
6. Sympathikus- Fuchs,Anna-Louisa  -  67.939%    
7. Harkon - Kogel,Marie-Christin  - 65.790%    
8. Fairplay - Degele,Sandra  - 63.860%    
9. What's up - Ihring,Laura  -  63.816%    
10. Rock for Westfalia - Danwitz,Johanne Pauline von  -  63.421%   
11. Wilhelm - Colling,Marie-Louise  - 63.377%    
12. Logenbruder - Stanslowski,Philipp  -  62.983%
Related Links
Participants for 2016 Preis der Besten Qualifiers Announced

Previous Winners, Eurodressage Coverage since 1999
Rothenberger and Becks Win 2015 Preis der Besten
Rothenberger, Abbelen, Rothenberger Win 2014 Preis der Besten
Photo Report: Rothenberger, Von Danwitz, Niemann Win 2013 Preis der Besten Title
Rothenberger, Niemann, Schurmann Win 2012 Preis der Besten
Linnemann, Schutte, Luttgen Win 2011 Preis der Besten
Photo Report: Krieg, de Ridder and Lutkemeier 2010 Preis der Besten Champions
Rothenberger Kids and Sieber Win 2009 Preis der Besten
Photo Report: 2008 Preis der Besten
Photo Report: 2007 Preis der Besten
Photo Report: 2006 Preis der Besten
Scores: 2004 Preis der Besten
Scores: 2003 Preis der Besten
Scores 2002 Preis der Besten
Torloxten and Giesen In the Picture at 2001 Preis der Besten
Scores: 2000 Preis der Besten
Kroncke, Kroncke and Maiwurm Win 1999 Preis der Besten