2016 CDI Keysoe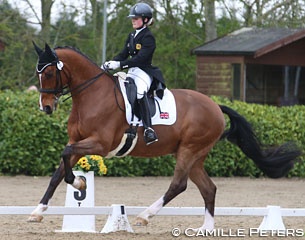 Well known British Pony rider Phoebe Peters made her international junior riders debut at the 2016 CDI Keysoe on 15 - 17 April 2016, introducing 17-year old schoolmaster Denford Surprise to the arena in style. The pair won all three Junior rider tests and achieved a hattrick on this junior debutant ball.
Phoebe says she felt her 17-year old Dutch warmblood gelding Denford Surprise (by Concorde x Notaris x Jasper) was getting better and better as the competition continued.
"I was really thrilled to win at Keysoe, although there were not very many entries in my section it was a great opportunity to ride in front of the highest level international judges and gain useful experience to help us move forward." says Phoebe. "Denford Surprise (known as Parker) behaved so well throughout the week, he improved everyday and seeing as it was our first big show together I couldn't be more pleased with him."
With 68.468% in the Team, 69.824% in the individual, and 73.875% in the Kur, Phoebe feels very lucky to have been given the ride on Parker by his wonderful owners, British based Dutch eventing couple Debbie and Eddy Stibbe, on whose yard they are based and have been for the last two years.
"I started helping out with the horse last year and after finishing my career on ponies Debbie very kindly let me start competing and training Parker full time. I'm very grateful to them," she explained. "What's special about Parker is his temperament. He is 17 years old but has only ever competed up to Advanced Medium level, despite this he gives 110% every time he enters the arena. He really does try his best."
Phoebe added that debuting in Juniors was really exciting and that she is loving riding the higher movements and riding horses in general.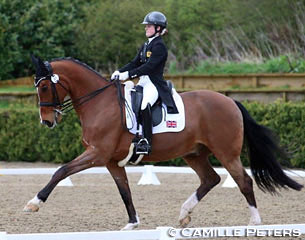 "For me a big part of my mindset is that every test is the same, so riding Juniors is just another test in a way. However, the main difference from ponies for me is of course the size of the horse.  Parker is nearly 17.2hh so moving him around the arena compared to SL Lucci is quite tricky," she admitted. "That said, I had the best possible preparation for the move to a big horse as Lucci was big moving and I have also had the privilege of riding other horses on my journey already."
Peters is the current World Record holder in the FEI pony division and has been European Pony Champion twice, in 2013 and 2015. Her pony star, SL Lucci, is still with her and is enjoying a well deserved break over the winter.
"He is now approaching an exciting new change as he will be campaigned once more at pony level, this time by a new British rider.  I'm really excited to see Lucci back out again, and I will also be helping with their training," said Peters, who did not want to reveal the name of the rider as they are about to close the deal.
Now training regularly with Henriette Andersen as she had helped Debbie Stibbe on Parker before, Phoebe has moved away from pony coach Peter Storr. She is  also helped as a junior by the GB Team Trainer David Hunt and Excel Talent Program coach Gareth Hughes.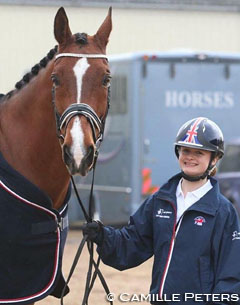 "Honestly, I did not expect to do so well at Keysoe, we have been scoring well consistently but with a little 'spring fever' Parker has been quite excitable lately so I just went to the show with the aim of having fun, learning a lot, and producing three clean safe tests. It was a brilliant show thanks to the super organisation and to my family for as ever being so supportive throughout the week."
Phoebe will now be working on polishing their work and says that as Parker has three lovely paces and does all the movements with ease, she would like to get a little more power into the tests.
"For now though I'm focusing on perfecting the movements before our next show.  Over the next few months I am aiming to continue our campaign to make it onto the GB Junior team for this years European Championships, we will do one more International show, and work hard in training.  Finding time to get abroad and compete this year has been quite difficult due to my AS level exams at school."

At 16 years of age, Phoebe studies French, German and History at A Level, and is considering going to university to study French and German but will do so close to home so that she may continue her career in dressage.
by Sarah Warne - Photos © Camille Peters
Related Links
Scores: 2016 CDI Keysoe
Phoebe Peters Claims Kur Gold with World Record Score at 2015 European Pony Championships
Phoebe Peters Undisputed 2013 European Pony Champion Wins Kur Gold