German Dressage News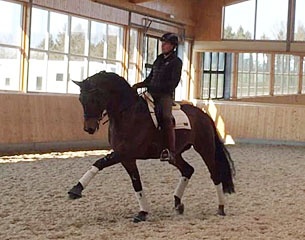 German Olympic short listed dressage rider Jessica von Bredow-Werndl and her brother, Grand Prix rider Benjamin Werndl, have a new talented Grand Prix star, the 7-year old Oldenburg gelding Famoso (by Farewell III x Welt Hit II x Landadel), in their stable in Aubenhausen, Germany.
Swiss dressage enthusiast Flora Keller, who is the sister of retired Swiss O-judge and Werndl's loyal sponsor Beatrice Burchler-Keller, has acquired Famoso through German horse dealer Jochen Arl.
This is the third rising Grand Prix horse in ten months time that Arl has been able to sell to a World Ranked Top 20 rider. In September 2015 he sold European Young Riders' Champion horse Equestricons Walkure to Danish Olympic team candidate Agnete Kirk Thinggaard. In October 2015 he sold the 7-year old Westfalian Rock Star to 2015 Danish Grand Prix Champion Anna Kasprzak.
Henri Ruoste, who is based with his partner Senta Kirchhoff at their own private stable Gut Bertingloh in Menden, Germany, trained both Rock Star and Famoso from M-level to to Grand Prix level in less than a year.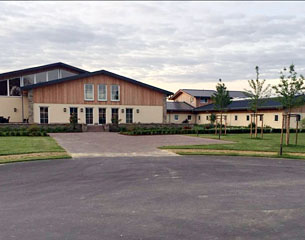 Flora Keller originally intended to keep the horse with Holga Finken but ended up bringing the Oldenburg to Aubenhausen. The Werndl family is closely based to Keller's home in Switzerland. For now Benjamin Werndl is riding the bay gelding.
"Jessica and Benjamin are managing him as a team and the horse will tell us who the better fit is as a rider," Keller told Eurodressage. "For now he is under Benjamin's saddle and feeling good there. The choice to bring Famoso to Aubenhausen came after I had to find a rehab facility for two other horses. Aubenhausen has an aquatrainer and a team of excellent veterinarians, therapists and riders to offer the complete rehab package. So, already having two horses there, and on top of things being in easy driving distance much closer to home, the decision fell - albeit not easily - to bring Famoso there also."
Jessica von Bredow-Werndl is ecstatic about the new addition to their string of horses but they have decided to take it slow with the rising Grand Prix horse.
"We haven't got a fixed plan yet," Jessica von Bredow-Werndl told Eurodressage. "We are just happy to have such a great horse at our yard, but it looks fabulous with Benni. He is lovely horse with a great character and he already enjoys the field every day."
Ruoste has also lately been spending much time out of the saddle as a trainer. For the past few months he has been intensively coaching Jochen's daughter Antonia Arl. Antonia currently has three horses to compete: the 2014 European Junior Championship kur bronze medal winning Equestricons Bolita (by Uptown), junior ride Belstaff W (by Belissimo M) and young rider's horse Duke de Niro (by De Niro).
The 15-year old Antonia was short listed on the Belgian Junior and Young Riders team, but will not be campaigning at the European Championships in Oliva Nova this year. Due to her switching school as well as trainers, Antonia has decided to work on solidifying the partnership with her three equine stars instead of rushing them into the show ring.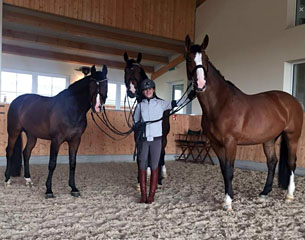 She aims to make the definite transition to Young Riders level in 2017 and will compete two horses in the young riders classes this summer, while she will slowly get her feet wet in the Under 25 division on Duke de Niro. Her junior riders' horse Equestricons Ziggy, with whom she competed at the 2015 European Junior Championships, will be sold.
"There has been so much change in my life this year, mainly switching to a better, private school in Maastricht which is much more flexible in its schedule so I can ride my horses," said the 15-year old Antonia. "The commute from Belgium to Germany to work with Henri is quite intense and my new school leaves me much more room. I really enjoy being in a new environment and getting fresh new views on dressage riding. I want to get stronger and better at home first so we'll take it slow this summer and concentrate on developing and improving."
Related Links
Rock Star, New Rising Grand Prix Horse for Anna Kasprzak
Equestricons Walkure Sold to Agnete Kirk Thinggaard
Christian Zimmermann's Road to Rio Leads Through Wellington
Antonia Arl Signs Sponsorship Deal with Cavalleria Toscana
Antonia Arl to Move to Junior Riders' Level with Equestricons Ziggy
Antonia Arl Succeeds Sister and Wins 2014 Belgian Pony Championships