Auction News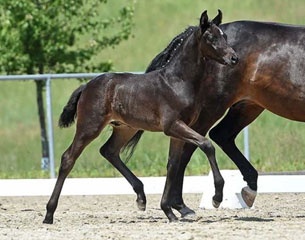 A black colt by Fursten-Look x Ray Ban x La Rochelle G became the top selling foal at the first 2016 Bavarian Foal Auction held at the Olympic riding centre in Munich-Riem on 16 July 2016.
Bred by Hermann Stadelmann, the Fursten-Look colt sold for 16,500 euro. Two bidders fought for the foal, Helmut von Fircks and a Bavarian based show jumper, who was bidding for an Austrian client. The Austrian ended up buying it.
Two more foals sold for 10,000 euro or more. The most expensive show jumping bred foal was a bay colt by Canoso x Caretino, which sold for 16,000 euro to Gestut Sprehe.
A dark bay Dante Weltino x Swarovski colt sold for 10,000 euro to Stephanie Weihermuller's stable Pink Piaffe in Bayreuth, Germany. The Grand Prix rider also acquired the dark bay filly Furstenzell (by Furst Romancier x Sarkozy).
Thomas Casper of Gestut Birkhof bought two foals. A filly by Topas x Christ for 6,500 euro and a colt by Feriado x Quando-Quando for 4,900 euro
The collection included 30 foals of which 29 were presented to be sold. The average price was 5,568 euro.
The Bavarian breed society holds three foal auctions this year, this one in July, one on 10 September in Munich and a final one 3 October in Schwarz Mammendorf.