Danish Dressage News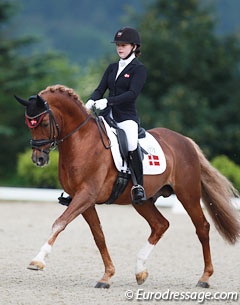 The Danish equestrian federation has announced the team that will represent Denmark on home turf at the 2016 European Pony Championships in Vilhelmsborg, on 17 - 21 August 2016.
At the beginning of August the long listed Danish pony team candidates gathered for one last time for a training and observation session with team coach Jette Nevermann.
She has now decided on the team.
Denmark will be presented by:
Louise Fauerholm Christensen - Vegelins Goya
Sara Aagaard Hyrm - Der Harlekin B
Victoria Cecilie Bonefeld Dahl - Gambys Hanneken WE
Kristian Würtz Green - D'Artagnan or Lilo L
Reserves
Kristian Würtz Green - Lilo L og D'Artagnan
Maria Mejlgaard Jensen - Bjerregårds Mozart
Photo © Astrid Appels
Related Link
Eurodressage Coverage of the 2016 European Pony Championships