British Sport Pony Breeding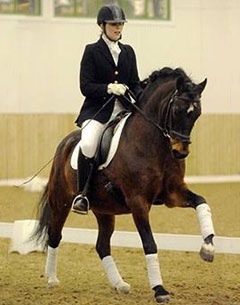 Beverley Brown, proprietor of Godrics Stud which is based at her facility, Leamside Equestrian in the UK are celebrating this week after two of the offspring from their elite pony stallion Caesar 171 competed at the recent European Championships for Ponies, a goal they have always wanted to achieve.
Caesar was approved in 1991 by Weser-Ems and in 1994 completed his performance test at Radegast gaining two "10's" for his nature and rideability, ten "9's", two "8"'s and one "7" placing him 3rd overall out of 19 with a score of 8.58/10. Imported to the UK, he was Restricted Medium Winter Champion at the British Dressage Championships, winner of Pony Europeans Dressage Team Silver and Bronze medals and scored over 70% in Open Medium & FEI pony classes.
In 2007 Caesar and Samantha Brown won the regional Talent Spotting and were Reserve at the Finals. In 2011, Caesar received the prestigious British Breeders SPSS Performance & Breeding Award. The success of his progeny in 2014 resulted in Caesar being awarded the SPSS Dancer Medal in Feb 2015. His oldest UK progeny are now rising 9 years old and include 3 SPSS graded sons, 2014 SPSS Mare Champion and the 2008 "Best British Bred Pony Foal" and in 2012 Best 3 year old pony.
Caesar's progeny have been 2013 Young Dressage Pony Champion (Cruz), 2012 Reserve Champion and Top 5 year old (LE Chiffre) & 2012 top 6 year old (Rosewater I Claudius). In 2014, 5 yr old Cruz was the National Novice Open Champion and 7 year old SPSS Elite graded LE Chiffre scored over 73% internationally and was selected as Reserve for the GB Pony European Championships Dressage Team. In 2015, LE Chiffre again competed internationality for GB; Bathleyhills Sea Wurzel was Novice Restricted Music Freestyle Champion and Cruz was Medium Restricted National Champion.
Although Bev Brown has been breeding and been involved in breeding for over 20 years, LE Chiffre was her very first homebred as a business stud. He was from their first foundation pony mare and by Caesar 171.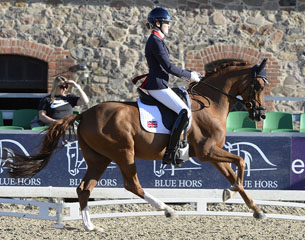 At the European Championships for Ponies 2016, Lara Kuropatwa and SPSS pass ported and Elite graded LE Chiffre (Caesar son) came 10th in the Team Test, 11th in the Individual and 8th in the Kur in their first FEI European Championships for Ponies.
Laura Dennehy with Julie Lockey's homebred Ella, also by Caesar 171, rode a successful test whilst representing Ireland; further cementing Caesar's presence as a prolific pony stallion on the international stage.
In the same week Rosewater Sports Ponies and Sarah Eberle's homebred Caesar 171 son Rosewater I Claudius competed at the CDI-PJYR Diepenbeek under talented rider Claire Hole and finished10th in the team test, 12th in the individuals and 11th in the Kur. Samantha Brown also rode this pony to win the Young Dressage Pony 6 year section of the BD pony championship in 2012.
Charlotte Dujardin's Cruz III, also by Caesar 171, has qualified once again for the UK National Championships at Medium Gold with rider Jayne Turney in September of this year. LE Chiffre will join Cruz after his direct qualification to the Nationals following his placing in the Individual test in Vilhelmsborg last week.
Caesar has produced progeny that have ben successful in various disciplines from showing, dressage, show jumping and eventing . His earlier German progeny are also showing his diversity in Driving with Germany's Heiner Lehrter competing successfully in every World Para-Equestrian Driving Championship and also competed with his pony Cholin S, Caesar 171 son, in regular national driving competitions in Germany. At the World Championships competed with the then 15 year old pony to take Gold and the World Championship title in Breda. Cholin S is a marathon pony producing fast times and equally Lehrter was extremely pleased with his dressage score and cones section.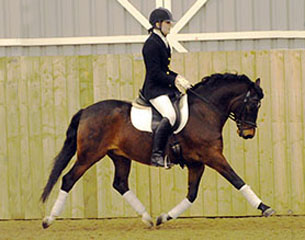 On Le Chiffre, Beverley Brown said - "The feeling I have is indescribable. To have chosen the combination, delivered the foal, watch as he was produced through the levels by some very talented riders and coaches, managed in such a way as to enable him to achieve his potential and now to European Team.
It is a long road and not without various ups and downs, as any breeder knows. Our philosophy is one to keep the foals and produce them to a ridden age and ready to compete in competition before we either sell, lease or loan. So as the first young stock is now emerging we are delighted with our very first foal under the stud's banner."
For more details, please see www.godricsstud.com and www.leamsideequestrianltd.co.uk
Photo © Kevin Sparrow (top)
Related Links
British Youth Rider Samantha Brown Combines Dressage and Breeding at Leamside Equestrian
Top Red, LE Chiffre, Rosewater I Claudius Win 2012 British Young Pony Championships
Kuropatwa, Jesty, Lucas Win 2015 British Youth Riders Championships