KWPN Breeding News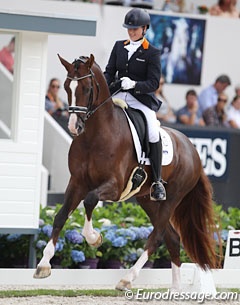 A very small group of only six dressage bred KWPN licensed stallions - Hermès, Guardian S, Grand Galaxy Win, Gunner KS, Hennessy and High Five US - presented their foals at the mandatory KWPN Offspring Inspection at the KWPN headquarters in Ermelo, The Netherlands, last week.
Only three stallions from the H-year (colts born in 2013) presented a group of foals, as well as three of the G-year (born 2012). The foals presented in Ermelo were hand picked by the stallion owner so they have an input in the quality of the foals. The KWPN has also done foal inspections at home, where the stallion owner did not have full liberty at picking the foals.
Some stallions have not yet shown their offspring at the mandatory KWPN Foal/Offspring inspection because they have not yet been bred to a sufficient amount of mares or lack a consistent collection of foals.
The H-stallions impressed with their collection, while two G-sires presented foals from mediocre to good quality.
High Five US (by Charmeur x Negro x Vincent) sired 52 foals in 2016. The KWPN selection committee reviewed 23 foals at home and 9 in Ermelo. The foals stood out with their spring and suppleness but held the neck a bit high which resulted in reduced back and hindleg usage.
The KWPN stallion performance test winner Hennessy (by De Niro x Jazz x Ulft) sired 92 foals in 2016 and 25 of them were inspected at home and 7 in Ermelo. His foals had good balance and suppleness and a correct way of using the hindleg.
Hermes (by Easy Game x Flemmingh x Jazz) only sired 9 foals in 2016 and 7 of them were shown in Ermelo and seen at home. His foals stood out with their lightfootedness, a nice dressage model and uphill tendency.
The highly popular Guardian S (by Bodygyard x Trento B x Juventus) sired 141 foals in 2016. The committee inspected 22 foals at home and 8 were shown in Ermelo. He sires long lined foals with good ground cover but the hind leg should move more under the body.
Grand Galaxy Win (by Apache x Jazz x Zeoliet) sired 126 foals this year but only six showed up in Ermelo, while 22 were scored at home. His foals were long legged, but the toes were out once in a while and the front leg moved a bit flat. The canter was good.
The liver chestnut Gunner KS (by Belissimo M x Vincent x Donnerhall) produced 40 foals in 2016, 7 showed up in Ermelo and 17 were scored at home. The foals had a beautiful front, but the hind leg lacked carriage.
Complete reports here (in Dutch)
Source: Horses.nl
Related Links
2015 KWPN Offspring Inspection for Twelve Young KWPN Licensed Colts
Connaisseur's KWPN Offspring Inspection Cancelled
KWPN Offspring Inspection for Cover Story, Dream Boy, Cupido and Diego
KWPN Offspring Inspection for Cachet, Dorado, Chagall, Don Tango, Astrix