Danish Warmblood Breeding News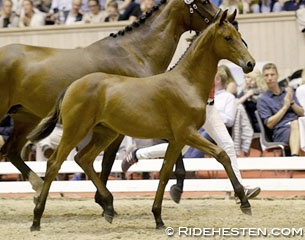 Filly Lissau's Ginger (by Franklin x Sandro Hit) became the price highlight of the 2016 Danish warmblood elite foal auction held at the annual Danish Warmblood Elite mare show in Vilhelmsborg, Denmark, on Saturday 27 August 2017.
This year not the colts but the fillies were the best sellers of the auction. The auction price highlight Lissau's Ginger sold to Norwegian young rider Alexandra Andresen for 47,000 euro.
The second most expensive foal was filly Straight Horse Zarina (by Zalabaster x Don Schufro) which sold for 27,000 euro to Jane Bartram of Holland Bends stud farm in Australia. This filly is out of the same dam as Sezuan.
Springborgs Guytino (by Dante Weltino x Fürst Romancier) was acquired by California based dressage rider Laura Brandt for 23,000 euro.
The most expensive jumper foal was Constantin VH (by Conner x Clinton I) which sold for 14,775 euro to Niels Osterland, Denmark.
From the ten foals that made it to the champion's ring, vying for 2016 Danish Warmblood Foal Champion's title, only two were sold at auction. Finalist filly Hedelunds Miss Infinity sold for 8,700 euro, finalist colt Lykke D'Artagnan sold for 9,400 euro.
A total of 59 foals were sold for an average price of 10,775 euro. 83% of the foals were sold, the rest was either scratched or bought back by the owner.
The complete auction results here.
Photo © Ridehesten
Related Links
Tophojs Tebaldo, Top Seller of 2015 Danish Warmblood Elite Foal Auction
Strandagergaards Sirocco, Price Highlight of the 2014 Danish Warmblood Elite Foal Auction
Stenagers Franzeska, Price Highlight of the 2013 Danish Warmblood Elite Foal Auction
Atterupgaards Jazzper, Top Selling Foal at 2012 Danish Elite Foal Auction
Future Jazz RV, Price Highlight 2011 Danish Elite Foal Auction
Dancing Boy, Price Highlight of 2010 Danish Warmblood Foal Auction
Ohlala, Price Highlight of the 2009 Danish Warmblood Elite Foal Auction
Bjerggaards Don Perignon, Danish Warmblood Foal of the Year and Top Auction Foal