Dressage News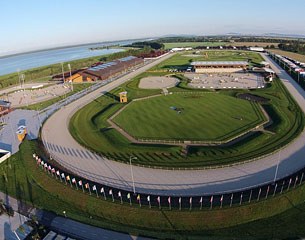 In a short period of time three scheduled international dressage competitions have been cancelled and scratched from the FEI calendar. Two of them died a silent death, while Indoor Drachten announced the cancellation of the 2017 CDI leg yesterday.
The 2016 CDI Samorin, the second international dressage competition the 2018 WEG candidate was supposed to host this year, was quietly annulled and riders not properly informed of the cancellation of the event. The event was originally scheduled to take place 30 September - 2 October 2016 co-incidingly with the CSI there.
The 2016 CDI Barcelona, of which an April version was announced to replace the CDI Can Alzina (near Barcelona) but then cancelled in early spring, will also not be able to host its November edition, even though the event was listed on the FEI calendar (and subsequently removed).
The two cancelled Barcelona events were brave efforts from show organizers Top Iberian to find a replacement for Annabelle Collins' CDI Can Alzena, which skipped hosting the Barcelona Dressage Tour in 2016.
"We never planned to host any event this year until we have all our ducks in a row with our council and sponsors," Annabelle Collins told Eurodressage. "This (April & November) CDI Barcelona has nothing to do with the CDI Barcelona Dressage Tour in Can Alzina. We may be able to have the show again next March, but we will not be totally sure until the end of the year. If not we will aim for it again in 2018."
On Wednesday 21 September, the show organizers of the 2017 CDI Drachten announced in a press release that the dressage part will not take place in January 2017. After several highly successful editions, which a huge, packed field of competitors at the first indoor CDI of each new year, Drachten will only be focusing on CSI show jumping as of 2017.
"We always got positive reactions from the dressage riders to our event, but it was hard to attract the top riders. Therefore it was hard to fill the stands and to carry the financial costs," said Gerrit Jan van de Pol, chair of the Drachten show organization, which also includes Fred Lodewijk, Fré Nienhuis, and Emmy Poppelaars.
Earlier this year, the 2016 CDI Pompadour was scratched as well.
The cancellation of these CDI's in such a short period of time further proves the difficulty show organizers have to get proper funding and sponsoring in place to stage dressage shows. They often lack proper attendance, need to pay the FEI substantial staging fees, or face deep budget cuts as they require to pay top dressage riders a substantial fee to guarantee their entry to at their show.
Related Links
2016 CDI Barcelona and Pompadour Cancelled
Marlies van Baalen and Ratzinger Sweep 2016 CDI Drachten Grand Prix Kur
Samorin Thrown into the Mix as 2018 World Equestrian Games' Candidate