2016 Klosterhof Medingen Auction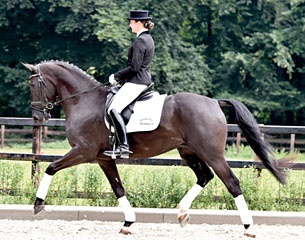 The young dressage horse Dexter and the colt foal Backstage became the price highlights of a highly successful 2016 Elite Auction at Burkhard Wahler's Klosterhof Medingen on Saturday 24 September 2016.
The 4-year old Dexter (by De Niro x Canaster) sold for the top sales price of 330,000 euro to the north German dressage stable Gestut Fohlenhof.
The second most expensive horse was Hot Shot (by Hot Spirit x Divino de L) who moves to The Netherlands for 280,000 euro. 
Feldrose (by Feuerspiel x Latimer) sold for 270,00 euro to a German Grand Prix rider from Stade. Divadi (by De Niro x Wolkentanz) switched owners for 110,000 euro.
All sport horses sold to German customers except for Hot Shot and Farfan (by Foundation x Argentinus). The latter moves to Canada for 75,000 euro.
The top selling horse Backstage (by Borsalino x De Niro x Caprimond) went to a stallion owner in Germany for 120,000 euro. Danish Per and Lotte Skjærbæk of Priess Stuteri and business partners Jytte and Sophus Bøgeskov Christensen paid 70,000 euro for Bitter Lemon (by Borsalino x Danone I).
Canadian clients acquired colt Quintano (by Quantensprung x Hotline) for 50,000 euro and filly Quite Gold (by Quantensprung x Rubinero) for 20,000 euro.
The average price for a sport horse was 77,000 euro and the average price for a foal was 17,500 euro.
Related Links
Dressage Collection of the 2016 Klosterhof Medingen Auction Now Online
Descadero, Top Seller at 2015 Klosterhof Medingen Auction
Honduras, Top Seller at the 2014 Klosterhof Medingen Auction
Sommelier, Price Highlight of the 2013 Klosterhof Medingen Auction
Donatella Versace, Top Seller at 2012 Klosterhof Medingen Auction
Denino, Price Highlight of the 2011 Klosterhof Medingen Auction
Denina, Top Seller at the 2010 Klosterhof Medingen Auction
Duke of Oldenburg, Price Highlight of the 2009 Klosterhof Medingen Auction