Swedish Warmblood Breeding News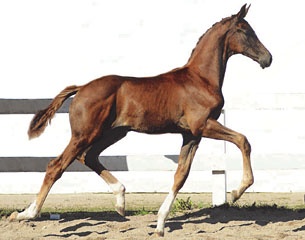 The chestnut colt Fabulous M became the top seller of the 2016 Swedish Warmblood Elite Foal Auction in Flyinge, Sweden, on Friday 7 October 2016.
Fabulous M (by Johnson x Florencio x Desperados) sold to Isabelle Tovek for 47,637 euro.
The colt Tibertius (by Total Hope x Don Primero x Master) was the second most expensive foal, selling to Denmark for 27,960 euro.
The best selling jumper foal was filly Mayfair (by London). It sold for 22,782 euro to Sweden.
The majority of the foals sold to Swedish clients. Golden Eye YL (by Grey Flanell x Don Romantic) sold for 11,391 euro, while Don Domingo (by Don Nobless x Rousseau) fetched 15,533 euro.
Danish customers purchased the chestnut filly Zurielle (by Zuidenwind x Ampere) for 15,533 euro, while Americans obtained Furst Samour (by Furstenball x San Amour) for 16,569 euro and the young colt Don Deluxe (by Luxus CML x Don Romantic) for 12,427 euro.
Related Links
2016 Swedish Warmblood Elite Foal Auction - Stars for the Future at Auction in Flyinge
Deorro Magi, Price Highlight of the 2015 Swedish Warmblood Elite Foal Auction
Kordoba For U, Price Highlight of the 2014 Swedish Elite Foal Auction
Donna Antique, Price Highlight of the 2013 Swedish Warmblood Elite Foal Auction