Ukrainian Dressage News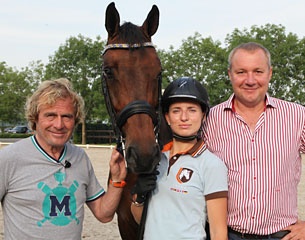 The co-operation between Ukrainian company VIAN Group and Dutch coaches Anky Van Grunsven and Sjef Janssen will come to an end. The contract between the parties was signed on 10 September 2010 at the Kyiv Hotel Hyatt in the presence of the press and its deadline will be reached on 1 November 2016.
The aim of this cooperation was to prepare several young promising riders from Ukraine to perform in the international arena, at competitions of the highest level. Among the three selected riders – Halyna Khorostil, Varvara Sorokina and Inna Logutenkova -- only the latter managed to obtain high results.
At present Inna is ranked in 47th on the FEI World Dressage Riders Ranking. She was a participant at the World Cup Final, two European Dressage Championships, the 2014 World Equestrian Games and 2016 Olympic Games. So far in her career Inna has been the winner and a prize holder of numerous competitions at various levels. At the moment Inna has four Grand Prix horses, which she is training at different levels with her coaches,as well as competing them at international events. Amongst them are the 14-year old stallion Don Gregorius, the 13-year old gelding Fleraro, the 15-year old gelding Universalis and the 10-year old gelding Hetman Sahaydachnyy.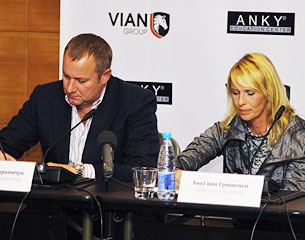 The past 10 years VIAN Group has been organizer and sponsor of around 40 international competitions in different countries all over Europe. For the last 2 years VIAN Group has been the title sponsor of the 5* World Dressage Masters competitions. VIAN Group director Mykhaylo Parkhomchuk stated that his company is not going to stop  with the present achievements but is planning to implement large ambitious projects in the near future.
VIAN Group rider Inna Logutenkova told Eurodressage: "I am very grateful to my sponsors, Ukrainian company VIAN Group, which gave me the opportunity to be trained by such outstanding people as Anky Van Grunsven and Sjef Janssen. They taught me lots of things. It was six years of very hard work, but it was worth the cost. Every story has its beginning and its end. Now there is the end to this fascinating and intense story which sincerely changed my life."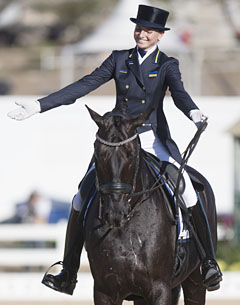 She continued, "I am really thankful to Anky and Sjef for their work, patience and for all the knowledge that I have gained from them during these years. I am not going to stop where I am now and I intend to continue my sports career. Right now Yessin Rahmouni is helping me as a coach. He is a young and very ambitious man. His co-operation with me is the first experience of working with a Grand Prix rider performing at the international level.  He was also a student of Anky and Sjef, that is why we understand each other by a single word. I really appreciate all the people in my team who have been with me for all these years. And of course I am grateful to my year-long sponsors who will still continue to help me. With such people backing me, any result is possible."
Related Links
World Dressage Masters Finds New Title Sponsor in Vian Group
2016 CDI Lier World Dressage Masters, Two CDI Events in One Week
2015 CDI 4* Lier Promises World Dressage Masters with Action Packed Program Across the Levels
Trainmedo, an Innovative Online Training Service for Riders and Coaches