2016 Portuguese Young Horse Championships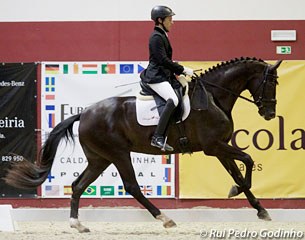 The 4-year old Heroi do Seixo, the 5-year old Gladiator do Lis, the 6-year old Furia Sernandinha, and the 7-year old El Romana became the winners of the Young Horse Championships held during the 2016 Portuguese Dressage Championships on 21 - 23 October 2016.
In the 4-year old division six combinations gathered with Vasco Mira Godinho, who also won the Medium Tour championships in Bariloche, winning the gold medal aboard Heroi do Seixo (by Rubi AR x Jalisco PC). The horse was previously competed by Bernardo Ribeiro Almeida but now the new pair scored 79.200% and 86.600% to average a winning 82.900%. The silver went to Ricardo Reis on the Lusitano cross bred Hagen S Plus (by Bretton Woods x Peralta) with 75.600 and 84.800%.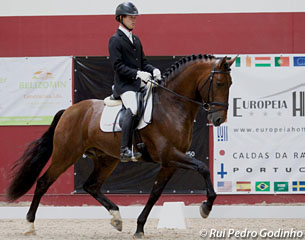 In the 5-year old division Nuno Chaves de Almeida and the Lusitano bred Gladiator do Lis (by Peralta x Spartacus) topped the board with 80.800% and 91.800% to average 86.300%. Pedro Sobreira and the Dutch warmblood Gitalyn were the runners up with 74.00% and 77.800% (average 75.900%).
There were only three horses in the 6-year old age category and Clemence Faure grabbed gold with the Lusitano Furia Semadinha (by Agua Viva) after posting scores of 73.200% and 75.000%. The jumping rider Tiago Peres and the German Sport Horse Qatar (by Quaterback) went for silver with 62.00 and 72.600%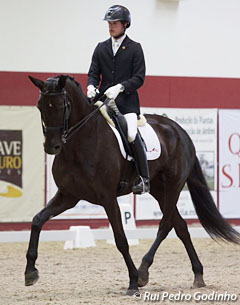 With three horses that contested the 7-year old division every one got a medal. Nuno Chaves de Almeido earned gold aboard the Lusitano cross bred El Romana Plus (by Rubin Cortes x Peralta) with 72.500% and 76.050%, while Grand Prix rider Filipe Canelas and his Hanoverian bred Fortuna (by Fidertanz x De Niro) finished in silver medal position with 71.450% and 75.900%.
Photos © Rui Pedro Godinho
Results - 2016 Portuguese Young Horse Championships
4-year olds
1. Vasco Mira Godinho - Heroi do Seixo -79,200 - 86,600 --- 82,900
2. Ricardo Reis - Hagen'S  Plus - 75,600 - 84,800 --- 80,200
3. Ricardo Reis - Fly - 71,000 - 74,200 --- 72,600
4. Antonio Alvadia - Fany  - 68,800 - 71,600 --- 70,200
4. Nelson Aleluia - Havana - 69,000 - 71,400 --- 70,200
6. Raquel Branco - Huelva - 66,800 - 65,400 --- 66,100
5-year olds
1. Nuno Chaves de Almeida - Gladiador do Lis - 80,800 - 91,800 --- 86,300
2. Pedro Sobreira - Gitalyn - 74,000 - 77,800 --- 75,900
3. Clemence Faure - Gladiador Sernadinha - 70,4007 - 4,600 --- 72,500
4. Miguel Ralao - Geada d'Atela - 66,200 - 73,000 --- 69,600
6-year olds
1. Clemence Faure - Furia Sernadinha - 73,200 - 75,000 --- 74,100
2. Tiago Peres - Qatar - 62,000 - 72,600 --- 67,300
3. Raquel Branco - Fidalga d' Santiago - 64,200 - 69,800 --- 67,000
7-year olds
1. Nuno Chaves de Almeida - El Romana Plus - 72,500 - 76,050 --- 74,275
2. Filipe Canelas - Fortuna  - 71,450- 75,900 --- 73,675
3. Raquel Falcao - Elegante Plus - 73,100- 74,150 --- 73,625
Related Links
FEI Young Horse Classes, Easy Prey for the Portuguese at the 2005 Sunshine Tour