Fashion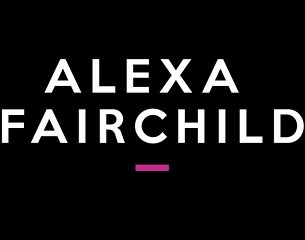 Belgian Under 25 Grand Prix rider Alexa Fairchild is coming of age and going professional with a fashion line and horse business under the banner of International Fairchild Sport. American born Alexa will be taking her first steps in the fashion industry under the tutelage of her parents, while at the same time focusing on her Grand Prix dressage career and college studies.
The 21-year old Alexa Fairchild has represented Belgium at no less than nine, consecutive European Championships as a pony, junior and young rider. She won team bronze at the 2013 European Young Riders Championships in Arezzo and placed 7th at the 2015 European Young Riders Championships in Vidauban. That same year she made the transition to Under 25 Grand Prix level and in 2016 Alexa decided to push her dressage career to the next level. She moved her horses to Anky van Grunsven's yard in Erp, The Netherlands, where she can acquire the skills necessary to progress her career on the road to the Olympics.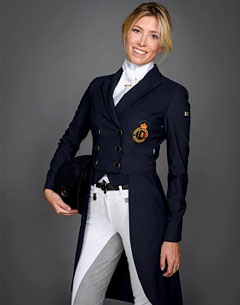 Now in her second year studying fashion styling at the Istituto Marangoni in London for a Bachelors Degree, Alexa has been brought up with fashion. Stephen Fairchild has worked in the Fashion industry in a creative role for Giorgio Armani, Ralph Lauren, Calvin Klein and Valentino and Stephen is currently the Senior Vice President and Chief Creative Officer for the Pandora jewelry brand.  He is the son of the late John B. Fairchild Chairman of the Board of Fairchild Publications (W magazine, WWD).  Stephen will provide guidance for the company.  Erin Fairchild worked in communications for companies such as Giorgio Armani, KCD, Calvin Klein and Valentino.
With a keen interest in trendy clothing and ready to take her first steps as a professional, Alexa will be launching an equestrian inspired fashion brand entitled "Alexa Fairchild" as part of the umbrella holding company International Fairchild Sport (I.F.S). The clothing line will include a select number of chic sportswear clothes that can easily be worn by riders on a day-to-day basis, functional for in the saddle and stylish to serve as elegant urban-wear.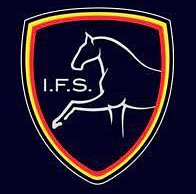 "It is a family endeavour. We are all involved in it and each one brings something different to the table," said Erin Fairchild. "Alexa is spearheading the creative side with her story line, product and image as Creative Director and Co-Managing Director.  Her sister Natasha is the Social Media Manager and I am leading communications, marketing and business as Chief Marketing Officer.  Our varying skill sets compliment each other and it is fun building this business and brand together."
International Fairchild Sport will also support Alexa in her equestrian endeavours and shoulder her efforts towards 2020 Tokyo Olympic Games' selection. Fairchild is currently training and competing two FEI level horses: the 14-year old Dutch warmblood Grand Prix gelding Vanita (by Jazz x Pion) and the 10-year old Oldenburg bred rising Grand Prix mare Sunrise (by Sion x Aarking xx). I.F.S. will invest in Alexa's training and horse stock and has recently acquired its first young horse, the 3-year KWPN mare Ida Selly A (by Zardando x  Jazz x Lancet) at Virtual Zone Horses.  The company is still scouting for another Grand Prix prospect.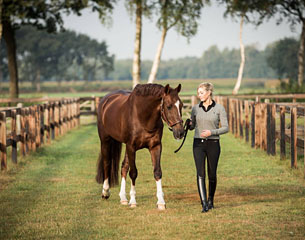 Promising times are in store for Alexa who will have to juggle tasks, but who is greatly supported by her family. "I will be commuting back and forth from London to Holland to train," said Alexa who is ready to make it to the big time. "My next show will be the CDI Roosendaal in December and the Alexa Fairchild fashion brand will launch in the first half of 2017."
Alexa is celebrating these new steps in her career with the launch of a brand new website www.alexafairchild.com on 1 November 2016.
Photos © Nathalie Gabay, Thomas Muus - Video © Flying Mikes.
Discover International Fairchild Sport and Alexa Fairchild at www.alexafairchild.com or on Social Media: Facebook - Instagram.
Related Links
Alexa Fairchild Acquires Sunrise as Grand Prix Prospect
Young Riders Nekeman and Fairchild Stamp Their Authority at 2014 CDI Compiegne
Young Rider Alexa Fairchild Wields the Axe of Power at the 2013 CDI Vidauban
Alexa Fairchild Heading to Seventh, Consecutive European Championships
Alexa Fairchild Sweeps Pony Division at 2010 CDI-P Pompadour