2016 MCI European Final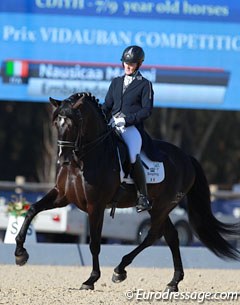 Team Italy secured the nations' victory in the Masters du Cheval (MCI) European final in Turin, Italy on 27 - 31 October 2016. The Masters du Cheval is a dressage league for Spanish and Portuguese bred horses, with classes from novice level up to Grand Prix. Italy, France, Belgium and Great Britain dominated the team ranking.
After Barcelona (ESP) in 2013, Paris (FRA) in 2014 and Gesves (BEL) in 2015, the European Masters final Iberian returned to Turin in Italy, the first nation to have joined the circuit in 2001. The MCI was founded in France in 1997 and expanded in 2011 to Italy and to Europe in 2007 with the creation of a European final.
The 2016 MCI European Final broke all records for participation: Riders from 11 different nationalities and coming from 6 different nations with 120 horses to compete in 240 classes in total under the eye of 10 national and international judges of Belgium, France, Italy, and Algeria. Every year the level continues to rise, both in the quality of movements and the riding in general. The competition, attended in the beginning mainly by amateurs, is attracting more and more professionals.
The MCI European Final began with a traditional opening ceremony with a parade of all teams. On Friday night, the night riders kept all its promises, with each country having at heart to present its gastronomic specialties and the arena was busy late into the night with enthusiastic dancers. The gala evening on Saturday was also very festive. Each individual in the awards evening showed a great moment of explosion of joy and all ranked riders were greeted with thunderous applause and cheers in the characteristic atmosphere of what some call "the spirit Masters" . The highlight medal ceremony, masterfully conducted by FEI steward Jean Louis Valkenborgh, was the European podium cerempony with the team trophies.
The highest level of competition, which the MCI calls Level 6, was won by Italian Grand Prix rider Nausicaa Maroni aboard the dark bay PRE bred Embajador SG (by Reclameo VI out of Cubanera). The pair scored 67.040% and 75.50% to earn a winning total of 142.54 points for gold. Belgian Justin Verboomen  and the French bred Lusitano Nevado de la Font (by Galopin de la Font x Quilate) landed the silver with 63.960% and 73.40% (total 137.36 points). Italian Eva Rosenthal and the 13-year old Lusitano Xeres du Zambujal (by Jocoso x Manolete) finished with bronze after scoring 65.800% and 70.10% (total 135.90 points). Nine riders in total competed at Level 6.
Photo © Astrid Appels
Related Links
Silvia Rizzo Achieves Her Goal for 2014, Silver at 2014 European Lusitano Championships
Zennaro, Remold, Menin, Rapazzoli, Rustignoli Win 2015 Italian Dressage Championships
Nausicaa Maroni and Rockabella Rock Small Tour at 2013 CDI Arezzo
Italian Team Selected for the 2006 World Equestrian Games