KWPN Breeding News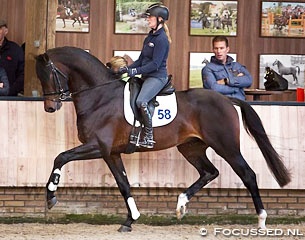 Two stallions - Inclusive and Iconic B - became the winners of the 2016 KWPN Autumn Stallion Performance Test which concluded in Ermelo, The Netherlands, on Saturday 26 November 2016. Both stallions scored the same amount of total points, 86.
Thirteen dressage colts began the 50-day autumn testing on 10 October and only nine of them made the finish line. 
"We were able to approve a divers group of colts, in which we clearly selected on rideability. Another point of attention in dressage breeding, the walk, we weighed considerably in our verdict. That is why we were are able to approve several stallions with a good to a very good walk," said Bert Rutten, chair of the licensing committee.
Iconic B (by Bon Bravour x Jazz) is bred and owned by Joyce Lenaerts and Marcel Sterrenburg. He scored 9s for his walk, canter and disposition and finished on a total of 86 points.
Inclusive (by Everdale x Uptown) was entered on a free basis for the autumn testing after not making it it to the third phase of the licensing last February. However, by completing the performance test with top scores, Incluside is now fully licensed for KWPN breeding. Bred by R. Enting and owned by Gert jan van Olst and Dick Faro, Inclusive was praised by the licensing and testing committee for his three very good basic gaits, rideability and self carriage.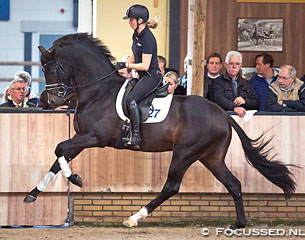 The third best scoring stallion was Incognito (by Davino VOD x Vivaldi), bred by Marianne Hendriksen. The lightfooted stalion was praised for his self carriage and canter. He scored 7.5 for walk and 8.5 for trot and canter and finished on a total of 83.5 points.
The 2016 KWPN reserve licensing champion Indian Rock (by Apache x Vivaldi) scored 81 points and finshed sixth out of nine colts. He was praised for his honest and reliable character and good rideability. He scored 7.5 for walk and trot and 9 for canter. Indian Rock has been seen cribbing, as well as Inverness.
Photos © Focussed
Results - 2016 KWPN Autumn Stallion Performance Testing
1. Iconic B (by Bon Bravour x Jazz) - 86 points
1. Inclusive (by Eversdale x Uptown) - 86 points
3. Incognito (by Davino VOD x Vivaldi) - 83.5 points
4. Inverness (by Eversdale x Johnson) - 81.5 points
4. Indigro by Negro x Jazz) - 81.5 points
6. Il Divo (by Winningmood x Oscar) - 81 points
6. Indian Rock (by Apache x Vivaldi) - 81 points
8. Invershin (by Charmeur x Balzflug) - 80 points
9. Intro K (by Apache x Rousseau) - 79 points
Related Links
Thirteen Dressage Stallions Begin 2016 KWPN Autumn Stallion Performance Testing 
Four Dressage Colts Dropped from 2016 KWPN Autumn Stallion Performance Testing 
Il Divo Gets Pass at Saddle Presentation for 2016 KWPN Autumn Stallion Performance Testing