German Dressage News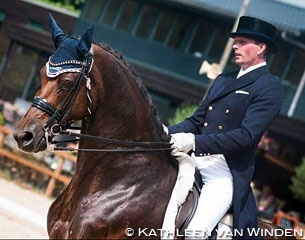 German Grand Prix rider Marc-Patrick Fritz has lost the ride on both of Ralph Westhoff's Grand Prix horses Bonzanjo and Florenciano. The horses have moved in training with Israeli Eyal Zlatin in Germany.
Westhoff acquired Bonzanjo and Florenciano in 2016 and offered the ride on both Grand Prix horses to Fritz.  The 13-year old Dutch warmblood stallion Florenciano (by Florencio x Havidoff) was previously competed by Hubertus Schmidt and sold to Westhoff in March. The 11-year old Dutch warmblood Bonzanjo (by Jazz x Contango) sold to Westhoff in June 2016. The liver chestnut was competed at international Grand Prix level by Diederik van Silfhout.
Bonzanjo and Florenciano moved to The Netherlands to the Van Silfhout stables where Fritz trained both under the supervision of the Dutch Grand Prix riding family.  
Fritz and Bonzanjo competed a couple of times at regional shows in The Netherlands. At the CDN De Mortel he won the Grand Prix with 73% and one week later at the CDN Emmeloord in September Fritz won the Grand Prix with 73.20% ahead of Diederik and Alex van Silfhout. Fritz made his show debut on Florenciano at the CDN Welscheid in June and placed 4th in the Special. At his last show on the Westhoff horses at the CDN Ankum in Germany in November, Fritz and Florenciano were 13th in the Grand Prix with 66.467% and on Bonzanjo he was 17th with 64.733%. In the Special Bonzanjo scored 66.536% (7th) and Florenciano 64.608% (9th).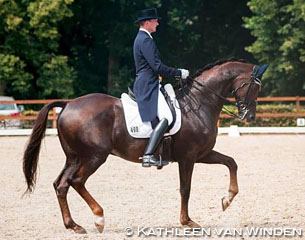 Before the turn of the New Year the collaboration between Westhoff and Fritz ended and the horses moved to Germany. 
Westhoff told Eurodressage nothing is to reported yet on a new rider.  "The horses are doing well and are relaxed, being hacked out," Westhoff's wife Margarete Groeninger told Eurodressage. "When it is time we will inform you," she added.
However, Eyal Zlatin confirmed that Bonzanjo and Florenciano are now with him at his partner Hendrik Lochthowe's base Meggle Stable near Munich, Germany. 
"I'm very happy to have the ride on those great horses," Zlatin told Eurodressage.
Photos © Kathleen van Winden
Related Links
Florenciano Sold but Remains in Germany
Diederik van Silfhout's Bonzanjo Sold to Germany