Danish Dressage News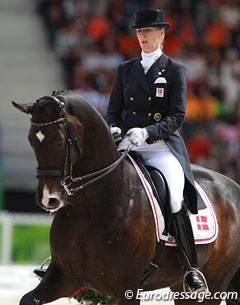 Danish Olympian Nathalie zu Sayn-Wittgenstein is looking forward to get started as the newly appointed Danish team trainer as of 2017. The team bronze medal winner told Eurodressage that consistent and fair training will be the standard for dressage in Denmark with her on the job.
The role of team trainer is no longer so much the sole coach who supervises and prepared riders for championships. In modern day a team trainer serves mainly as a communicator between the riders, the home trainers and the federation and helps to keep a set standard.
"The role of team trainer nowadays is definately modern thinking, but the person is also responsible that everybody keeps following the red line in training and competing," Zu Sayn told Eurodressage. "The welfare of the horse should always be priority and the training should never be unfair towards the horse. We can not afford any negative press."
The team trainer is no longer the dominant coach that makes the key decisions but helps with the fine-tuning of the horse-rider-trainer combinations.
"Nearly every rider has their own trainer and there should be a good communication between rider/trainer/ team trainer to ensure to get the best out of every combination(rider/horse)," said Nathalie. "And of course spotting the talents and bringing them on is also a very big role as team trainer."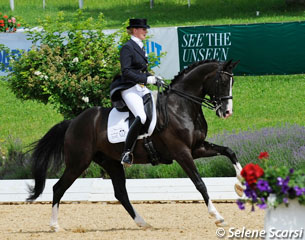 Zu Sayn-Wittgenstein has always been based with her parents at Schloss Berleburg in Bad Berleburg, Germany, but due to her appointment, she wants to be closer to her native country Denmark. It is planned to relocate to Jessica Schwiebert's Helenenhof in Hamburg, Germany, but the move has not yet taken place.
"The Schwieberts have given me the possibility to have my base out of there yard so I can be closer to Denmark," Nathalie confirmed.  
Nathalie has been competed the home-bred Danish mare Fabienne (by Future Cup x at international Grand Prix level and in 2016 she also campaigned her home bred small tour horse Dolany (by Don Schufro x Rubinstein) as well as the medium tour level competed M&M's (by Michellino x Victory). Zu Sayn-Wittgenstein has not yet decided which horses are moving to Hamburg with her.
"Right now I'm reducing my stock of horses so I don't know yet which will be coming," she stated.
Photos © Astrid Appels - Selene Scarsi
Related Links
Nathalie zu Sayn-Wittgenstein Appointed New Danish Grand Prix Team Trainer
Nathalie zu Sayn-Wittgenstein's Rigoletto Passed Away
Nathalie Zu Sayn-Wittgenstein Gives Birth to Baby Boy
Nathalie zu Sayn-Wittgenstein and Alexander Johannsmann Get Married!
Keeping Up with Nathalie zu Sayn-Wittgenstein