2017 Dutch Indoor Dressage Championships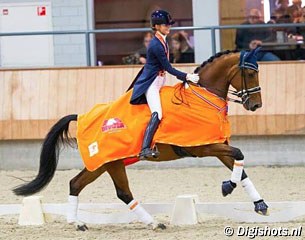 Junior rider Daphne van Peperstraten, young rider Jasmien de Koeyer, small tour rider Diederik van Silfhout, under 25 rider Denise Nekeman and senior rider Marieke van der Putten, became the champions in the FEI level divisions at the 2017 Dutch Indoor Dressage Championships held in Ermelo, The Netherlands, on 25 - 26 February 2017. The title in each division was earned by averaging the scores from round 1 and 2.
In the junior division Daphne van Peperstraten was a league of her own, winning both rounds on her Dutch bred gelding Cupido with 71.800 and 77.083%. Van Peperstraten is coached by Marlies van Baalen and has only been riding Cupido since October 2016. The pair referrered Sem Stiemer to second place and Belgian based Thalia Rockx to bronze. 
"I'm so happy," said the 16-year old Van Peperstraten after wrapping up her freestyle which includes quotes from former U.S. president Obama. "He went even better today than yesterday. It was very easy to ride the test. I wanted something in my freestyle with a speech you get goosebumps from and the 'Yes We Can' bit is the perfect excerpt."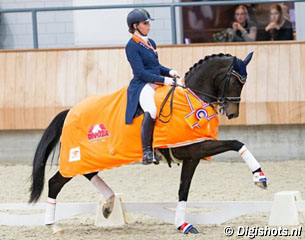 In the young riders division Jasmien de Koeyer is making her last year at this level count. Aboard the young 8-year old Dutch mare Esperanza (by Desperados), she won the first round with 69.91% but created a greater distance with the competition in the freestyle. Winning the kur with a freestyle based on music from the movie Fallen, De Koeyer earned the national indoor title after posting a score of 75.250%. Trained by Tim Coomans, de Koeyer aims to represent Holland at her last European YR Championships on home turf in Roosendaal this summer. The silver medal went to Lisanne Zoutendijk on Ringo Star and the bronze was for Bo Oudhof on Colt Sollenburg.
"She really goes through fire for you," said de Koeyer about her young mare Esperanza. "She's a fantastic horse to work with. It's bizarre to win here, a real thrill. I'm so proud of this mare who works so well here for me."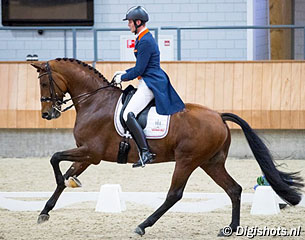 Diederik van Silfhout and the 8-year old KWPN licensed stallion Expression (by Vivaldi) ruled the roost in the small tour championship. The pair were well ahead the competition in the Prix St Georges with 74.69% and won the freestyle with 77.917%. Only the pirouettes were a little challenging for the bright bay stallion. The silver went to Lynne Maas on Electra. 
"Today I felt he ran a bit out of steam at the end of the test, but that's not so surprising because of his busy schedule the past few months," Van Silfhout explained. "He did the qualifiers for the Championship, Jumping Amsterdam and performed at the Stallion Licensing. Expression is only 8, but picks up the work really quickly and I'm very happy with it. He deserved this victory, he's just a fantastic horse." Van Silfhout will now give his horse a break and then prepare him for the 2017 Dutch Outdoor Championships. The 8-year old already knows all Grand Prix movements and the transition to the big tour will be made soon afterwards.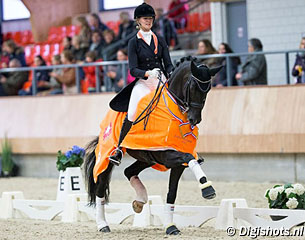 In the Under 25 division Denise Nekeman bagged a double victory aboard her pocket rocket Dutch stallion Boston (by Johnson). She won the first round, the short Grand Prix, with 73.06% and her James Bond inspired freestyle brought her to a score of 75.625% and the title. Only a mistake in the one time tempi's kept the score from climbing higher. Coached by Hans Peter Minderhoud, Nekeman will now focus on qualifying on the Dutch team for the 2017 European Under 25 Championships.  The silver went to Maxime van der Vlist and the bronze was for Jeanine Nieuwenhuis.
"Of course I had hoped to ride well here, but with Boston you never really know how it will go," said Nekeman. "He can get very hot which leads to mistakes, but it's going better each time. Yesterday he dropped a bit behind the vertical, but today I could keep him more up in the bridle and in front of the aids. I notice that it's getting easier for me to ride the test. I made a mistake in the final life, but for the rest I was very happy."
In the senior Grand Prix Championship, only one Dutch A-team rider appeared at the starting line, so it was an easy victory for the young Marieke van der Putten. Aboard Gaston Glock's Federleicht (by Furst Piccolo) Van der Putten took a clear lead in the Grand Prix with 74,07% and confirmed that number one position after riding Hans Peter Minderhoud/Romanov's freestyle which earned them 75.208%. The pair only rode its fourth Grand Prix class and it will also be their last as Van Der Putten has resigned as assistant trainer of Gal/Minderhoud and will not take Federleicht with her. Federleicht was discovered by Marcel Schoenmakers for Glock at Cesar Parra's yard in the U.S.A. The 13-year old Westfalian mare was competed by Schoenmakers and Timna Zach before she moved to the Netherlands. The silver medal went to Adelinde Cornelissen on her home bred Zephyr and the bronze was for Lynne Maas on Uranium W.  The Grand Prix Kur was judged by Wolfs, Twist and Sven Rothenberger.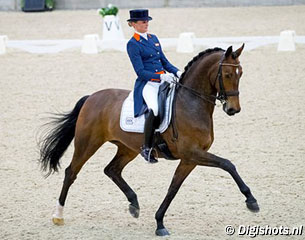 "Of course it's a pity to leave behind such good horses, with which you have worked intensively," said Van Der Putten. "But I know fore sure that new good things will come my way." About her test, Marieke said, "the piaffe was a bit hard today and because of that also the transitions to passage. Normally the mare can do a very harmonious test, which is one of her qualities. Today there was more tension than normal, I think also a bit because of tiredness."
Biggest absentee at the Indoor Grand Prix Championship was former Dutch team rider Danielle Heijkoop, who has been struggling to make a consistent come back with her now 18-year old Siro. The horse injured himself in 2015 and only did two CDI's in 2016 (Roosendaal and Rotterdam). Right before his first big competition of 2017, the Dutch Indoor Nationals, Siro knocked himself on training day and became unlevel.
"He felt fit and I was looking forward to showing him back to the audience," said Heijkoop. "Unfortunately he knocked himself in training in Ermelo. What a pity but we went home straight away. Siro's health is priority and his welfare is most important to me. I don't want to take any risk and will focus to the upcoming summer season."
Photos © Digishots
Results - 2017 Dutch Indoor Dressage Championships - Ermelo
Junior Riders - Round 1 - Team Championship Test
1. Daphne Van Peperstraten - Cupido - 71,80
2. Sem Stiemer - Waldemar - 68,65
3. Thalia Rockx - Cenda de la Fazenda - 66,13
4. Joelle Peters - Dacar's Dream - 65,09
5. Zoe Kuintjes - GG Desperado - 63,42
6. Nicole Verschoor  - Charmander - 62,84
Junior Riders - Round 2 - Kur to Music
1. Daphne Van Peperstraten - Cupido - 77,083
2. Sem Stiemer - Waldemar

- 74,792
3. Thalia Rockx - Cenda de la Fazenda - 71,000
4. Nicole Verschoor - Charmander -  69,542
5. Joelle Peters - Dacar's Dream - 69,333
6. Zoe Kuintjes - GG Desperado -

64,458
Young Riders - Round 1 - Team Championship Test
1. Jasmien De Koeyer - Esperanza - 69,91
2. Bo Oudhof - Colt Sollenburg - 69,61
3. Lisanne Zoutendijk - Ringo Star - 68,99
4. Thalia Rockx - Verdi De La Fazenda - 67,63
5. Esmee Donkers - Chaina -  67,59
6. Lisanne Zoutendijk - Watteau - 67,32
7. Ashley Langevoort - Dontruschels - 66,75
8. Yoeki Bos - Winnetou - 66,23
9. Laurie Vervoort - Chester - 65,04
10. Jeanine Nekeman - Vlingh - 65,00
11. Suzanne Glas - Soraya - 64,91
12. Julia Groenhart- First Barrichello - 64,61
13. Rachelle Buining - Rhythm And Blues - 64,04
14. Mieke Naberink - Chesspoint  - 63,95
15. Mercedes Verweij - Sandro - 62,68
16. Carlijn Huberts - Romeo - 61,18
17. Skylar Bos - Black Boy - 60,88
Young Riders - Round 2 - Kur to Music
1. Jasmien De Koeyer - Esperanza - 75,250
2. Lisanne Zoutendijk - Ringo Star - 73,167
3. Esmee Donkers - Chaina - 72,333
4. Yoeki Bos - Winnetou - 71,792
5. Bo Oudhof - Colt Sollenburg - 71,583
6. Thalia Rockx - Verdi De La Fazenda - 70,333
7. Ashley Langevoort - Dontruschels - 67,958
8. Laurie Vervoort - Chester - 63,000
Small Tour - Round 1 - Prix St Georges
1. Diederik Van Silfhout - Expression - 74,69
2. Lynne Maas - Electra - 72,94
3. Geert-jan Raateland - Don Bravour - 70,92
4. Kyra Klinkers - Equirelle W - 70,70
5. Ilse Van Cranenbroek - Emerald S - 70,57
6. Danielle Van Mierlo - Dayano - 69,87
7. Wendy van Diessen-van den Boogaard - Blackie W - 69,12
8. Stephanie Beek-Peters - Etoile Riche D'apardi - 69,04
9. Thamar Zweistra - Oldi - 68,82
10. Renate Van Vliet - Victory U.S. - 68,25
11. Esmee Van Gijtenbeek - Enton H - 67,54
12. Koosje Mulders - Wim - 67,32
13. Vai Bruntink - Chardonnay - 67,06
14. Karen Nijvelt - Elysias - 66,93
15. Saskia Maertens - Legend Of Loxley - 66,80
16. Jolanda De Nekker - Zamara Sue - 66,23
17. Chantal Nijpjes - Checavara N - 65,88
18. Petra Van Esch - Fiji - 65,35
19. Letty Roseboom - Dancing Dilinda - 65,04
20. Britt Van der Panne - Atink - 64,91
Small Tour - Round 2 - Kur to Music
1. Diederik Van Silfhout - Expression- 77,917
2. Geert-jan Raateland - Don Bravour - 75,333
3. Lynne Maas - Electra -  73,958
4. Danielle Van Mierlo - Dayano - 73,458
5. Wendy van Diessen-van den Boogaard - Evanel's Blackie W - 70,208
6. Stephanie Beek-Peters - Etoile Riche D'apardi - 69,208
7. Ilse Van Cranenbroek - Emerald S - 68,083
8. Kyra Klinkers Equirelle W - 67,292
Under 25 - Round 1 - Short Grand Prix
1. Denise Nekeman - Boston - 73,06
2. Maxime Van der Vlist - Bailey - 70,50
3. Jeanine Nieuwenhuis - Tc Athene - 70,43
4. Debora Pijpers - Bløf - 68,18
5. Jill Huybregts - Zamacho Z - 67,95
6. Geert Hofland - Oswin -  67,25
7. Elisabeth Geluk - Samaranch -  66,47
8. Carlijn Huberts - Watoeshi -  66,09
9. Teddy Wiedeler - Bexli -  65,31
10. Sanne Van Grotel - Lord Of Rock  - 64,46
11. Katinka De Haan - Armani - 62,56
Under 25  - Round 2 - Kur to Music
1. Denise Nekeman - Boston - 75,625
2. Maxime Van der Vlist - Bailey - 74,667
3. Jeanine Nieuwenhuis - Tc Athene - 73,500
4. Jill Huijbregts - Zamacho Z - 73,083
5. Debora Pijpers - Bløf - 70,875
6. Elisabeth Geluk - Samaranch - 69,333
7. Carlijn Huberts - Watoeshi - 67,250
8. Geert Hofland - Oswin - 64,833
Seniors - Round 1 - Grand Prix
1. Marieke Van der Putten - Federleicht - 74,07
2. Marieke Van der Putten - Ambria - 71,30
3. Adelinde Cornelissen - Zephyr - 71,03
4. Adelinde Cornelissen - Aqiedo - 70,60
5. Lynne Maas - Uranium  - 68,97
6. Theo Hanzon - Helena vh Goorhof - 67,87
7. Lynne Maas - Zamora -  67,50
8. Tosca Visser - Van der Meulen - Asther De Jeu - 67,07
9. Jean-rené Luijmes - Aswin -  67,03
10. Joyce Van Schaick - Well Done Sollenburg  - 
11. Stephanie Beek - Peters - Bernardau  - 66,97
12. Thamar Zweistra - Hexagon's Zodinde - 66,67
13. Femke Beljon - Zoraïda - 66,63
14. Kim Schmid - Theodoor - 65,70
15. Thamar Zweistr - Hexagon's Baldacci - 65,10
16. Emmelie Scholtens - Westpoint - 64,53
16. Seth Boschman - Bon Passa - 63,13
17. Ashley Van Megen- brons - San Diego - 62,13
Seniors - Round 2 - Kur to Music
1. Marieke Van der Putten - Federleicht - 75,208
2. Lynne Maas - Uranium W  - 74,583
3. Adelinde Cornelissen - Zephyr - 74,542
4. Jean-rené Luijmes - Aswin -  72,750
5. Tosca Visser-Van der Meulen - Asther De Jeu - 71,750
6. Theo Hanzon  - Helena vh Goorhof - 71,625
7. Stephanie Beek-Peters - Bernardau - 71,167
8. Joyce Van Schaick - Well Done Sollenburg - 66,333
Related Links
Kooijman and Van Baalen Win 2016 Dutch Indoor Dressage Championships
Van Liere and Van Silfhout Win 2015 Dutch Indoor Dressage Championships
Heijkoop and Van Baalen Win the 2014 Dutch Indoor Dressage Championships
Gal and Maas Win the 2013 Dutch Indoor Dressage Championships
Witte-Vrees and Maas Dominate 2012 Dutch Indoor Dressage Championships
Minderhoud and Maas Grab the Titles at the 2011 Dutch Indoor Dressage Championships
Krooswijk, Witte-Vrees and Haazen, 2010 Dutch Indoor Dressage Champions
Edward Gal and Totilas Win 2009 Dutch Indoor Dressage Championships 
Maas and Van Grunsven, 2008 Dutch Indoor Champions
Hanzon and Cornelissen In the Blue at 2007 Dutch Indoor Championships
Schulkens, Beckers, Vrees and Van Lieren, 2005 Dutch Indoor Champions
Schulkens, Haazen, Hanzon and Callaghan 2003 Dutch Indoor Champions