What's Happening in the Dressage World?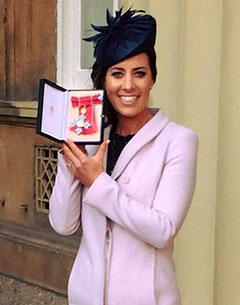 Double Olympic champion Charlotte Dujardin was invited to Queen Elizabeth II's Buckingham palace in London on Tuesday 7 March 2017 to collected her CBE Honour.
Dujardin wore a black Jenny Packham cocktail dress and black Rosie Olivia Millinery hat for the investiture ceremony; which made her a CBE. She was accompanied to the ceremony by her fiance Dean Golding and her parents Jane and Ian Dujardin.
"The most amazing day today as I was privileged to collect my CBE honour from Her Majesty The Queen at Buckingham Palace," Dujardin wrote on her Facebook. "It really was a pinch me moment once again and an honour I can't even begin to describe, simply by being in her presence."
Dujardin has 10 Olympic, World and European gold medals to her name as well as all three World record scores at Grand Prix level.
Olympic rower Katherine Grainger, opera singer Bryn Terfel, racehorse trainer John Gosden and para-equestrian rider Anne Dunham were also at the ceremony.
British stand-out personalities can be decorated with three different ranks in the Order of the British Empire. The highest ranking of the three is a Commander of the Order of the British Empire (CBE), followed by OBE (Officer) and then MBE (Member). There are two further classes, GBE and KBE/DBE, which are the senior two ranks of honorary knighthood that entitle their members to use the title of Sir for men and Dame.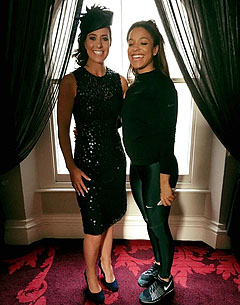 The honours were created in 1917 by King George V during the First World War as a way of rewarding civilians and servicemen in support positions for their contribution to the war effort. The British honours system actually has several orders, mostly relating to the monarchy, military and colonial officials, but King George V wanted to fill the gap by creating an order which would honour normal people.
According to the Cabinet Office, a CBE is awarded for having a "prominent but lesser role at national level, or a leading role at regional level. You can also get one for a distinguished, innovative contribution to any area". An MBE is given for an "outstanding achievement or service to the community. This will have had a long-term, significant impact and stand out as an example to others". An OBE is awarded for having a "major local role in any activity, including people whose work has made them known nationally in their chosen area".
Related Links
Charlotte Dujardin Proclaimed Commander of the Order of the British Empire
Charlotte Dujardin to Receive Order of British Empire medal from Queen Elizabeth II
Hester and Tomlinson Receive MBE Medal at Windsor Castle