2017 CDI-W 's Hertogenbosch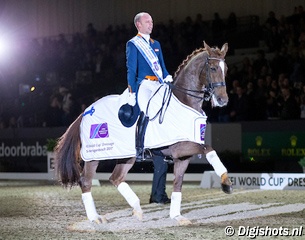 Reigning World Cup champion Hans Peter Minderhoud produced a sensational personal-best performance with Flirt to win the ninth and last qualifying leg of the World Cup™ Dressage 2016/2017 Western European League on home turf in 's-Hertogenbosch, The Netherlands. Presenting a sparkling new floorplan, the pair broke the extraordinary run of Germany's Isabell Werth who had been unbeatable on her previous five outings in this hotly-contested series, but who had to settle for runner-up spot with Emilio.
In third was Germany's Jessica von Bredow-Werndl for whom impending motherhood seems to have simply raised her level of excellence as she steered Zaire-E through a fabulous test. 
And on a day when those last few qualifying slots for the Final in Omaha, Nebraska (USA) at the end of the month were decided, 2010 World Cup champion Edward Gal booked his ticket when fourth with Voice. He lies ninth on the Western European League table from which the top nine make the cut. 
Von Bredow-Werndl's (31) inspired ride, showing lightness, elegance and great connectivity, put a score of 80.165 on the board with just three more of the 15 starters left to go. But when Werth (47) posted 83.300 despite two mistakes from her Gothenburg winner Emilio, it seemed she just might make it a magnificent six successes from six starts this season. Second-last into the arena, Ireland's Judy Reynolds and Vancouver K had an unsettled start to finish sixth in the final analysis. But, last to go, Minderhoud (43) and Flirt just seemed to be in their element as clean, soft movements and the easiest of transitions earned the winning mark of 84.890. The knowledgeable crowd in the Brabanthalle at 's-Hertogenbosch recognised the winning ride, giving the Dutch pair a standing ovation even before the score was announced. 
"This was my highest ever Freestyle mark, and my best test ever too!" said the delighted Dutchman who posted 82.357 to claim the 2016 FEI World Cup™ Dressage title in Gothenburg (SWE) 12 months ago. This new floorplan was specifically designed for Flirt, "and I was waiting all day to show it off!" the double-Olympian said. "The combination of movements really make this test just right for him - before we used a Freestyle belonging to Tango, but this is so much better!" said the rider who is now aiming for a double of World Cup™ Dressage titles in three weeks' time. 
He has no illusions about what lies ahead of him, but today's result has given him a big confidence-boost. "It's going to be a really tough job to win again because the line-up is even better  than last year, but my horse is in great form, and I'm definitely going for a place on the podium!!" Minderhoud said. 
Facts and Figures:
The Brabanthallen in 's-Hertogenbosch, The Netherlands was the venue for the ninth and last leg of the FEI World Cup™ Dressage 2016/2017 Western European League today.
The FEI World Cup™ Dressage 2016/2017 Final will be held in Omaha, Nebraska (USA) from 29 March to 2 April.
15 horse-and-rider combinations from 7 countries competed today.
The panel of judges consisted of: At E, Dietrich Plewa (GER); At H, Isobel Wessels (GBR); At C, Mariette Sanders van Gansewinkel (NED); At M, Jacques van Daele (BEL); At B, Annette Fransen-Iacobaeus (SWE).
During the interval in the competition there was an emotional retirement ceremony for Parzival, the 20-year-old gelding ridden by The Netherlands' Adelinde Cornelissen to claim the FEI World Cup™ Dressage titles in Leipzig (GER) in 2011 and 's-Hertogenbosch (NED) in 2012 during their long and successful career together.
Quotes:
Hans Peter Minderhoud NED (1st): "When we put this floorplan together I showed a video to some friends and everyone said it looked really good. Today Flirt felt great in the warm-up and I knew I was in with a chance when I was the last to go and Isabell had made some mistakes!" 
Isabell Werth GER (2nd): "I was really happy with my horse, he was in super shape especially in the Grand Prix. Unfortunately in the Freestyle there were mistakes in the extended trot and the two tempis but the horse was always focused. Emilio still needs to grow up a bit with the Freestyle but I was very pleased with him."
Jessica von Bredow-Werndl GER (3rd): "This was the best feeling - I really enjoyed this today! For sure I will compete in Omaha with Unee BB but after that I will be taking a small break because I'm having a baby!" 
Mariette Sanders van Gansewinkel (NED) President of Ground Jury: "We had excellent sport and this was really great entertainment today. Many of the judges said they had goose-bumps when Hans Peter was doing his test!" 
Standings following Round 9 of the FEI World Cup™ Dressage 2016/2017 Western European League in 's-Hertogenbosch (NED):
1.    Isabell Werth GER                -    80
2.    Jessica von Bredow-Werndl GER    -    62
3.    Judy Reynolds IRL                -    57
4.    Kirsty Oakley AUS                -    55
5.    Carl Hester GBR                -    54
5.    Fabienne Lutkemeier GER        -    54
5.    Marcela Krinke Susmelj SUI        -    54
8.    Madeleine Witte-Vrees NED        -    51
9.    Edward Gal NED                -    45
10.    Patrik Kittel SWE                -    44 
11.    Tinne Vilhelmson Silfven SWE                -    41 
12.    Inna Logutenkova UKR               -    40 
12.    Mai Tofte Olesen DEN               -    40 
14.    Severo Jurado Lopes ESP               -    37
12.    Borja Carrascosa ESP                - 35
15.    Juliane Brunkhorst GER              -    35
Text by Louise Parkes for the FEI - Photo © 
Related Links
Scores 2017 CDI-W 's Hertogenbosch 
Werth Untouchable in 2017 CDI-W 's Hertogenbosch Grand Prix
Eurodressage Coverage of the 2016-2017 World Cup Circuit