2017 CDI Wellington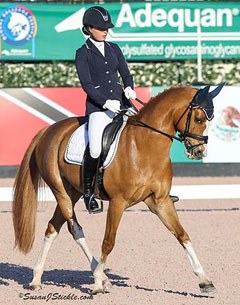 Week ten of the 2017 Global Dressage Festival in Wellington, FL, concluded on Sunday 19 March 2017 with the final competition day of the 2017 Florida International Youth Dressage Championships (FIYDC). Pony rider Lisa Widmayer, junior rider Jade Ellery, young rider Vanessa Creech-Terauds, and Under 25 rider Diana Porsche became the grand winners.
The 2017 Florida International Youth Dressage Championships is presented by Sarah Davis, Terri Kane, Kim Van Kampen, The Van Kampen Boyer Molinari Foundation, Hampton Green Farm, and Dressage4kids. The week featured competition for riders in the Under 25, Young Rider, Junior, and Pony divisions, offering them a chance to compete on a larger scale. Young riders wishing to compete at the international level are provided with an opportunity to showcase their talent at one of the largest dressage competitions in the world.
Within the FEI divisions offered to riders competing in this season's FIYDC, there were five horse and rider pairs in the FEI U-25 division, 15 entries in the FEI Young Rider division, eight riders in the FEI Junior Rider division, and a rider in the FEI Pony Rider division.
This year, youth riders represented seven countries, including Austria, Canada, Germany, Great Britain, Spain, Trinidad and Tobago, and the United States. The overall scores were computed as Team Test 40%, Individual Test 40% and Freestyle 20%. Awards were presented to the top eight riders in each division, and prizes included a trophy donated by Kim Van Kampen, prize money donated by Dressage4kids, Sarah Davis, and Terri Kane, and the personal use of a stall at Hampton Green Farm for the 2018 season, donated by Kim Van Kampen, for each of the four overall division winners.
Porsche Wins the Under 25 Division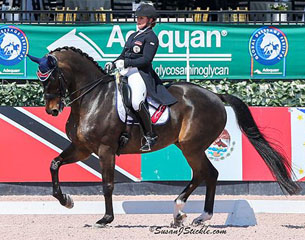 Ranked as the Number One rider on the FEI Youth Dressage World Ranking List- U25, 21-year-old Diana Porsche (AUT) and her own Di Sandro, a 2008 Oldenburg gelding (De Niro x Gentina x Sandro), rounded out the weekend with an Under 25 Division win. The combination scored a 70.711% in the Intermediaire II, a 71.860% in the Short Grand Prix, and a 73.875% in the Grand Prix Freestyle 16-25 CDI U25.   
"I'm really happy that I won this year," said Porsche. "Sandro did a really great job. It's perfect here, (and) it's great preparation for Europe. This week, my freestyle was a little complicated because it's really hot out, and we aren't used to that because there is actually snow in Austria right now. I'm really happy with my test from yesterday. I think that we had a lot of highlights. The first day was also a really good test, especially the piaffe/ passage tour."
Vanessa Creech-Terauds Wins the Young Rider Division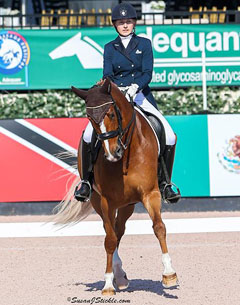 Seventeen-year-old Vanessa Creech-Terauds (CAN) and Fleur de Lis L, a 2009 Hanoverian mare (First Dance x EM De La Rosa x De Niro) owned by Louise Leatherdale, bested the FEI Young Rider Division. The duo scored a 70.500% in the Young Rider Team Test, a 69.167% in the Young Rider Individual Test, and a 74.725% in the Young Rider Freestyle.
Creech-Terauds commented, "This has been such a great experience. It's so wonderful to be here competing against youth competitors and getting to meet people from different countries. It's a really fun event, and you get a chance to ride under pressure. I was very proud of Fleur de Lis L this week. She was absolutely fantastic and very consistent in the ring. We tried to take some risks because I knew that it was a strong group of competitors, and I think that those risks really paid off."
Jade Ellery Leads Junior Division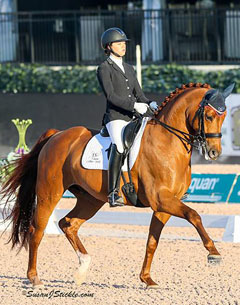 The Junior Rider Division was won by 18-year-old Jade Ellery (GBR) and Eloy, a 2004 Hanoverian gelding (by Earl) owned by Diana Porsche. The pair scored a 69.595% in the Junior Rider Team test, a 69.386% in the Junior Rider Individual test, and rounded out their weekend with a 73.375% in the Junior Rider Freestyle.
This is Ellery's first year competing internationally and her first season in Wellington.
"I can't believe how amazing it is here," said Ellery. "With the wonderful facilities and the weather, it's a great place to be this time of year. I'm very fortunate to be riding Eloy. He's a fantastic Junior horse to learn on, always giving me so much confidence in the ring."
Widmayer Sole Pony Champ
Fifteen-year-old Lisa Widmayer (GER) and Paso Double, an NRPS mare (by Bodo x Inselfurst) owned by Katja Widmayer, captured victory in the FEI Pony Rider Division as sole competitor. She scored 66.513% in the Pony Team Test , a 65.650% in the Pony Individual Test, and a 68.275% in the Pony Rider Freestyle.
"This is my first season in Wellington as well," said Widmayer, "and it's been such a great experience. My weekend with Paso Double went well. I could feel her improving after every ride. This weekend was not our best weekend, but I feel very happy about our improvement and I feel very prepared for a season in Europe."
For their victory, Widmayer and Paso Double were presented with the Poldy 10 Memorial Trophy.
This was the fifth year that the Florida International Youth Dressage Championships were hosted in Wellington
Text by Carly Weilminster, edited by Eurodressage - Photos © Sue Stickle
Related Links
Scores 2017 CDI Wellington
Lyle, Petersen, Francis, Matute Guimon, Bateson Win at 2017 CDI Wellington
Rizvi and Poag Make the Special Count and Win at 2017 CDI Wellington