2017 Van Olst Sales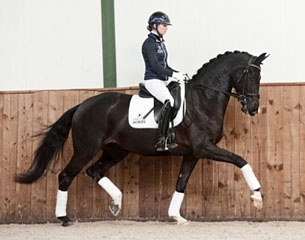 An interesting collection of young dressage horses will be up for auction at the 2017 Van Olst Sales in Den Hout, The Netherlands, on 14 April 2017. For the third time Gert-Jan and Anne van Olst organize this wonderful sales day, where highly interesting horses of different quality levels and for all budgets can be acquired.
The collection includes young mares with top IBOP mare test scores as well as trained 3 and 4-year old stallions, mares and geldings. The average quality of the collection is very high. 
Negro, the 2017 KWPN Stallion of the Year, is well represented in the pedigrees of the auction horses. The small tour level competed Everdale (under Charlotte Fry) has an outstanding group of offspring in the 2017 Van Olst Sales.  Three mares are by Everdale and all three of them scored above 80 points at the IBOP Mare testing in Oosteind, The Netherlands. 
Elite mare Icacia Peternella (by Everdale x Vivaldi) scored 8.5 for trot, canter, rideability and potential. For self carriage and balance she got 8 and totalled 84 points. 
Ster mare Jarina des Valles (by Everdale x Sandro Hit) impressed with her uphill canter, for which she got a 9. Her trot and rideability earned her 8.5 and she totalled 81.5 points. 
Ster mare Just Me (by Everdale x Riverman) is a large framed liver chestnut mare earned 81 points. Her pedigree is very unique, especially with a dam line that excludes the traditional KWPN blood. 
"The large group of geldings includes horses for everyone's taste," said Van Olst. "Almost all of them are well ridden horses who, without a doubt, will make an impression in competition sport."
The 2017 Van Olst Sales take place on Friday 14 April 2017. Public viewings are held on Tuesday 11 April (at 19h30) and on Friday 14 April (at 16h00, right before the auction). The auction starts are 19h30.
Admission is free.
View the complete collection at: www.vanolsthorses.com/collectie-2017/