2017 Tristan Tucker Showcase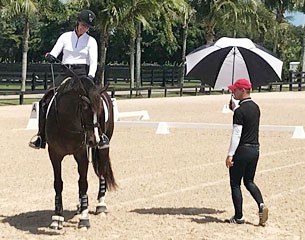 Australian FEI dressage rider and natural horsemanship trainer Tristan Tucker returned to Eliane Cordia-van Reesema's Jewel Court Stud USA in Wellington, Florida, for his second showcase of the TRT Method on 27 March 2017. In front of an inquisitive crowd, Tucker enthused the audience with his efficient training techniques to relax spooky horses, while he challenged the audience to rethink the concept of the Happy Athlete.
Based in The Netherlands, Tristan Tucker has been collaborating with Eliane for the past four years. He is currently competing the 7-year old Jewel's Sir Weihbach (by Sir Donnerhall out of Isabell Werth's Olympic medal winning mare Weihegold OLD), which they co-own together. He will compete him in the small tour at the 2017 CDI Hagen at the end of the month. Eliane and Tristan have set up a joint breeding programme part of Jewel Court Stud and the Australian currently has three of those youngsters in training in Holland.
Tucker's aim was to put the "Happy Athlete" concept up for discussion. The term was coined at the 2004 Global Dressage Forum as a guideline for judges to identify a relaxed high performance dressage horse in competition. Tristan stated that the whole creation of the phrase has no substance nor worth in its meaning as it exposes human values, and not the horses'. 
"People complain about something they don't like to look at," said Tucker. "Then there is a rule or view that compensates that in order to redeem their actions and so that we feel better. 'Happy Athlete' is a word created by humans to tell other humans what their doing is ok?!"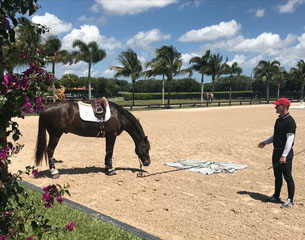 In his Wellington showcase Tucker wanted the audience to contemplate on what makes a horse happy, what are its real needs. 
"We worked on showing the basic foundation of learning and developing self-awareness, self-management and intelligence in the horse, explaining that the horse can be in control of his own soundness," Tucker explained. "I showed how the knowledge of the ground work makes it easy for the horse to self learn the elements involved in the high level movements."
Eliane's brand new heart monitor project Hylofit was strongly featured at the showcase. The Hylofit team gave the auditors an on-screen view of the horse and rider's heart rates, which provided a real insight into what happens to a horse and rider physically in a stressful situation.
"It also gave proof to the horse learning a technique of controlling his own physical state in a moment of tension and resulting in a direct lowering of the horses heart rate," said Tristan.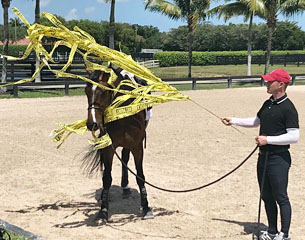 Five horses starred in the clinic: Tristan's own Zaphir (by Sunny Boy x Jazz), who was especially flown over for Tristan's Brett Kidding demonstration at the 2017 World Cup Finals in Omaha, as well as Ashley Holzer's Grand Prix horse Sir Caramello and three of Eliane's rising stars: Flynn (by Wynton), Fellow (by Amazing Star) and Codiak (by Carabas).
With Flynn Tristan showed the basics of the TRT Method and demonstrated his definition of "yoga for horses" which should give them stability, body awareness and confidence. Jewel Court Stud's assistant trainer Jessica Forend rode Fellow and gave a more advanced demonstration of how to respond to extreme environments that would otherwise freak out a normal dressage horse. Tristan explained the beginnings of a horse self-learning the flying changes and how to lead the horse into feeling like the change would seem like the most obvious thing to do. 
"With the extremely talented 8-year old Codiak with Eliane on board, we demonstrated how to teach a horse to bring himself into balance to avoid over-management from the rider," said Tucker. "This leads to some perfectly straight uphill tempi changes. We also demonstrated with Codi the link between the ground work and the pirouettes in the saddle. We explained the importance of a horse's body awareness for good posture, positioning, and placement, and how to give this responsibility to the horse."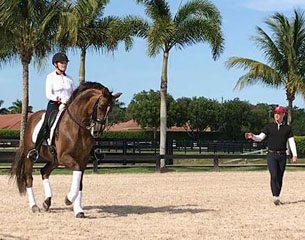 Ashley's Grand Prix horse Sir Caramello served in the piaffe demonstration. Tristan showed how he teaches the horse the meaning of the piaffe. 
"If we ask a horse what piaffe is and he could speak back to us, could he explain in detail every aspect of the piaffe and give it meaning?" Tucker stated. "We started with the first step: explaining the importance of the movement was in the supporting leg, not in the moving leg. We all look to the lifting leg in the movement, but without the supporting leg there is no moving lifting leg and no movement.  We then worked on a very quite small piaffe that required no effort, a piaffe of the purest form so the horse could feel, count, and understand every step, that he was free-wheeling, piaffing slowly and effortlessly with a Tai Chi type feeling of clarity."
Tucker told Holzer that "to hear everything, to feel everything, you have to do nothing. To teach Sir Caramello to self-manage and to self-motivate will give him confidence in the movement. The more we manage him or correct him the more responsibility we take from him and the less responsibility he takes for himself," Tristan added. After a short time Ashley was happily telling the auditors, ''I'm doing nothing, absolutely nothing, and he is doing it."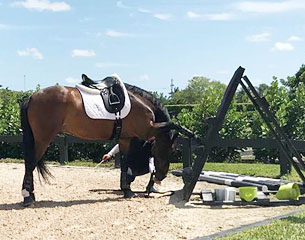 Tucker travels to Jewel Court Stud USA on a regular basis working with Eliane for one week when schedules permit. The collaboration is reaping the fruits.
"I find Eliane's horses improving greatly in condition, education and their overall happiness and willingness to want to be a dressage horse every time I return to the US," said Tristan. "Since working together, Eliane does not do thing by halves. She has taken on my sometimes very different program and approach to horse training in all aspects of her training. Eliane also has an amazing team around her, including her vets and farriers. She has a management program for her horses like no other."
For more information visit www.jewelcourtstudusa.com or www.hylofit.com
Related Links
Jewel Court Stud USA Brings Tristan Tucker Back to Florida for TRT Method Showcase 
Entertainment and Education at the 2017 World Cup Finals in Omaha
Tristan Tucker: Prepare More, Fight Less
Tristan Tucker to Showcase TRT Method at Jewel Court Stud USA in Florida
Tristan Tucker Training the Modern Day Dressage Athlete
Eliane Cordia-van Reesema Breeding for Success, Proving Form at 2014 CDI Saugerties
Eliane Cordia-van Reesema, Dutch Rider with U.S. Pan Am Team Ambitions