German Breeding News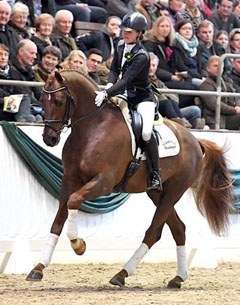 The show jumping bred Karajan became the top scoring stallion at the 14-day Stallion Suitability Test in Schlieckau on 6 - 19 April 2017. No less than 35 dressage and show jumping stallions participated in the Schlieckau testing.
For licensed stallions to retain their licensed status, stallions have to score at least 7.5 overall, or 8.0 or higher in either the dressage or the jumping phase. 
The Hanoverian bred Karajan (by Kannan x Verdi x Cornet Obolensky) scored the highest overall mark of 8.90 points with a total of 8.24 points for dressage and 9.28 for show jumping. He earned 9.5 for his character, 7 for trot and 8.5 for walk and canter. He further got 8.5 for rideability, 9.5 for jumping in freedom and the test rider gave him 9.25 points.  
The jumper Del' Arko d'Henvet (by Tsunami de Hus) was the second best scorer of the testing with an overall of 8.50 points. He got 7.64 for dressage and 9.4 for show jumping. The jumper Clarksville (by Cascadello I) was the third best stallion with an 8.48 score. He got 8.38 for dressage and 9.28 for jumping. 
The best scoring dressage bred stallion was the Hanoverian bred Quantissimo (by Quantensprung x Distelzar) with a total of 8.35 points. He earned 8.40 for dressage and 7.9 for show jumping. He got 9s for character, 8.5 for trot and canter, 7.5 for walk, 8.5 for rideabiity, 7.5 for jumping in freedom and 9.5 from the test rider. 
The social media hyped stallion Secret (by Sezuan), who was approved by the Oldenburg licensing committee at a private at-home licensing far from public scrutiny, finished with an 8.23 total. He scored a whopping 9.5 for dressage but got poor marks for show jumping with a 6.5 total and a 5.0 for jumping in freedom. His gaits earned him 9.5 for trot, 10 for canter and 8.5 for walk. 
Two dressage bred stallions did not make the cut: Don Da Vinci (by Don Index - 7.3) and Sundance (by San Amour - 7.25).
Photo © Kiki Beelitz
Related Links
Zoom, High Scorer of the 2017 Neustadt/Dosse 14-Day Stallion Suitability Test