2017 CDN Ghlin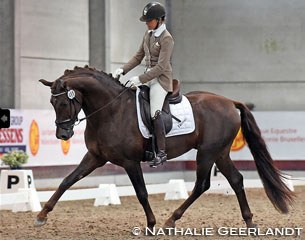 The 5-year old First Step Valentin, the 6-year old Go on Top MP, and the 7-year old Barroso became the winners of the fourth Belgian qualifier for 2017 World Young Horse Championship team selection. The fourth leg was held during the 2017 CDN Ghlin on 6 - 7 May 2017. A highly reduced starters' field appeared in Ghlin with much small divisions opening up more opportunity to rank highly.
For 2017 the national federation has scheduled seven Belgian qualifiers for Ermelo. Each horse's four highest scores at the qualifiers (2 scores in the preliminary test, 2 scores in the finals test) will be converted into points based on which placed they ranked at the show. The four horses with the highest points per age division will be nominated for Ermelo (two definite, two reserve).
In the 5-year old division Larissa Pauluis bagged her third, consecutive victory this qualification season aboard her Westfalian licensed stallion First Step Valentin (by Vitalis x Fidermark) with 78.094 points. Philip Jorissen and the Belgian warmblood mare Miss Dior Van Den Bruel (by Special Agent Amour x Florestan) followed in the distance with 73.469 points, edging out Kayleigh Buelens on the Oldenburg bred Fifty Ways to Victory (by Foundation x Harvard) who finished third with 72.792 points. 
Last week's winner Brecht D'Hoore landed first place again in the 6-year old division aboard his fiancée Dominique van der Horst's KWPN stallion Go on Top MP (by Danone I x Welt Hit II). The pair scored 75.458 points but had Nick van Laer and the German bred Quinto (by Quaterback x De Niro) right on its heels with 75.125 points. Flore de Winne and her German bred Basali (by Belissimo M x Weltmeyer) landed third place with 74.750 points. 
In the 7-year old class Larissa Pauluis and Joop van Uytert's stallion Barroso (by Bordeaux x Saros xx) took their second win on the circuit in Ghlin with 75.107 points. Brecht d'Hoore and the Korean owned Dutch warmblood Favian WH (by Zizi Top x Roman Nature) were the runners-up with 75.686 points, whereas Julie Dossin and her 2015 World Championship ride First Lady (by Sir Donnerhall I x Johnson) finished third with 73.588 points. 
Photo © Nathalie Geerlandt
Results - 2017 Belgian WCYH Selection Trial - Ghlin
5-year olds
1. Pauluis Larissa -  First Step Valentin -78,094
2. Jorissen Philip - Miss Dior Van Den Bruel - 73,469
3. Buelens Kayleigh - Fifty Ways to Victory -  72,792
4. Verreet Katrien - Miss Furstenball - 72,375
5. Verreet Katrien - Thorgal Biolley - 70,104
6. Appel Christiana - Hero - 69,469
7. Vandeborne Lore - Millenica -67,729
6-year olds
1. D'Hoore Brecht - Go on Top - 75,458
2. Van Laer Nick - Quinto - 75,125
3. De Winne Flore - Basali -74,750
4. Cool Isabel - Glorious - 74,000
5. Visser Tommie - Genesis Begijnhoeve - 72,333
6. Livens Loranne - Aragon- 71,000
7. Helsen Gert - Laura Ashley -  70,458
8. Dekeyzer Ulricke - Leopold -69,500
9. Meisch Linda - Goldennettie - 68,375
10. Cool Isabel - Gilmora - 67,125
11. Frederick Boris-  Gounod DD -  59,458
7-year olds
1. Pauluis Larissa - Barroso - 75,107
2. D'Hoore Brecht - Favian WH -  74,686
3. Dossin Julie - First lady - 73,588
4. Hologne - Joux Francoise - Alquazar De Massa - 73,246
5. Franckx Tom - showdancer   - 69,113
6. Laevens Kevin - Kozinsky Vd Dries-  68,735
7. Van De Keere Marc - Femme Fatale Van De Paardebloem - 60,361
Related Links
Eurodressage Coverage of the 2017 World Young Horse Championships
First Step Valentin, Go on Top MP, Favian WH Win Third Qualifier for 2017 Belgian WCYH Team Selection
First Step Valentin, Aragon, Barroso Win Second Qualifier for 2017 Belgian WCYH Team Selection 
Golddream, Goldennettie, Barroso Win First Qualifier for 2017 Belgian WCYH Team Selection