2017 World Championships for Young Dressage Horses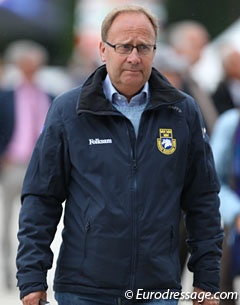 Right before the 2017 Swedish Dressage Championships in Stromsholm, Swedish young horse selectors Bo Jena and Jan-Ove Olsson had their first assessment of their country's candidates that are vying for team selection for the 2017 World Championships for Young Dressage Horses in Ermelo, The Netherlands, on 3 - 6 August 2017.
On Friday 2 June 2017 the youngsters met in Stromsholm to be judged by Wiveca Schenholm, Susanne Rudholm and Johan Ekenberg per age group. 
In the 5-year old division Jeanna Hogberg and Christina Olsson's Swedish warmblood mare Astoria (by Sir Donnerhall II x Quaterback) bested the field with 85.00 points. Camilla Lindh and Anette Syren's Swedish stallion Klifton (by Floricello x Briar) were the runners-up with 82.00, edging out Michael Alderin-Danielsson on Frederic Spang's Swedish gelding Hilus (by Johnson x Don Primero) on 77.200 points. 
Martin Agevall and the Swedish mare Romeona (by Don Romantic x Briar) were the winners in the 6-year old division and the only pair to crack the 80 points barrier. Karin Oljemark steered Maria Agren's Swedish gelding Tiger G (by Tuschinski x Sir Donnerhall) to a second place with 78.400 points,  while Lotta Jerhammer Cidheden and the Swedish mare Chloe (by Connaisseur x Sandakan), owned by Isabelle Engvall Vogel, were third with 77.80.
Only a small group of five 7-year olds came to Stronsholm so the pickings were slim. Jeanna Hogberg topped the board on Bkarje Laustsen's Oldenburg mare Diva Nostra (by Detroit x Charon) with a 72.944% score. Asa Gamvik and the Swedish gelding Bardeeno (by Belamour x Dionysos) finished second with 70.482, while Mads Hendeliowitz and the Swedish stallion Autograf Q (by Ampere x Jazz) were third with 70.177.
Photo © Astrid Appels
Results - 2017 Swedish WCYH Selection Trial - Stromsholm
5-year olds
1. Jeanna Högberg -  Astoria (by Sir Donnerhall II x Quaterback) - 85.000
2. Camilla Lindh - Klifton  (by Floricello x Briar) - 82.000
3. Mikaela Alderin-Danielsson - Hilus MHB (by  Johnson x Don Primero) - 77.200
4. Nina Lilja -  Queen of Diamond  (by  Dalwhinnie x His Highness) - 73.000
5. Mads Hendeliowitz - Heathrow (by Apache x Gribaldi) - 72.600
6. Amelie Larsson-  Belatrix  (by Bellagio  x His Highness) - 72.000
7. Annie Ryhnell -  Dior  (by Sir Donnerhall II x Dionysos) - 69.000
8. Victoria Rönngren -  San Magi  (by San Amour x Magini) - 68.800
9. Mads Hendeliowitz -  Milwaukee (by Millennium x De Niro) - 67.800
10. Annie Smith -  Casablanca af Ekeby (by Don Romantic x Rotspon) - 65.400
11. Jeanna Högberg -  Kaikoura (by Apache x Sir Donnerhall I) - ELI
6-year olds
1. Martin Ågevall - Romeona (by Don Romantic x Briar) - 80.000
2. Karin Öljemark - Tiger G (by Tuschinski x Sir Donnerhall) - 78.400
3. Lotta JerhammarCidheden - Chloé  (by Connaisseur x Sandakan) - 77.800
4. Malin Rinné - Zinzano  (by Connaisseur x Amiral) - 76.000
5. Mads Hendeliowitz - Go Onhingst / KWPN / brbl / 2011 / Ampere x Flemingh) - 70.900
6. Mikaela Alderin-Danielsson  Saga N  (by Sir Donnerhall x Stanford) - 70.600
7. Amelie Larsson - Conny M  (by  Connaisseur x Briar) - 65.200
8. Charlotte Charrier - Grappa Q  (by Gribaldi x Jazz) - 60.600
7-year olds
1. Jeanna Högberg - Diva Nostra (by Detroit x Charon) - 72.944
2. Åsa Gamvik - Bardeeno (by Belamour x Dionysos) - 70.482
3. Mads Hendeliowitz- Autograf Q (by Ampere x Jaz) - 7 0.177
4. Helena Reje -  Hirtenlife (by Sir Donnerhall x Dormello) - 70.093
5. Gabriella Tichelaar - First Choice DWH (by Johnson x Elcaro) - 68.452
Related Link
Eurodressage Coverage of the 2017 World Young Horse Championships