2017 CDIO-PJYR Hagen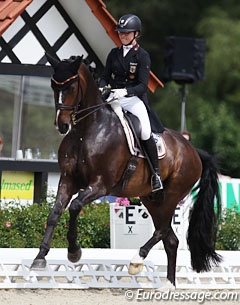 The 2017 CDIO-PJYR Hagen "Future Champions" competition wrapped up on Sunday 18 June 2017 at Hof Kasselmann with victories and 80% scores in the CDIO Kur to Music finals for pony and young riders. Lucie-Anouk Baumgurtel and Hannah Erbe bothr deo to spectacular marks on the board.
Hannah Erbe not only won the Young Riders division, but with that, also her personal best score in the Freestyle at this level. She even broke the 80 percent mark with her 10-year old Carabas son Carlos. Semmieke Rothenberger with Dissertation and Christina Abbelen with First Lady could not beat the score of 80.417 percent – they remained close together with 76.792 and 76.458 percent, in second and third place.
"It was really fun for me" said the 17 year old Erbe from Krefeld, but not only in reference to the dressage arena in Hagen, but also that Carlos was very concentrated, and reacted directly to her aids.
The reigning triple European Champion of the Pony Riders, Lucie-Anouk Baumbürtel also raised the bar. She and Massimiliano FH left the competition with 82.292 % – this was also a personal best performance.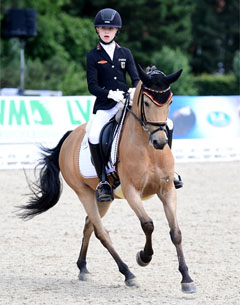 "Massimiliano isn't very easy, but he gives me so much," explained the 13-year old, who clearly felt at home at "one of the best horse shows there is."
Jana Lang from Schmidgagen took second place with another excellent performance, which the judges awarded 81.125 percent. With that, she and Baumgürtel set themselves far apart from the rest of the competition. The Dane Louise Christensen (77.708 percent) and Nele Löbbert from Witten (77.167 percent) ranked third and fourth, with Vegelins Goya and Contra.
In the I-Tour for Young Riders, the cards were mixed, at least within the top three. Luca Michels from Münster, was third in the team ranking behind Semmieke Rothenberger and Lisa Breimann, but secured second in the individual test behind Rothenberger, and finally surpassed her in the Freestyle final on Sunday morning. The 19-year old reached 75.042 percent in the saddle of the 9-year old Rheinlander Rendezvous (Riccione x Weltmeyer). Rothenberger and Dissertation were second with 74.792 Prozent ahead of Ann-Sophie Lücker from Bad Zwischenahn, with Fairmont and 74.083 percent.
Sophie Stilgenbauer with Sharon (70.583 percent), the Russian Anna Aristova with Laetare (68.375 percent) and Vanessa Creech-Teraud from Canada with Fleur De Lis (68.250 percent) earned the top three places in the consolation final of the I-Tour.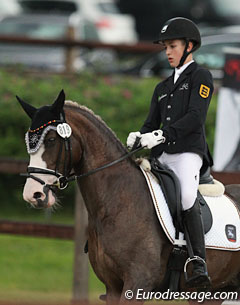 In the I-tour for Pony Riders Moritz Treffinger moved to the top of the board in the Kur to Music finals with his 9-year old mare Top Queen H by Top Anthony II x Dark Rubin). He scored 75.875% and edged out Nele Löbbert on the 9-year old Carlos WE (by Constantin x Donnerhall) who finished second with 74.500%. Danish Sofie Hansen and the 10-year old palomino Prince of Glory (by Prince Perfect x The Braes My Mobility) landed third place with 74.500%.  
In the CDI- Consolation Kur Dutch Thessa Gilbers and her talented 7-year old Baumann's Despino (by Don't Worry) aced the class with 74.208%. Danish Kristian Wurtz Green and the 9-year old D'Artagnan (by Don't Worry x Colano) were the runners-up with 72.500%, followed by Dutch Shanna Baars on the 13-year old Don Camillo du Bois (by Dornick x Eduard) on 71.167%.
Photos © Astrid Appels - No reproduction allowed
Eurodressage's Astrid Appels was on the scene taking photos on Thursday. If you are interested in digital files or prints for personal use, social media, contact us. 
Related Links
Scores 2017 CDIO-PJYR Hagen
Welschof, Rothenberger, van Peperstraten, Haase Win at 2017 CDIO-PJYR Hagen
Nations' Cup Victories for Pony Riders and Children at 2017 CDIO-PJYR Hagen
German Juniors Supreme in Nations Cup at 2017 CDIO-PJYR Hagen
Young Rider Team Germany Takes Top Step of Podium at 2017 CDIO-JYR Hagen