2017 Nordic Baltic Championships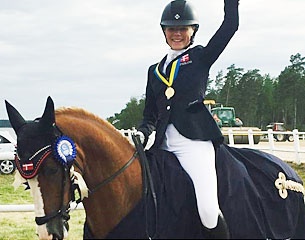 Pony riders Maja Emilie Leth and Amira Aasted Jespersen, junior rider Ann Sofie Nilausen, young rider Helena Liholt Gulli, Under 25 rider Denise Ljungkvist and Grand Prix rider Minna Telde were the winners of the kur to music finals and individual gold medals at 2017 Nodric Baltic Championships held in Hammaro, Sweden, on 30 June - 2 July 2017.
At FEI pony level Danish Amira Aasted Jespersen and the 11-year old German bred Top Tilas (by Top Anthony x Dark Rubin) scored a winning 76.365% in the Kur to Music after already acing the team championship and individual test. Team mate Isabell Toft Waksvik and her 15-year old SL Cuba (by Constantin x Bazar) earned silver with 75.070%, while Norwegian Carmen Gronvold Johannessen and her 12-year old Westfalian Davidoff (by Dreamdancer x Dressman) got bronze with 73.500%. In the nations' ranking Team Denmark won gold, Sweden silver and Norway bronze, while in the category 2 for smaller FEI level ponies, the gold went to Danish maja Emilie Leth and Prince after scoring a winning 70.366% in the individual test.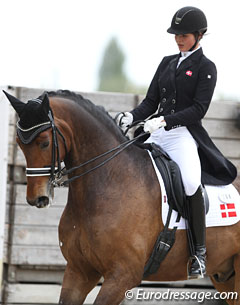 At junior riders level Denmark wielded the axe of power taking team gold far ahead of host nation Sweden, followed by Finland. In the individual competition there was a different winner in each of the three tests, but when it counted for a medal in the Kur to Music, Ann Sofie Nilausen and the 8-year old Danish warmblood Elverhojs Sakharov (by Romanov x Amiral) wielded the axe of power. They scored a winning 73.130% in the freestyle and referred team mate Anna Maarbjerg Piechnik on Kirks Dibsi (by Come Back II x Laurenz) to a silver place with 72.750% and Swedish Evelina Soderstrom on the Grand Prix schoolmaster, 19-year old Weihenstephaner (by Warsteiner) to bronze with 72.675%.
"Throughout the week Sak has been pretty relaxed, and when we were riding, he was just concentrating on me and my aids," Nilausen explained. "My feeling in the ring was amazing, I knew I had to enjoy and cherish every minute because it is a chance the fewest gets. So I was of course concentrating on the different exercises, and feeling Sak throughout the program, but I actually had the time to enjoy the ride as well, which only was possible because Sak gave so much of himself, and took me with him through the test." Coached by Jette Nevermann, Nilausen said she went speechless when she saw her winning score on the board. "I didn't expect to win at all, actually I would have been happy just being in top five. Winning was, of course, fantastic and a once in a life time experience, but my competitors were all really good, so I wasn't really expecting to win. When I finished my test on Saturday, I knew we had done well, but when I rode out of the arena my father pointed at the score table and I saw my % and I just became speechless. It was unbelievable, and the overwhelming feeling of happiness just raced through my body. It was really an incredible feeling."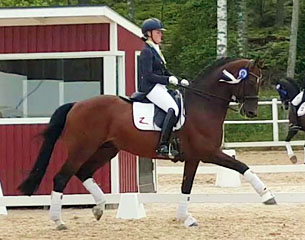 At Young Riders level home team Sweden ruled the roost and earned team gold with a 4% point advantage to Denmark and Norway. However, in the individual battle Sweden was outclassed and Norwegian Helena Liholt Gulli and the 16-year old Norwegian bred stallion Tobajo Picez (by Cortez x Pik Trump) snatched the gold with 73.600% earning freestyle. Finnish Anna Tallberg and the 14-year old Westfalian Fernet (by Furst Heinrich x Fagott) were solid for silver with 73.055%, while Danish Laura Hviid and her 16-year old Hanoverian Denzel (by De Niro) got bronze with 72.990%.
"Tobajo Picez was really good this weekend. I had a good feeling, and he felt ready for the job," said Gulli, who started as a jumping rider but switched to dressage three years ago. She has been coached by Picez' owner Tormod Bakke Johnsen for the past 13 years. "We had some small mistakes on something I know we can do better, but after all I'm really pleased with him. I never expected to take the gold, although my goal was to take a medal."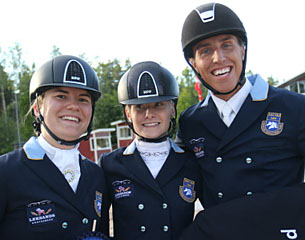 The Under 25 division featured riders from Sweden and Denmark whereas Norway nor Finland were able to field competitors in the young Grand Prix rider category. Sweden won the team challenge with 206.023 points ahead of Denmark (191.581 points), and also for the individual medals it was a Swedish affair. Denise Ljungkvist and her 10-year old Swedish bred Soega (by Sandakan x Amiral) got gold with 73.320% for her Kur. Johan Wessner and the 11-year old Hanoverian Sterling G (by Stedinger x Wesley) scored silver with 71.175% and Isabelle Tovek and her 14-year old Danish bred Weltliebe (by Weltjunge x Andiamo) earned bronze with 70.915%.
"Soega is a very energetic and ambitious horse. The first day she was a little bit too tense. The second and third day she was more relaxed and comfortable in the arena," said Denise, who has been training with Kerstin Andre for the past two years. "I had a really good feeling in the ring. Soega stayed with me through the whole program and we did our best.I hade no expectations to win individually, but i hoped to take a medal. I still have to pinch myself in the arm to understand what happened."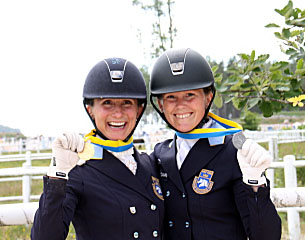 At senior Grand Prix level, Swedish 2012 Olympian Minna Telde earned gold on her 12-year old Swedish bred Isac (by Hip Hop x Master). Riding only her second international this 2017 show season, Telde has been away from the spotlight for a while, but in Hammaro she captured the limelight again on Isac, which she trained from young horse level to Grand Prix herself. The pair scored 75.060% for gold in the Grand Prix kur to music. Swedish Malin Rinné and the 14-year old Swedish bred Scharmeur (by Schwadroneur x Napoleon) earned silver with 72.795%, while Danish Malene Kohlschmidt Ebbesen and her 17-year old Danish mare Mira (by Michellino x Cavan) were good for bronze with 72.500%.  In the team competition gold went to Denmark and silver to Sweden. However, Telde rode as an individual in Hammaro.
An overjoyed Telde praised the quality of her horse Isac while proudly carrying the gold medal round her neck. "Isac is so sensitive and that is his strength, but then you also get a little anxious in the first competition."
Photos © Private, Astrid Appels, Swedish FN
Related Links
Scores 2017 Nordic Baltic Championships
Hyrm, Mejlgaard, Lyager, Andresen, Dolk, Darcourt Kur Gold at 2016 Nordic Baltic Championships
Golden Glory for Sorensen Sisters, Christensen, Dolk, Torup and Telde at the 2015 Nordic Baltic Championships
Anna Svanberg, Individual Swedish Rider, Wins 2014 Nordic Baltic Championships
Vallentin, Andresen, Mattsson Win 2013 Nordic Baltic Championships
Lena Leschly Amand Proud of her Perfect Match, Leads Denmark to 2013 Nordic Baltic Victory
Scores: 2012 Nordic Baltic Championships
Scores: 2011 Nordic Baltic Dressage Championships