Russian Dressage News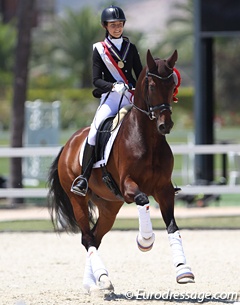 The Russian Equestrian Federation and chef d'equipe Olga Soboleva have announced the three Russian teams that will compete at the 2017 European Championships for Children, Junior and Young Riders. These Euros will be held in Roosendaal, The Netherlands, on 9 - 13 August 2017.
Russia will be fielding three complete teams of four riders in each of the divisions.
The Russian teams comprise:
Children:
Olga Arzhaeva - Ronaldinyo
Ekaterina Aristova - Shania
Taisia Rusakova - Terrano or Bandolero
Elizaveta Samoylenko - Schuermann's Hit 
The children's reserve is Margarita Anashkina
Juniors Riders:
Anna Guseynova - Lauda
Elizaveta Lyban - Erantos
Yulia Gorbacheva - Urbi Et Orbi
Veronika Khudokormova - Donnerfeld 
The junior reserve is Polina Ivanova on Ratzinger
Young Riders:
Alexandra Maksakova - Scampalo
Ksenia Ershova - Kabriolet
Timofei Rusakov - Zidane
Anna Aristova - Laetare 
The young rider reserve is Olga Ivanova  on Optimus Prime
Photo © Astrid Appels
Related Link
Eurodressage Coverage of the 2017 European Children, Junior & Young Riders Championships