British Dressage News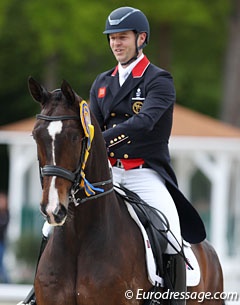 Two days after announcing their short list, the British Equestrian Federation has now released the names of the actual team riders that will represent Great Britain at the 2017 European Dressage Championships in Gothenburg, Sweden, on 22 - 26 August 2017.
This year's team is an all-male team, the first in 40 years, and boasts a wealth of experience with Carl Hester heading to his eighth European Championships alongside Emile Faurie, for whom this is his fifth time. His first appearance came in 1993.
The selected squad has been named by British Dressage selectors as:
Emile Faurie with Hof Kasselmann's Weekend Fun (reserve horse Lollipop)
Carl Hester with Jane de la Mare and his own Nip Tuck 
Gareth Hughes with Anne and Steve Keen's Don Carissimo 
Spencer Wilton with Jen Goodman's Super Nova II
Named reserve:
Lara Butler with Dr Wilfried Bechtolsheimer's Rubin Al Asad
Performance Manager, Caroline Griffith says: "There has been strength and depth in the field of combinations for the selectors to choose from this year, which is a testament to the ever rising standards in dressage and bodes well as we look to Tokyo 2020. I would like to thank the riders, owners and support teams who have campaigned throughout the year and made it such an exciting season. Also, thank you to UK Sport and the National Lottery for backing the World Class Programme and to our sponsors for supporting us."
"We go to the European Championships with an extremely experienced squad who are focussed and targeted on delivering their best performances. I am delighted to be taking this team to Gothenburg in what will be my first major championships as a Performance Manager, a challenge that I am relishing. They have all worked incredibly hard to get to this position and I wish them every success in Sweden.
British Dressage Chief Executive, Jason Brautigam says: "This is a very strong team with a lot of experience at this level, with two of our Olympic silver medal winners from Rio last year, Carl and Spencer, both retaining their places after continuing their great form this season. It is also fantastic to welcome back Emile and Gareth to the team, after their last appearances at the European Championships in 2011 and World Equestrian Games in 2014 respectively, with horses making their championship debuts.
"While we may have had to say farewell to Valegro, our star performer of the past five years, who was always going to be difficult to replace, it is testament to the strength in depth of Team GBR that we can still field such a strong line-up of experienced riders.
"We wish Caroline and the team the best of luck in Sweden, as well as expressing our thanks and appreciation to the owners, staff and home teams for all of their support on the journey to Gothenburg."
Photo © Astrid Appels
Related Link
Eurodressage Coverage of the 2017 European Dressage Championships