Verden Auction News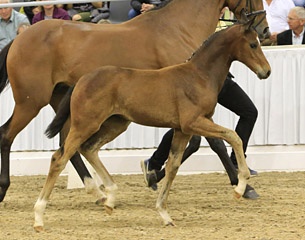 The 2017 German Filly Foal Champion Be my Beauty Queen set a new record price of 160,000 euro at the 2017 Hanoverian Elite Foal Auction on Saturday 5 August 2017.
Danish stallion owner and breeder Lone Boegh Henriksen of HP Horses (the co-owner of Furstenball and Vitalis) acquired Be My Beauty Queen (by Bonds x San Amour) from breeder Stefan Hermann at this auction.
The filly Balou for Fun (by Balou Peggio x Darco) was the top selling jumper foal. Her dam, Hanoverian state premium mare Dark Side Up is half sister of Fit For Funn who finished second with Luciana Diniz in the Aachen Grand Prix two weeks ago. Balou for Fun was sold for 29,000 euro to Hessia.
On the second auction day, the second most expensive foal was the colt Vincent (by Vitalis x Stedinger), which sold for 40,000 euro. The colt Vitali (by Vivaldi x Rubin Royal) switched owners for 38,000 euro. 
Colt Fair Boy (by Finest x Londontime) fetched an auction price of 32,000 euro, while colt Fantastico (by Furstenball x Sandro Hit) switched owners for 25,000 euro. 
The top-class collection of 106 foals was the reason for the new average price record of 11,506 euro. The list of purchasing countries included all five continents, from Australia to Argentina, the US to South Africa and South Korea. Customers from Switzerland purchased the largest number of foals (five), followed by Great Britain, Spain and South Korea (each four). 
The seven broodmares were as popular  and were sold at and average price of 13,623 euro. Hanoverian premium candidate Be my Love (by Benicio x Stedinger) sold for 22,500 euro to local clients. 
"The collection convinced with top pedigrees and amazing quality and already attracted a lot of attention, also among riders, during the first presentation in the Verden dressage arena. Many people seized the opportunity on the occasion of the horse show to also look for the top horses of tomorrow. I am happy about this fantastic result for the Hanoverian breeders as this is a sign for the outstanding importance of the auction venue Verden," Auction Manager Jörg-Wilhelm Wegener said.
Photo © Tammo Ernst
Related Link
Frederick G, Best Seller on First Day of 2017 Hanoverian Elite Foal Auction