2017 Pavo Cup Finals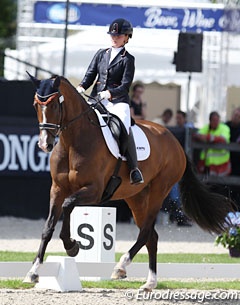 The 4-year old Imagine, the 5-year old Total U.S and the 6-year old Great Lady TC have taken the lead after the semi-finals of the 2017 Pavo Cup held annually during the KWPN Horse Days in Ermelo, The Netherlands. The Pavo Cup Finals are the Young Horse Championships exclusively for KWPN registered or licensed horses.
After a nation-wide series of qualifiers in The Netherlands, a group of youngsters was eligible to appear in the semi-finals in which the young horses were assessed per two. The twelve highest scoring horses 4 and 5-year olds and the six highest scoring 6-year olds will move on to the Finals in which they are judged again. The top three of those finals will get test ridden. The guest judge rider for the 2017 Pavo Cup Finals is Canadian Olympian David Marcus. 
In the 4-year old division Bart Veeze steered the mare Imagine (by Dream Boy) to a whopping 93 points, ahead of the much hyped stallion Ibiza (by Desperado) under Emmelie Scholtens. The chestnut scored 90 points. Simone Both and Ivoli E (by Dream Boy) finished third with 89 points. 
The 5-year old semi finals were judged by Monique Peutz en Henriette Smits. Dinja van Liere and the licensed stallion Total US (by Totilas x Sir Donnerhall) scored a stunning 89 points, ahead of Diederik van Silfhout on Hometown (by Apache x Ferro) with 87 points. Dinja van Liere and the elite mare Haute Coutuire (by Connaisseur x Krack C) is third with 86.6 points. No less than 25 horses scored 8.0 or higher!
The 6-year olds were judged by Adriaan Hamoen and Karin Retera who scored Jeanine Nieuwenhuis and Great Lady TC (by Bretton Woods x Osmium) the highest with 85.4 points. Joyce Heuitink and Gaudi Vita (by Apache x Welt Hit II) ranked second with 84.6 points. Both horses represented the KWPN breed at the 2017 World Young Horse Championships two weeks ago. Jonna Schelstraete and Grand Charmeur (by Apache x Cocktail) finished third with 83.8 points.
Results - 2017 Pavo Cup Finals - SEMI FINALS
4-year olds
Imagine (by Dream Boy) - Bart Veeze -  93
Ibiza (by Desperado) -Emmelie Scholtens - 90 
Ivoli-E (by Dream Boy) - Simone Both -  89
Imposant W (by Wynton) - Bart Veeze -  88,4
Incognito (by Davino V.O.D.) - Hans Peter Minderhoud -  88,2 
Indian Rock (by Apache) - Emmelie Scholtens -  88 
Iksander (by Apache) - Femke de Laat-  87,6
In Style (by Eye Catcher) - Renate van Vliet -  86
Irabel (by Charmeur) - Vai Bruntink -  86
Dettori (by Desperado) - Hans Peter Minderhoud -  86
Illusion A. (by Florencio) - Vai Bruntink -  85,8 
Ignado-Rijk (by Dream Boy) - Marije Tromp -  85,6 
Indigro (by Negro) - Kirsten Brouwer -  85,2 
Icerole DVB (by Desperados) - Jos Hogendoorn -  85
Impression (by  Don Schufro) - Diederik van Silfhou -  85 
Idefix STH (by Dorado) - Nicky Snijder - 85
Inspire (by .Everdale) - Benjamin Maljaars- 84 
Ipradin S (by Don Tango)- Kim Koolen -  84
Infinity (by Johnson) - Marlou de Ruyter -  84
Immens-Ieni K (by Dream Boy) - Marlou de Ruyter -  84
Intro K (by Apache) - Femke de Laat -  83,8 
Imperio (by Johnson) - Cynthia Eggerkamp -  83,6 
In the Mood (by Desperado) - Margreet Prosman - 83,4
Ivy (by Lord Leatherdale) - Krista Kolijn -  83
Izonik (by Zonik) - Kerry Mackin -  83
Ivanhoe (by Desperado) - Margreet Prosman -  82
Il Fiore (by Fürst Romancier) - Lisanne der Nederlanden - 82
Identity STH (by Charmeur) - Nicky Snijder -  81,6
Imsomnia Begijnhoeve (by Jazz) - Joyce van Schaick - 81
Imposant LH (by Everdale) - Laurens van Lieren -  81 
Ipad (by Connaisseur) - Danielle Houtvast - 81
Indicover Vrouwe (by Fürst Romancier) - Laura van Heuvelen -  81 
I-catcher (by Johnson) - Astrid Reinders -  81
I'm Perfect STH (by  Zack) - Nicky Snijder - 80 
Excellent (by Everdale) - Charlotte Fry - 80 
Inverness (by Everdale) - Benjamin Maljaars -  80
Indian (by Apache) - Mandy Dokter -  80 
Ina-Sina L (by Davino) - Lotje Schoots -  80
Ike (by Everdale) - Annika Roodhart -  79,6 
Ianthe de Jeu (by Fidertanz) - Ian Smith -  79
Illusionist (by Charmeur) - Nina van Mook -  79
Inegra-S (by Negro) - Lars op 't Hoog -  79
Imagine SVL (by El Capone) - Sarah Wilkinson -  78,2 
Imagine (by Chippendale) - Jeroen Fijma -  78 
Ireina (by Bon Bravour) - Joyce Lenaerts - 78
It's Easy (by Everdale) - Luis Clolas Peres -  77,2
I Am (by Skovens Rafael) - Lotje Schoots -  77 
Inclusive (by Everdale) - Charlotte Fry - 77
Idem Dito (by Wynton) - Marjan Hooge -  77
Independent Little Me (by Uno Don Diego) - Dinja van Liere -  77 
Incroyable H&J (by Everdale) - Barbara van Groeningen -  77
Izzy-V (by Everdale) - Sanne Versendaal -  77
Izzy-Lo (by Chippendale) - Brandy Bos- 76,6
Ibeaulina (by Charmeur) - José van Haaren-   76
Iefke-Olympia - Lars op 't Hoog -  76.
Isabeau (by Jazz) - Jessline Galiart - 76
Imagine (by .Dream Boy)- Jeroen van Eck -  76
Idyllika (by Dream Boy) - Chantal Nijpjes -  76
Inferno (by Everdale) - Joyce van Opbergen - : 76
Flower Power (by Fürstenball) - Arjan van Diepen - 75
Inebel Taonga (by Negro) - Courtney Delport -  75
Ilinde (by Wynton) - Cecile Smit -  75
Isalita Roos (by Cupido) - Meike Naberink - 74,6
Inthi Ithacka JCS RS2 (by Everdale) - Robin van Lierop -   74
Indium A (by Negro) - Marjolein Gevaert -  74 
Ilias van het Trichelhof (by Everdale) - Evy de Haan -  74
I'm Special van het Kroonhof (by Negro) - Evelien de Kessel -  74 
Iron Butterfly Sollenburg (by Connaisseur) - Danique van Bergen -  73,6 
Bandol (by Bordeaux) - Sabrina van Ruitenbeek -  73
Isato (by Negro) - Anne Klaassen - 73 
Illuster SK (by Fürst Romancier) - Marieke Bloem -  72
Isonzo-O (by Negro) - Maaike Langeree -  71,6
Icenta M (by Charmeur) - Jeroen van Eck - 71
Igor T (by Negro) - Charlotte Fry-  71 
Ierella B (by Florencio) - Danielle Houtvast -  70 
Iejoor (by Charmeur) - Benjamin Maljaars -  70
I Have a Dream VDP (by Dream Boy) - Denise Brouwer - 70
5-year olds
Total U.S. (by Totilas) - Dinja van Liere - 89 
Hometown (by Apache) - Diederik van Silfhout -  87 
Hautecouture (by Connaisseur) - Dinja van Liere - 86,6
Haley B (by Bon Bravour) - Marlou de Ruyter -  86,2
Hermès (by Easy Game) - Dinja van Liere - 85,8 
Hero (by Apache) - Emmelie Scholtens-   85,2
Daily Diamond (by Daily Deal) - Bart Veeze -  85
Don Joe (by Diëgo) - Charlotte Fry -  85
Jamsession Taonga (by Jazz) - Vai Bruntink -  85 
Habanna (by ivaldo) - Kirsten Beckers -  84,4
Handretti (by Andretti) - Lars op 't Hoog -  84,2 
Haeden (by hippendale) - Ingrid Malan -  84,2 
Haciëndo (by Bretton Woods) - Rom Vermunt -  84 
Houdini la Haya (by Zhivago) - Olga Boucher -  83,6 
Hot Chocolate (by Apache) - Esmee van Gijtenbeek -  83,4 
High Energy STH (by Jazz) - Nicky Snijder -  83,2
Trafalgar (by Totilas) - Riccardo Sanavio -  83
Hennesey (by Tuschinski) - Lotte Meulendijks -  83
Hummer N (by Easy Game) - Nars Gottmer -  82,8
Happy L (by Jazz) - Renate van Vliet - 82,6 
Hymne la Haya (by Johnson) - Olga Boucher - 82,4 
Hartsuijker (by Johnson) - Dinja van Liere -  82,2 
Harun (by Dancing Hit) - Diederik van Silfhout -  82
Hidde W ter Kwincke (by Lord Loxley) - Bart Bax -  80,8 
Hivago (by Zhivago) - Mascha Zandvoort - 80,6 
Happines (by Chippendale) - Robin van Lierop - 79,6 
Hot Game RS2 (by Easy Game) - Seth Boschman -  79,4 
Handsome Zambuka A.S. - Geert Jan Raateland -  79,2
Hatsjoe Du Bal (by Negro) - Dagmar van 't Land -  78,8
Hilltop (by Chagall D&R) - Rob van Puijenbroek -  78,4 
Heracles (by Jazz) - Pim Candel -  78,2
Hello d'Otie (by Jazz) - Sarah Wilkinson -  78
Hotmail (by Apache) - Annemieke van Venrooij- Mathijssen -  77,6 
Haliëgo (by Diëgo) - Marieke Ponzo Dieu-De Pundert -  76,2 
Homerus P (by Negro) - Marjan Hooge - 75,4 
Havanna van de C (by Jazz) - Nicky Snijder - 75 
Here I Am (by Bon Bravour) - Henri Jacobsen - 77,4 
Ho Timeless Good R-E (by Fürst Romancier) - Eline van Egmond -  77,2 
Halesta (by Qadroneur) - Vai Bruntink - 77
Helle Belle Norene (by Charmeur) - Rosalie Bos -  76,6
Holgado V.S. (by Dancer Forever) - Patrica Bielefeld -  76 
Hupadoeska PB (by Dancer Forever) - Mascha van Es -  76
Hivemmie (by Apache) - Eline van Egmond - 75,6
Honneur B (by Charmeur) - Lotje Schoots - 75,6 
Herma's Roos (by Skovens Rafael) - Lotje Schoots -  75,6 
Hummer (by Andretti) - Esmee Janssen -  75,4 
Huegro (by Negro) - Chantal Nijpjes - 74,8 
Highlight (by ohnson) - Minke Tange-Brand -  74,6 
Hurricane Domino (by Charmeur) - Arjan van Diepen - : 74,4 
Hopi-Moki (by Fürst Romancier) - Mascha Zandvoort -  74,2 
Hera (by Easy Game) - Annika Roodhart -  73 
Hope (by Sorento) - Larissa van Craaikamp -  71,2 
6-year olds
Great Lacy TC (by Bretton Woods x Osmium)  - Jeanine Nieuwenhuis  - 85,4
Galaxie (by Jazz) - Diederik van Silfhout - 78,2 punten
Gaudi Vita (by Apache) - Joyce Heuitink -  84,6
Grand-Charmeur (by Apache) - Jonna Schelstraete - 83,8
Crosby: (by hippendale) - Charlotte Fry -  83,4 
Golden Dancer de la Fazenda (vby Bretton Woods) - Thalia Rockx -  83
Ghandi (by Bojengel) - Kirsten Brouwer - 82,4 
George Clooney (by De Niro) - Charlotte Fry - 81,8 
Gamante D (by Contango) - Jennifer Sekreve - 81
Galina (by ordeaux) -  Judith Ribbels -  81
Jolene (by Jazz) - Nars Gottmer -  80,8 
Genua TC (by Charmeur) - Jeanine Nieuwenhuis - 80,8
Geronimo (by Bordeaux) - Floor van Kempen -  80,4
Grace of Rose (by Jazz) - Lotje Schoots - 79,6
Gerda Nova de la Fazenda (by Romanov) - Luis Closas Peres  - 78,8 
Genie (by Zhivago)- Ainhoa Prada Ortiz - 78,6
Giovanni de la Fazenda (by Don Schufro) - Luis Closas Peres - 78,4 
Gaston (by Tango) - Margreet Prosman - 78,2
Galaxie (by azz) - Diederik van Silfhout - 78,2 
Gidon-D (by Tuschinski) - Jeany Heiden - 78 
Gifted (by Jazz) - Lisanne der Nederlanden - 77,6
Glendale (by Ampère) - Joyce van Schaick -  77,2 
Lumen Ghandi (by Charmeur) - Laura Zwart -  77
Geneve D (by Jazz) - Laura Petersen -  76 
Gentle van Wittenstein  (by Wittenstein) - Margreet Prosman -  75,6
Goldenboy Vinckenburgh (by Apache) - Nars Gottmer -  75,6 
Ashwin van de Fryochaborg - (by Andretti) - Laura Zwart -  75,6
Grandeur A (by Jazz) - Laurens van Lieren - 75,4 
Gizmo (by United) - Mercedes Verweij -  75
Gio Black (by Andretti) - Dominique Veenstra - 74,8
Guernsey (by Querly-Elvis) - Nicole Ekkerink-  72,4 
Godiree (by Apache ) - Esmee Janssen -  72,2
Golden Rita (by Charmeur) - Margot Kostelijk -  69
Glory Days (by Jazz) - Yvonne Snieder -  68
Grapjas (by Apache) - Patty Zwang - RET
Related Links