2017 Danish Junior/Young Riders Championships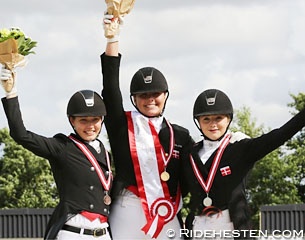 Junior rider Camilla Andersen and young rider Rose Marie Henriksen became the gold medal winners and titlist at the 2017 Danish Championships for Juniors and Young Riders held in Ringsted, Denmarj, just five days after the 2017 European JR/YR Championships concluded in Roosendaal, The Netherlands.
Danish team bronze medal winning junior rider Camilla Andersen and her 9-year old Danish mare Rafaella K (by Skovens Raphael x Hertug) was a league of her own winning the first two rounds with 74.108% and 74.500% and placing third in the Kur with 74.725%. She totalled 223.333 points for the gold and kept all competition at bay.  Team mate Karoline Rohmann and her 10-year old Danish mare Noosa Melody (by Don Romantic x Schwadroneur) landed the silver with three consistent rounds that earned her 72.324%, 72.684% and 75.700%. Team mate Victoria Kuussisto Pedersen and the experienced, 16-year old Danish mare Langkjaergaard's Donna Fetti (by Don Schufro x World Cup I) bagged the bronze with 71.676%, 71.605% and 74.800%.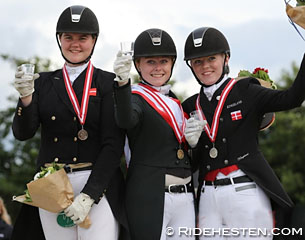 The young riders' champion was a close battle and the kur became decisive for determining the winner. Non-travelling team reserve Rose Marie Henriksen took revenge on missing out on team selection by winning the Nationals after placing second in the team and individual test and winning the freestyle. Trained by Rune Willum, Henriksen and her Grand Prix schoolmaster Donna Silver (by Don Schufro x Silvermoon) surfaced at the top after three rounds, edging out team rider Josfine Hoffmann on Anna Kasprzak's Grand Prix horse Honnerups Driver (by Romanov x Don Schufro) for silver. Henriksen scored 71.289%, 71.711% and 72.750%. Hoffmann on the other hand scored 71.447%, 71.895% and 71.450%. Maria Dahl-Bruun and Allan Skov's former Grand Prix horse Volstrupgaards Cassiopeia (by Come Back II x Caletto III) finished with the bronze after placing fifth in the team test (67.421%), eight in the individual test (67.079%) and third in the freestyle (70.875%).
Photos © Ridehesten
Results - 2017 Danish Junior/Young Riders Championships
Junior Riders
1. Camilla Andersen - Rafaella K - 74.108 -  74.500 -   74.7253 223.333
2. Karoline Rohmann - Noosa Melody - 72.324 -   72.684 -   75.700 ---  220.708
3. Victoria Kuusisto Pedersen - Langkkjaergaards Donna Fetti - 71.676 -   71.605 -   74.800 ---  218.081
4. Natalie Hering - Litvinenko Sjaelstofte - 69.324 -   70.395 -   73.700 ---  213.419
5. Kristian Würtz Green - Schuberts Don Diablo - 70.487 -   67.658 -   73.375 --- 211.52
6. Sara van Deurs Petersen - Katholm's Ronaldo - 68.486 -   70.132 -  71.825 ---  210.443
7. Anna Maarbjerg Piechnik - Kirks Dibsi -  68.865 -   69.210 -   70.825 ---  208.9
8. Cecilie Dybro Jensen - Norgaards Leonora - 68.487 -   68.658 -   71.725 ---  208.87
9. Ann Sofie Nilausen - Elverhojs Sakharov - 68.811 -   68.211 -   71.300 ---  208.322
10. Maria Mejlgaard Jensen - Uno -  69.486 -   68.210 -   68.650 ---  206.346
11. Asta Silje Envoldsen - Traneenggards Kiago -  69.541 -   65.921 -   69.725 ---  205.187
12. Winnie Schjøtt - Roberto Vejen -  66.297 -   69.184 -   69.100 ---  204.581
13. Ditte Kvistgaard - Divina - 67.487 -   67.763 -   67.850 ---  203.1
14. Laura J. Rasmussen - Atoftens Dornier - 66.486 -   68.92 -   67.375 ---  202.782
15. Katrine Groot - Figaro - 68.135 -   67.026 -   67.500 --- 202.661
Young Riders
1. Rose Marie Henriksen - Donna Silver - 71.289 - 71.711 -   72.750 ---  215.75
2. Josefine Hoffmann - Honnerups Driver -  71.447 -  71.895 -  71.450 ---   214.792
3. Maria Dahl-Bruun  - Volstrupgaards Cassiopeia -  67.421 -  67.079 -  70.875 ---   205.375
4. Michaela Tækker - Landlyst Landia -   68.158 -  66.921 -  69.325 ---   204.404
5. Amanda Overgaard - Sky Newz Horsebo - 64.526 -   68.0795 -  70.875 ---   203.48
6. Pernille Koch Rasmussen - Heslegards Robert -   67.684 -  66.789 -  68.900 ---   203.373
7. Laura Hviid - Denzel -   66.816 -  67.816 -  67.675 ---   202.307
8. Kathrine Have Petersen - Bona's Fair Chas - 66.605 -  68.368 -  67.075 ---  202.048
9. Amalie Aasted Albæk - Orevadbros Dior -   66.053 -  66.000 -  69.625 ---  201.678
10. Jeanette Haugaard - Stenholt Amilla -   65.447 -  66.789 -  68.425 ---   200.661
11. Kristina Krogshave Christiansen - Kallestrups Marikles Oshar - 65.763 -  67.026 -  67.275 ---   200.064
12. Victoria Tang-jakobsen Nimbus Hoj - NIMBUS-HØJ AAR 65.895 -  68.632 -  65.075 ---   199.602
13. Trine Kristjandottir - Spangaards Nephew - 66.816 -  66.4741 - 65.925 ---   199.215
14. Emma Skov  - Cracker Jack - 65.026 -  66.526 -  67.375 ---   198.927
15. Emma Bøjer Wimdrup - Lazio - 64.316 -  67.763 -  65.725 ---   197.804
Related Links
Rohmann, Mejlgaard Jensen, Engermann Win 2016 Danish Youth Riders Championships
Vallentin and Sorensen Win 2015 Danish Junior and Young Riders Championships
Engermann and Dam Vestergaard Win 2014 Danish Junior and Young Riders Championships
Sorensen and Dufour Win Gold at 2013 Danish Junior and Young Riders Championships