2017 U.S. Youth Riders Championships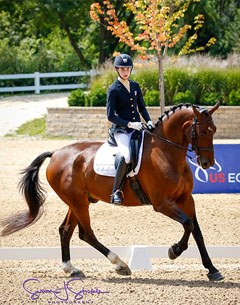 Isabel Linder and Elvis and Abby Fodor and Slip and Slide maintained their leads to claim the 2017 U.S. Junior and Children Championship on Saturday 26 Augut 2017. In the Young Rider Championship, Rebekah Mingari and Allure S have the lead, while Suzannah Rogers and Adrenaline Rush SBF hold first place in the Pony Championship.
Combinations in each division complete two tests, both counting towards 50% of their overall score, to determine the champions.
Linder wins 2017 U.S. Junior Championship
Linder (Kewadin, Mich.) and Elvis carried their momentum into Saturday's FEI Junior Individual Test to win the AGCO/USEF Junior Dressage National Championship with an overall score of 68.961%. She and Hai Wei's 13-year-old Westphalian gelding performed a consistent test to place third with a score of 66.930% following Friday's FEI Junior Team Test score of 70.991%. Watch Linder's winning ride here.
"He felt really good today. He really listened, and we improved upon the trot work, so I really was happy with the test and happy with him," said an excited Linder. "We were able to put in a nice, clean test yesterday that carried into today. I have a great horse and great team."
After placing sixth in the team test with a score of 66.982%, Kayla Kadlubek (Fairfax Station, Va.) and her 13-year-old Oldenburg gelding Freewill added more energy to place second in the FEI Junior Individual Test with a score of 68.070%. This propelled them to the AGCO/USEF Junior Dressage Reserve National Championship with an overall score of 67.526%, finishing her junior career on a high note.
"I had a really good test today. I was happy with my horse all weekend. He gave me his all. I went for a little bit more today to get the higher marks, which turned out well. He has improved so much since I had him," said Kadlubek.
Juliet Hess (Atlanta, Ga.) and Diano, Julia Stainback's 14-year-old Belgian Warmblood gelding, placed third overall with a score of 67.237% following the team test score of 68.509% and the individual test score of 65.965%.
Fodor Wins 2017 U.S. Children Championship
Fodor (Bloomsbury, N.J.) swept the division to win the inaugural USEF Children Dressage National Championship. After topping the FEI Children Team Test with a score of 67.889%, Fodor and Slip and Slide, Marie Fodor's 14-year-old Quarter Horse/Haflinger gelding, perfected their simple changes to win the FEI Children Individual Test with a score of 69.063%. The 13-year-old Fodor started riding at three-years-old, and her experience in different disciplines aided her in winning her first national championship. Watch Fodor's winning ride here.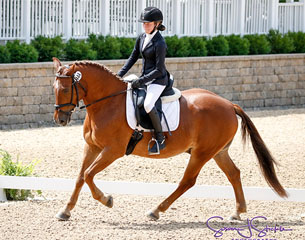 "I thought [Slip and Slide] progressed; he was just a lot better today. I'm really shocked [that I won] and really proud of him," said Fodor.
Beatrix Leggingwell (Lake Villa, Ill.) and Luke Skywalker, a 17-year-old Hanoverian mare, picked up where they left on Friday, displaying a strong test despite inconsistent extension work. They earned a score of 66.771%, following Friday's score of 66.389%. This resulted in an overall score of 66.580% for the USEF Children Dressage Reserve National Championship title.
"We had to be more cautious today because he is a spookier horse. There were some movements that were a little harder for us, but he was really trying his best to stay with me," said a thrilled Leggingwell. "The horse gave his all. I had my first competition with him this year, and he got me here, so it is cool to be here."
Madison Waller (Beaumont, Texas) and Diablo DC, Waller Farms' nine-year-old Lusitano gelding, placed third in the individual test with a score of 64.740%. This moved them up to third place overall with a score of 64.592% after scoring a 64.444% on Friday.
Mingari in the Lead in 2017 U.S. Young Rider Championship
Karen Dunn's Allure S and Elzarma TF carried Rebekah Mingari (Louisville, Ky.) to the top two spots in the FEI Young Rider Team Test to lead in the AGCO/USEF Young Rider Dressage National Championship. Mingari and Allure S, a 12-year-old Dutch Warmblood mare, have recently found their rhythm coming off a team silver medal with Region 2 and an individual bronze medal at the 2017 Adequan®/FEI North American Junior and Young Rider Championships presented by Gotham North (NAJYRC). They placed first with a score 70.132% to begin the championship. Watch Mingari's winning ride here.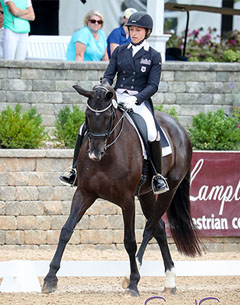 "Allure S was awesome today. She was really with me, and we just had a blast in the arena," said Mingari, who enjoys the championship environment. "It's great that there are multiple different championships. You have the best in our nation and get to watch the young riders, young horses, juniors, and now the children division. I think it is cool to have everyone here as it creates a fun atmosphere."
Mingari and Elzarma TF, who began working together in January, earned a score of 68.684%. Despite being distracted before entering the arena, Mingari regained the eight-year-old KWPN mare's focus to complete a respectful test.
"I am proud of her as she hasn't shown in a while, and she did an excellent job. She has been an incredible partner and I adore her."
Callie Jones (Henderson, Ky.) and her own nine-year-old gelding Don Philippo rounded out the top three with a score of 67.807%.
Rogers Leads 2017 U.S. Pony Championship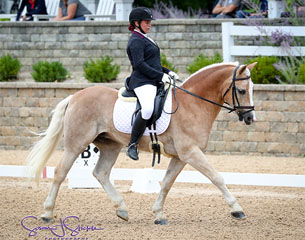 The US Pony Rider division is tight with the top three separated by just over a percentage point. Newcomer to the U.S. Dressage Festival of Champions, Suzannah Rogers won the Pony Team Test to lead the U.S. Pony Championship with a score of 63.846%. She received Adrenaline Rush SBF, or "Rush," as a Christmas present and made it a goal to be able to compete the 14-year-old Haflinger gelding in the FEI tests. Watch Rogers' winning ride here.
"This is a dream come true to come here and win on the first day. I felt good about our test; we have a good partnership. We're just a team," said Rogers.
Jori Dupell (Wilsonville, Oregon) and her 17-year-old Half-Arabian gelding Toy Story sit in second with a score of 62.521%. "He doesn't see out of left eye," said Dupell. "We can sometimes struggle with simple changes and counter-canter work, but we worked through it today, and [the test] was ok. He was a good boy," said a proud Dupell.
Sailor Boden (Canyon Lake, Calif.) and Blitzwane, Susan Hoffman-Peacock's 19-year-old German Riding Pony gelding, are in third with a score of 62.436%.
Photos © Sue Stickle