2017 U.S. Youth Riders Championships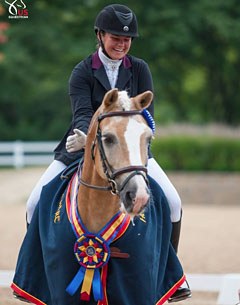 Pony rider Suzannah Rogers and young rider Rebekah Mingari won the titles in their divisions at the 2017 U.S. Youth Riders Championships held at Lamplight Equestrian Centre in Wayne, IL, on 25 - 27 August 2017.
Rogers Wins 2017 U.S. Pony Championship
Suzannah Rogers (Atlanta, Ga.) and Adrenaline Rush SBF maintained their lead in the pony division to win the US Pony Championship. Her 14-year-old Haflinger gelding exhibited more power and cadence to win the very competitive division with an overall score off 63.976%. They began the competition with a score of 63.8465% in the Pony Team Test and earned a 64.106% in Sunday's Pony Individual Test.
"It has been my dream since I was 12 [years-old] to come here and have a pony. This is my last year [in the pony division] so it felt really cool to win and have that feeling that I was the competition and everyone was looking to me to beat. Rush is my best friend; we're partners, and if we stick together, we can win, and that's what we did," said Rogers.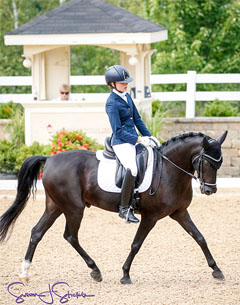 Jori Dupell (Wilsonville, Ore.) has her 17-year-old Toy Story for 17 years and never expected to make it to the U.S. Dressage Festival of Champions. She effectively managed the Half-Arabian gelding's energy to earn the reserve national championship with an overall score of 63.639%. They earned scores of 62.521% in the team test followed by a score of 64.756% in the individual test.
"He's a super-hot pony and he has always been that way. Getting the power under control and being able to use it in the parts of the test I needed was a big part in our score improvement today. He tried so hard, and it was awesome," said Dupell.
Sailor Boden (Canyon Lake, Calif.) returned to the 2016 pony rider division with Blitzwane. She and Susan Hoffman-Peacock's 19-year-old German Riding Pony gelding improved from last year's seventh-place finish to place third in 2017 with an overall score of 62.783%.
"This year we moved up to third, getting this far with my pony, from training level to here. He's always been a hot pony and for him to keep that under control was good," said Boden.
Boden earned scores of 62.436% in the team test and 63.130% in the individual test.
Mingari Takes 2017 U.S. Young Rider Championship Title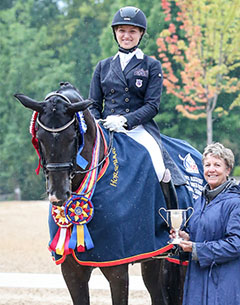 Rebekah Mingari (Louisville, Ky.) guided Kerrin Dunn's mother-and-daughter mares, Allure S and Elzarma TF, to the U.S. Young Rider  Championship and Reserve National Championship.
Mingari and Allure S, the dam of Elzarma TF through embryo transfer, had a great ride in the Young Rider Individual Test to score a 68.816%. She and the 12-year-old Dutch Warmblood mare earned a 70.132% during Saturday's Young Rider Team Test for an overall score of 69.474%. Watch their test here.
"It has been neat to watch these [mares] grow up, and our partnership together is incredible. I love both of them. To win this is amazing. It's a dream come true," said Mingari.
Mingari, who works for Dunn and trains with Angela Jackson, has had the opportunity to watch the mares develop. Jackson brought Allure S through the young and developing horse divisions, competing numerous times at the US Championships.
"I love both of these horses. I rode Elzarma TF when she was a four-year-old, and she was my project horse and taught me how to start with young horses," said Mingari. "I have watched Allure S ever since she was a six-year-old, and I got to get on her every once in a while. She was my ultimate dream horse to get to ride."
Mingari and Elzarma TF, an eight-year-old KWPN mare, earned scores of 68.684% in the team test and 67.719% in the individual test for an overall score of 68.202%.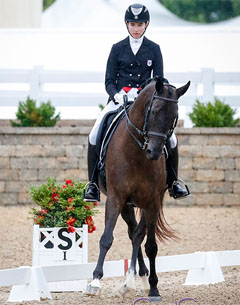 Anna Weniger (Apex, N.C.) rode a precise test with Don Derrick to move up from fourth place after the team test to third place following the individual test. They earned scores of 67.719% in the team test and 68.114% in the individual test for an overall score of 67.917%.
"I'm really lucky to be able to ride such a cool horse," said Weniger, who trains with her mother Dawn Weniger.
Originally, Dawn bought the 13-year-old NRPS gelding as a grand prix horse for herself. "He is super fun, well-trained, and has taught me so much. It's really incredible to compete in competitions with him," added Anna Weniger.
Photos © Sue Stickle
Related Link
Linder Wins 2017 U.S. Junior Rider Championship, Fodor 2017 U.S. Children's Champion