2017 South East Asian Games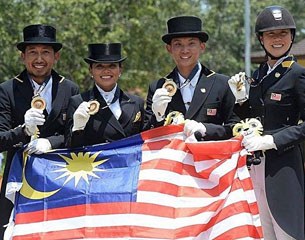 Team Malaysia and Malaysian Quzandria Nur became the gold medal winners at the 2017 South East Asia Games held in Kuala Lumpur, Malaysia, on 22 - 24 August. Dressage at the bi-annual South East Asian Games runs over three rounds, a team competition at junior riders level and an individual competition with the Prix St Georges and Inter I Kur to Music counting for the medals.
The dressage competition was held at 3Q Equestrian Centre in Rawang, Kuala Lumpur. The centre is owned by the Mahamed Fathil family.
Team Gold for Malaysia
Home country Malaysia sealed team gold by scoring 210.947 points. Brother and sister Qabil Ambak and Quzandria Nur Mahamed Fathil both came out of retirement for the South East Asian Games and leased horses in Europe to campaign at the South East Asian Games. They were successful in their venture. Supported by team mates Edric Lee Chin Hon and Sharmini Ratnasingham they won team gold. Qabil was the high scorer in the junior test. Aboard Agenete Kirk Thinggaard's Equestricons Walkure (by Romanov x Donnerschwee) he scored 73.053%
Thailand, led by Princess Sirivannavarinariratana Vajiralongkorn, came in second with 206.211 points and Singapore settled for the bronze with 201.289 points. Four countries participated in the team challenge and Indonesia placed fourth.
Pregnant Quzandria Nur Wins Individual Gold
In the individual competition the 35-year old Malaysian Quzandria Nur claimed gold on Siril Helljesen's 11-year old Hanoverian Rosenstolz (by Rotspon x Hohnstorf). She scored a winning 74.079% in the Prix St Georges and 77.950% in the Inter I Kur to Music.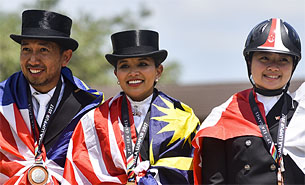 Quzandria Nur came out of retirment for the 2017 South East Asian Games after not having competed for five years. She rode her last show in February 2012 at CDI Zhashkiv in Ukraine, where she was trying to qualify for the 2012 Olympic Games with On Top (by Jet set D x Pericles)
"This is an excitement day for me as it has always been my dream of winning gold in this event in the Games," said an elated Quzandria Nur who is five months pregnant. "I never expected to do better that Qabil as he is far more experienced. This has come as a surprise."
The individual silver went to Qabil Ambak, who steered Walkure to a second place in the Prix St Georges (73.447%) and Inter I Kur (76.100%). The 37-year old Ambak last competed in international dressage 7 years ago at the 2010 Asian Games in Guangzhou, China. Since then he has been focusing solely on show jumping, but for the 2017 South East Asian Games he switched back to dressage.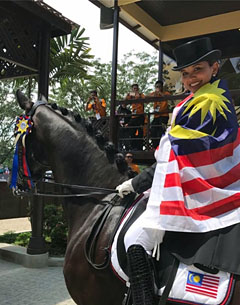 "Quzandria has been training constantly and very determined to win a gold medal here," said Qabil. "I am happy for her as she truly deserves this gold," he said, adding that they hope to be able to compete in the 2018 Games in the Philippines.
The Great Britain based Singaporean Caroline Chew won the individual bronze medal aboard her own 13-year old Norwegian warmblood Tribiani (by Solos Landtinus x Landadel). She finished fourth in the Prix St Georges (71.263%) and third in the Inter I Kur (74.725%). 
Related Links
Scores 2017 South East Asian Games 
Qabil Ambak Leases Equestricons Walkure for 2017 South East Asian Games