Dutch Dressage News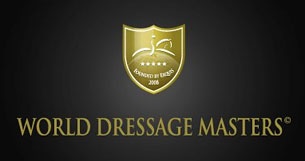 The World Dressage Masters concern, a Dutch investors group behind the namesake international dressage competition format, has been declared bankrupt in April 2017.
World Dressage Masters Administration BV was run by John van de Laar and Camiel Smeulders.
The court declared the World Dressage Management BV bankrupt for 100% and as owner of 50% of the stock in Global Dressage Analytics. The official cause of the bankruptcy was formulated as: "insufficient liquid assets and no real revenue was realized." 
World Dressage Masters was founded in 2008 with the aspiration to establish a world wide show circuit of elite events where the most prize money would be paid. Its mission statement read, "To compliment this fantastic sport and to contribute to its further internationalization and growth, sports marketing agency SportBizz and equestrian innovator Exquis have launched the World Dressage Masters (WDM) initiative in 2008."
At the beginning the project received great support from sponsors such as Ton Kies' Exquis, Nurnberger Insurance, Antonia Ax:son Johnson, Jerich International and Jiva Hill. The first WDM shows in 2009 were a big success and in 2012 the International Dressage Ridders Club (IDRC) took a non-executive chair in the management of the World Dressage Masters. Wayne Channon filled that position.  
However, by 2014 all those sponsors had all dropped out and Ax:son Johnson was the last to end the collaboration.
The Ukrainian VIAN Group picked up the sponsorship for 2015 but things started to go awry with WDM that year. Promised prize money was not paid at the World Dressage Masters in Vidauban and show host Bernadette Brune sued the company. One of the duped riders who did not get his prize money was Patrik Kittel (6,000 euro). Also VIAN claimed to be suing WDM after it co-sponsored the CDI Lier in March 2016.
Bernadette Brune won her lawsuit but never saw any money because WDM was declared bankrupt in the spring of 2017. VIAN's ceo Mykhaylo Parkhomchuk still has an ongoing lawsuit against the management of WDM.
"The trial between Vian Group and WDM is still ongoing," Parkhomchuk told Eurodresage. We strongly believe that fraud was committed from WDM side. The last part of funds that we paid for holding Mechelen CDI-5* in 2016 they just put in their pocket and the organizers had to cancel the competition due to lack of funding. We do not have intention of letting the matter drop."
Click here for the official bankruptcy file.
Related Links
2016 CDI Lier World Dressage Masters, Two CDI Events in One Week
Mechelen Gears Up for Last World Dressage Masters of the Year 2015
World Dressage Masters Finds New Title Sponsor in Vian Group
2014 World Dressage Masters Lose Florida Station
World Dressage Masters Return to Florida in January 2013
IDRC and World Dressage Masters to Collaborate
World Dressage Masters to Return to Florida in 2012
2009 World Dressage Masters - Table of Contents 
World Dressage Masters Include CDI Cannes