2017 CDI-W Devon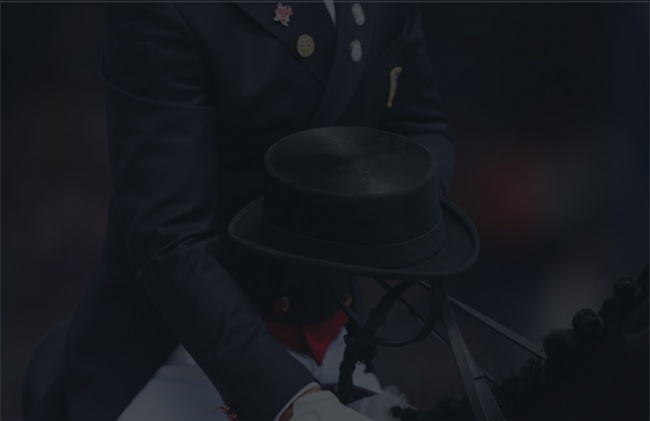 Piaffe Performance's young guns rocked 2017 Dressage at Devon on 28 September - 1 October 2017 with stand-out performances from young horse level up to Under 25 Grand Prix. Cesar Parra's academy of international dressage students claimed ribbons in the national and CDI tests at fourth level, the 4-year-old category, the Medium tour and in the Under 25 division.
Cesar is consciously building on a strong foundation for his dressage stable, while he competes rising stars GK Don Cesar and Fashion Designer OLD at premier events in the U.S.A. and Europe. The Colombian born rider also works on establishing a barn full of top quality horses of all levels that stay in his stable by nurturing his loyal clients and sponsors GK Investment Holding, Mark Baretti, the Hornor and Simons families, and Martin Sosnoff. The 2004 Olympian also passes on his knowledge and experience to the next generation.
Dressage at Devon CDI-W is one of the most prestigious and long-standing dressage competitions in the U.S.A. and a not-to-be-missed event on Piaffe Performance calendar.
"We've been competing at Dressage at Devon for at least 18 years in a row now; I never miss it," said Cesar. "The atmosphere at Devon is really nice. It's such a beautiful area, the organizers are super, and it's very close to home. It's one of the very few places in America that we can compete in a stadium full with people from all over the country. I've had over 20 victories at Devon myself through the years with 7 different horses, so it's a show very dear to my heart. My students had won at the show over 25 times before this year, and this weekend we went over 30. It's been an amazing weekend!"
Merita Hagren, From Finland into the American Winner's Circle
The 25-year old Finnish Merita Hagren swapped her home country for the U.S.A. four years ago. In that short time frame she has moved from third level to Grand Prix and at the 2017 CDI-W Devon she celebrated phenomenal success.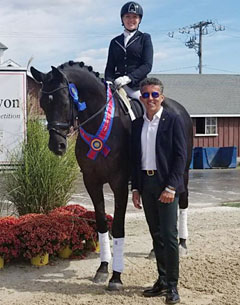 Aboard the Oldenburg bred Supremont (by San Amour x Carry Gold x Feingau), which Cesar owns in partnership with Heather and Gurdon Horner, Hagren won both 4-year-old tests and was the overall Young Horse Champion of the show.
"Supremont was quite fresh the first day of training at Devon but he behaved the whole week amazingly well. I have never ridden such an honest 4-year old before. He trusted me so well in the scary new place and big ring," said Hagren about the Oldenburg she has been riding for almost a year. "He is such a talented young horse with a great mind."
On Parra's 15-year-old Dutch Warmblood gelding Viveur (by Ohorn x Roemer), she dominated the Under 25 division in both horse and rider's CDI debut, winning the Intermediaire II, Short Grand Prix and placing second in the Kur to Music. This is Merita's last year as an Under 25 rider and in 2018 she will move into the senior division.
"I have been riding Freddy (Viveur) for two years now and this summer was his first show season. He did very well in couple of national shows so we decided to take him to Devon," said Merita. "He was super good and relaxed the whole weekend, doing even better than we hoped."
Hagren has been working at Piaffe Performance for almost four years. "I came here as a medium level rider just very willing to learn and work hard. With Cesar's coaching, teaching and mentoring I have become a Grand Prix rider. He's one of a kind and I can't imagine working with someone else. For next season I hope to keep working with Supremont for 5 year old classes and we'll see how far we get with Freddy after my transition to seniors. My personal goal of course is to keep on learning and developing under Cesar's coaching."
Spanish Rodrigo Encinas Fuentes Makes Winning Come Back with GK Van The Man
Spanish Rodrigo Encinas Fuentes also flourished in the Devon show ring. Making his show come back on GK Elite Sport's 15-year old Dutch warmblood gelding Van The Man (by Obelisk x Landjonker) after a two year break due to an injury, Fuentes was second in the CDI Under 25 Intermediaire II, third in the Short Grand Prix and they won the Kur to Music.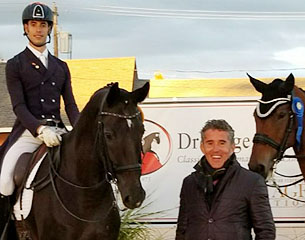 "The feeling was amazing honestly," said an ecstatic Fuentes about his come back with Van The Man. "It's an incredible horse and he always gives me his 100%. I still have a lot to learn but he is an amazing teacher."
Fuentes and Van Tha Man have been slowly working on their partnership. They made their CDI debut in 2015, but had to take a break last year as the schoolmaster had an issue with his splint bone on which he was operated. The horse has come back stronger and fitter than ever.
"In 2018 we are going to show him in Florida and qualify for the European Under 25 championship," said an ambitious Rodrigo.
"Van the Man was once not a very easy horse to ride, but now it looks like the horse really enjoys what he's doing. It's a great satisfaction," said Parra. "Rodrigo did amazing. These riders are like my kids to me, and I really love them all very dearly. I think they enjoy the journey more than they enjoy the actual ribbon, and that is very important. Rodrigo was so keen to do his very best - I was very proud of him."
Aboard Dakhir, a 7-year-old Hanoverian gelding by Don Diamond and owned by Nicoletta Ghribi, Encinas took third and fourth place in the national Fourth Level classes.
Roberto Brasil Makes CDI Debut in Medium Tour
Portuguese Roberto Brasil did not lag behind on his barn mates in his USA CDI debut. The 30-year old earned a second place in the Intermediaire A and a third in the Intermediaire B on Whoopie Gold, a 13-year-old Oldenburg mare by Wolketanz II x Romancier, owned by Parra.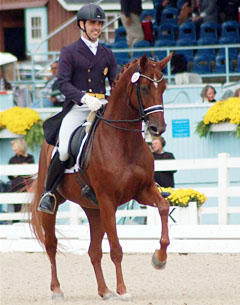 "This was my first big competition with Whoopie and I was happy with many things, but there's still a lot to improve. I believe in her a lot and I know she is going to be a top horse, she has everything for it," said Roberto. "Whoopie was one of the very first horses Cesar gave to me when I first came to the U.S.A. She was a very, very special horse and we immediately connected. She was not so easy to ride, it has been a long journey. Little by little and with Cesar's and Katie (Riley)'s guidance, I was able to take her all the way up from 4th level to Grand Prix. We won many national classes in the last 3 years, and this year we made our personal best score with a 74% in the Intermediate B. She is one of the best horses I've ever ridden in my life."
Brasil came to the U.S.A. three years ago and had only planned on a short training stint.
"I ended up staying and, honestly, I don't imagine myself going anywhere else. The level of horses we have is like at no other place, and Cesar is an open book. He teaches us all he knows and he lets us ride his top horses on a daily basis, so that we can feel and train our own. Merita, Rodrigo and I all have one Grand Prix horse to ride and we compete at CDI Grand Prix level. Where else can three young riders like us have an opportunity like this? Cesar and Piaffe Performance are one of a kind and there is no other place like this, at least not that I know of."
Roberto is looking forward to the 2018 show season and will hopes to represent Portugal at the 2018 Global Dressage Festival in Wellington.
"I believe in Whoopie and I have big dreams with her," said Roberto. "I know that with Cesar, Katie and this amazing team in my corner I will be able to do it."
Training the Next Generation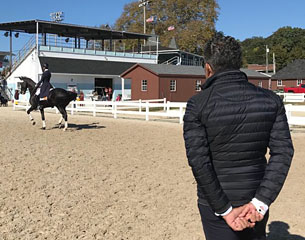 "We were laughing because I was the only trainer at the show that had three students showing three horses of my own at the Grand Prix level, while I was showing in Fourth Level," said Parra. The trainer won Fourth Level on his own 7-year-old Westphalian gelding Don Cesar (by Desperados x Manhattan). "For me, it's more the joy of the ride than anything else. I love my horse Don Cesar, I really do enjoy riding him very much. We helped these young riders develop, the horses were happy, and I'm enjoying my horse. So the show was a win-win for everybody."
For Performance Farms, focusing on the horses' well-being is the top priority, and a key part of success. "We have been very closely following one of the strongest philosophies of our biggest sponsor, Mrs. Ghribi of GK Horses," Parra explained. "I am very grateful to her. She puts the welfare of the horses before anything. It's about whether the horse has the propensity to do certain movements - you can train a horse to do it, but if they don't have the natural talent or don't want to with their full potential, it's better to leave that horse as he is, let him be happy, and find another horse that wants to do it. It can be hard to do this as a professional, but it's what we've been doing and we've been getting great results."
Related Links
Scores: 2017 CDI-W Devon
Parra and Fashion Designer OLD Claim 2017 U.S. Developing Grand Prix Horse Championship Title
It's Another Year in the Ribbons for Piaffe Performance at the 2016 Dressage at Devon
Parra and Gentry Win FEI Young Horse Classes at 2012 CDI Devon
Parra Takes Home the Blue Ribbon in the Inter I Kur at 2010 Dressage at Devon
Emotional Hattrick for Cesar Parra at 2009 Dressage at Devon